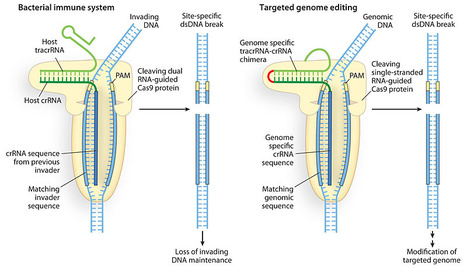 For bacteria, snipping apart DNA that bears certain signature sequences is a defense mechanism. For scientists working in the lab, the same strategy can be a powerful research tool. With a newly discovered component of an adaptive bacterial immune system, scientists have identified a targeted method of slicing DNA that they say can be easily customized for a variety of applications in the lab.
Tools that snip apart DNA strands in defined locations are essential for editing genomes in the laboratory to study or alter gene function. To target the specific site in the genome they are interested in, researchers often have to design and produce a protein that will recognize and bind to that particular DNA sequence, a laborious and time-consuming process.
But this could change, says Howard Hughes Medical Institute investigator Jennifer Doudna at the University of California, Berkeley. These researchers made a discovery of an RNA-based complex used by bacteria to guide the DNA-cutting enzyme Cas9 to specific sites in the genomes of viruses and other invaders, thus silencing their genes.
From this bacterial complex, Doudna and her colleagues have crafted a system with which an easily programmable guide RNA can be used in the lab to direct Cas9 to cleave double-stranded DNA at a desired target sequence.