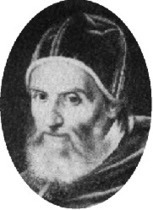 The Gregorian calendar is the one commonly used today. It was proposed by Aloysius Lilius, a physician from Naples, and adopted by Pope Gregory XIII (pictured above) in accordance with instructions from the Council of Trent (1545-1563) to correct for errors in the older Julian Calendar. It was decreed by Pope Gregory XIII in a papal bull on 24 February 1582. This bull is named "Inter Gravissimas" after its first two words.
In the Gregorian calendar, the tropical year is approximated as 36597/400 days = 365.2425 days. Thus it takes approximately 3300 years for the tropical year to shift one day with respect to the Gregorian calendar. The approximation 36597/400 is achieved by having 97 leap years every 400 years.
The papal bull of February 1582 decreed that 10 days should be dropped from October 1582 so that 15 October should follow immediately after 4 October, and from then on the reformed calendar should be used.
This was observed in Italy, Poland, Portugal, and Spain. Other Catholic countries followed shortly after, but Protestant countries were reluctant to change, and the Greek orthodox countries didn't change until the start of the 1900s. So in effect, every country changed at a different data, from late 1500s to early 1900s, being out of sync for a long time.