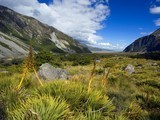 An unexpectedly warm period about 15 million years ago temporarily thawed Antarctica, turning the continent green around its edges, a new study says.
Antarctica developed its ice sheets about 34 million years ago. But during the more recent warm period, the interior landscape would've resembled tundra found in parts of modern-day Chile and New Zealand, and the coasts would've been lined with beeches and a type of conifer.
The surprising evidence comes from "abundant" remains of leaf waxes in sediment cores taken from deep beneath Antarctica's Ross Ice Shelf, said study leader Sarah Feakins, a biogeochemist at the University of Southern California. The sediments had blown off Antarctic soils into the ocean during the Miocene, a mild period in Earth's history between about 15 and 20 million years ago.
The Arctic even went through ice-free periods of extreme warmth over the past 2.8 million years, based on a new analysis of deep sediment in Russia. The team led by Martin Melles of the University of Cologne, Germany, drilled into an iced-over lake formed by a meteorite impact on the Chukchi Peninsula in Siberia for the longest sediment core ever collected in the terrestrial Arctic.
Since the meteorite struck an area of Lake El'gygytgyn that was not eroded by glaciers, the sediment record reaches back nearly 30 times further in time than ice cores from Greenland that cover the past 110,000 years.
The sediment reveals periods of extreme warmth that show the polar regions are much more vulnerable to change than previously thought, and are difficult to explain by greenhouse gases alone, according to the study in the journal Science.
Read also: http://www.abc.net.au/science/articles/2012/06/22/3531167.htm