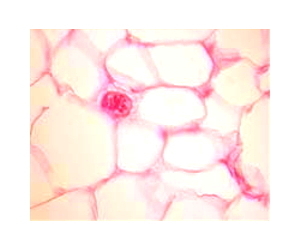 In biology, cell-to-cell adhesion is crucial to the integrity of tissue structure—cells must come together and stick in order to ensure tissue cohesion. However, the daunting complexity of biological systems has long prevented their description using general theoretical concepts taken from the physical sciences. For this reason, the research team designed an original biomimetic solution, or emulsion, that reproduces the main features of cell-to-cell adhesion in tissues.
Emulsions form the basis for a range of consumer products, including butter, ice cream, and milk. In addition, the emulsion study is tuned to match the attractive and repulsive interactions that govern adhesion between cells. The experimental conditions reveal the circumstances under which pushing forces are necessary to create adhesion.
By varying the amount of force by which the droplets of oil were compressed by centrifugation and the amount of salt added to this solution, optimal conditions for cell-to-cell adhesion could be determined. Screening electrostatic charges by the addition of salt and compressing the droplets by force enhances protein-protein interactions on the droplet surfaces. This leads to adhesion between contacting droplets covering all the interfaces, just as in the case of biological tissues.