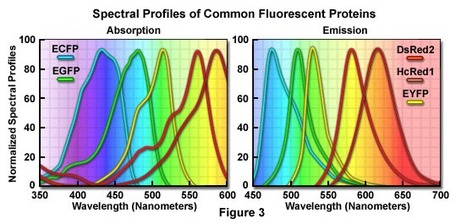 Fluorescent proteins provide the ability to visualize, track, and quantify molecules and events in living cells with high spatial and temporal resolution, essential features for understanding biology systems.
The discovery of green fluorescent protein in the early 1960s ultimately heralded a new era in cell biology by enabling investigators to apply molecular cloning methods, fusing the fluorophore moiety to a wide variety of protein and enzyme targets, in order to monitor cellular processes in living systems using optical microscopy and related methodology. When coupled to recent technical advances in widefield fluorescence and confocal microscopy, including ultrafast low light level digital cameras and multitracking laser control systems, the green fluorescent protein and its color-shifted genetic derivatives have demonstrated invaluable service in many thousands of live-cell imaging experiments.
Osamu Shimomura and Frank Johnson, working at the Friday Harbor Laboratories of the University of Washington in 1961, first isolated a calcium-dependent bioluminescent protein from the Aequorea victoria jellyfish, which they named aequorin. During the isolation procedure, a second protein was observed that lacked the blue-emitting bioluminescent properties of aequorin, but was able to produce green fluorescence when illuminated with ultraviolet light. Due to this property, the protein was eventually christened with the unceremonious name of green fluorescent protein (GFP). Over the next two decades, researchers determined that aequorin and the green fluorescent protein work together in the light organs of the jellyfish to convert calcium-induced luminescent signals into the green fluorescence characteristic of the species.