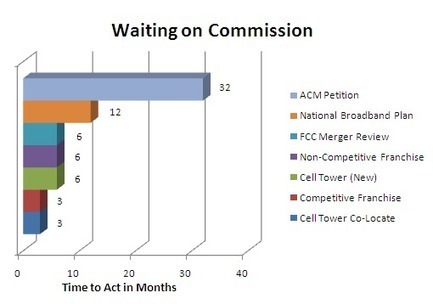 Now's Your Chance to Tell the FCC About PEG Programming in Your Community
The FCC has released a Notice of Inquiry that "solicits data, information, and comment on the state of competition in the delivery of video programming for the Commission's Fifteenth Report." The goal of the inquiry is "to enhance [the Commission's] analysis of competitive conditions, better understand the implications for the American consumer, and provide a solid foundation for Commission policy making with respect to the delivery of video programming to consumers." As such, the Commission is encouraging "thorough and substantive submissions from industry participants, as well as state and local regulators with knowledge of the issues raised."
The Commission is seeking information on a number of issues directly related to local PEG operations. It is vitally important that PEG operators from across the country submit comments so that the Commission is provided with a full and complete picture of the status of PEG programming.
NATOA, ACM and ACT are providing our members with a template they may use to submit comments to the FCC. It is not necessary to answer all the questions posed, or to even use this template. Rather, the goal is to tell the Commission about PEG services in your community. TELL YOUR STORY – the good, the bad, and the ugly.
Comments are due September 10; Reply Comments are due October 10.
Along with the comments template are instructions on how to file your responses with the Commission. Also attached is the Notice of Inquiry. All of these documents are available on our websites.
If you don't tell the Commission about PEG programming in your community, no one will – except your cable operators! Act today.
FCC Notice of Inquiry http://transition.fcc.gov/Daily_Releases/Daily_Business/2012/db0723/FCC-12-80A1.pdf
PEG Comment Template http://www.allcommunitymedia.org/wp-content/uploads/2012/09/PEG-Comment-Template.pdf
Electronic Filing Instructions http://www.allcommunitymedia.org/wp-content/uploads/2012/09/Electronic-Filing-Instructions.pdf
Via
Community Media Database