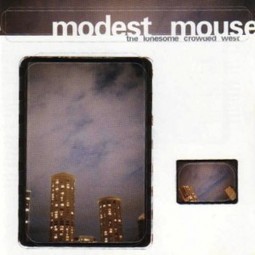 Modest Mouse grew up in public, but popular opinion is that they really truly figured it out with 2000's The Moon & Antarctica, creating one of those of albums

that points to some just-out-of-reach understanding of the world. Listening to it, I knew I would eventually understand what Isaac Brock was singing about, but I didn't yet. There was emotional honesty there, but it was tempered by exhaustion.
Writing about Shocking Pinks last week got me on an emotional honesty kick, though, so I won't be writing about The Moon & Antarctica, aka Modest Mouse's "adult" record, and instead am going to write about the much sloppier 1997 record, The Lonesome Crowded West.