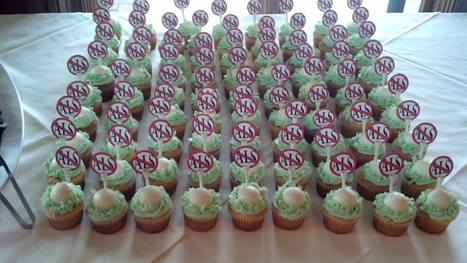 Cure for ALS's insight:
Suwanee, GA, September 10, 2013: Terance Mathis announced that his inaugural golf outing for ALS scored a touchdown for the Emory ALS Center. The former All-American and Pro Bowl wide receiver for the Atlanta Falcons partnered with Cure for ALS to host the event. Cure for ALS is a nonprofit organization whose mission is to support ALS awareness, advocacy, and fundraising for viable treatments and an eventual cure.
ALS is a neuromuscular disease that attacks the brain and spinal cord. There is no cure and the average life span after diagnosis is 2-5 years. It takes away the ability to move, speak, swallow, and ultimately breathe, and it can strike anyone.
"This golf tournament to raise funds for ALS was one of the most humbling and fulfilling days of my life," said Terance. "Increasing awareness for this terrible disease that can hit anyone has deeply touched my heart and soul."
The Terance Mathis Celebrity Outing for ALS was held at the Alpharetta Athletic Club had a good showing of celebrities in attendance. In addition to host Terance Mathis, other celebrities attending were – from the NFL: Ruffin Hamilton, Michael Haynes, Demario Pressley, Kevin Butler, Chuck Wiley, Tim Broady, Ken Parker, Perry Kemp, Bob Whitfield; from the NBA: Garfield Heard; Dan Bouchard from the NHL; Arthur Culbreath, Two time all American West VA Tech, USA National Handball Team (Olympian); Nicole Watson, Sports Media/Marketing CEO; and Karon Cook, Atlanta Area On Camera Sports Host.
In addition to a gorgeous day on a course with excellent conditions, players were treated to an after-round reception with custom cupcakes from Patty Cakes Cupcakes and a moving presentation by former University of Alabama and NFL player Kevin Turner. The former New England Patriots and Philadelphia Eagles fullback has had ALS since 2010. Turner shared his story and encouraged the attendees to continue to support ALS funding and awareness and live each day to the fullest. His positive attitude and sense of humor inspired all.
The tournament took place on Monday, September 9 and incorporated a 50/50 cash prize putting contest, long drive and closest to the pin contests, as well as Hole-in-One opportunities and custom cigar rolling on the course. Local sponsors included: Emory Healthcare and the Woodruff Health Sciences; Triple M Management; Alpharetta Courtyard by Marriott; SignKwik; Integrity Medical; Eastgate Church; Zaxby's; Octane5; The Chateau Wine & Cigar Bar; Penta Water; 92.9 The Game; Palmer House Realtors; Guaranteed Rate; Miller/Coors; Troncalli Chrysler/Jeep/Dodge; National Pain Care LLC; and Rockstar Energy Drink.
All proceeds from the event will benefit the Emory ALS Center in Atlanta and help to fund research in the laboratory, clinical trials, and the Emory ALS Clinic. The Emory ALS Center is one of the largest clinical centers for ALS in the United States that provides true multidisciplinary care for patients and families with ALS and related disorders.
Online donations will be accepted until September 20, 2013 at Terance Mathis ALS Golf.
For more information visit: Cure for ALS atwww.cureforals.com Emory ALS Center at www.als.emory.edu
Via
Cure for ALS