Scoop.it!
NORTH GEORGIA RUNNERS HIT THE STREET FOR EMORY ALS CENTER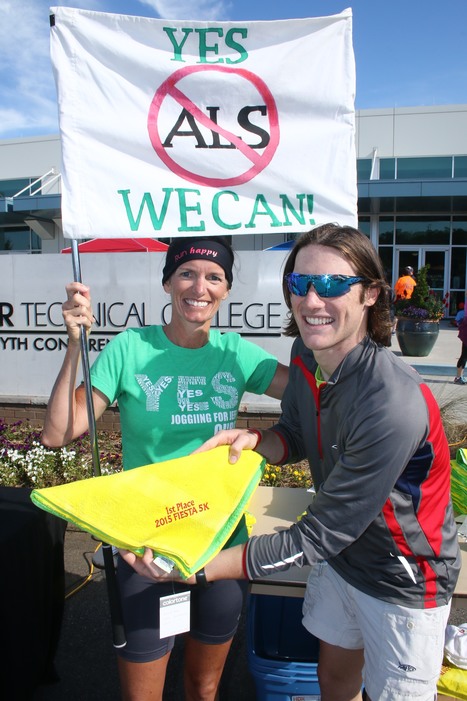 Cure for ALS's insight:
9TH Annual FIESTA 5k/15k Challenge Raises $25,000

Cumming, GA, May 4, 2015– Nearly 700 participants gathered to #runLOCO4ALS at the 9th Annual FIESTA 5k/15k Challenge on Saturday. The event was held at the Lanier Technical College's Forsyth Conference Center in Cumming.

Fifteen year old Byron Grogan wowed the crowd, finishing 1st overall in the 15k (1:00:50), and Abby Hotaling was the 15k overall female winner (1:06:46). In the 5k distance the overall winners were Noah Schaich (18:04) and Holly Jimenez (19:45). There was also a Fun Run where young children ran the perimeter of the Lanier Tech campus and crossed the finish line with giant smiles.

Sponsors for the event included Control Southern, Inc., Star 94/ESPN 790 The Zone, Community & Southern Bank, MECO, Children's Healthcare of Atlanta, HisGrip Homecare, Andean Chevrolet, Billy Howell Ford, and more. Music, big sombreros, and some festive costumes added to the Fiesta atmosphere for a morning of great family fun.

May is ALS Awareness Month and the nonprofit organization, Cure for ALS, hosts the FIESTA 5k/15k Challenge each year on the first Saturday in May to begin the month long advocacy campaign. ALS (Amyotrophic Lateral Sclerosis) is a universally fatal neuromuscular disease that can strike anyone without warning. The average life span after diagnosis is only 2-5 years. It takes away the ability to move, speak, swallow, and ultimately breathe. There are approximately 30,000 people in the U.S. are living with ALS; over 500 are in Georgia.

The Emory ALS Center is one of the largest clinical centers for ALS in the United States. The team of neurologists, neurosurgeons, nurses, therapists, and dieticians care for both the physical and emotional needs of patients and their families, while scientists and researchers work in the laboratory to discover how to stop the disease. The focus is on independence and quality of life through state-of-the-art intervention. For more information about the Emory ALS Center visit www.als.emory.edu .

The next event for Cure for ALS is the Terance Mathis Celebrity Golf Classic which will be held on Monday, September 14, 2015 at the Alpharetta Athletic Club. All proceeds from the event will benefit the Emory ALS Center. For more information visit www.terancemathisgolf.brownpapertickets.com .

# # #
Cure for ALS