Scoop.it!
TERANCE MATHIS CELEBRITY GOLF CLASSIC SCORES BIG FOR ALS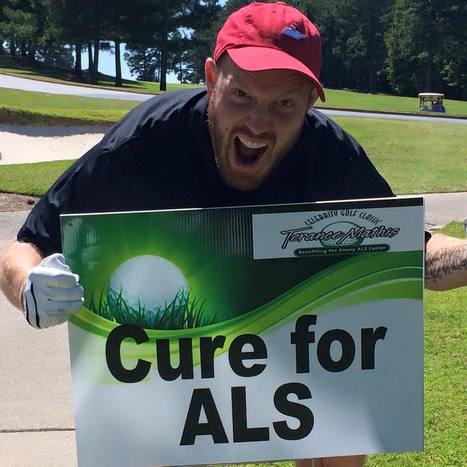 Cure for ALS's insight:
Sold Out event donates all proceeds to Emory ALS Center
Suwanee, GA September 18, 2015– Atlanta Falcons all star, Terance Mathis announced that his 3rd annual Celebrity Golf Classic scored big for ALS awareness and funds raised for the Emory ALS Center. Partnering again with Cure for ALS, the former Pro Bowl wide receiver hosted a sold out event at Alpharetta Athletic Club on Monday.
ALS is a neuromuscular disease that attacks the brain and spinal cord. There is no cure and the average life span after diagnosis is 2-5 years. It takes away the ability to move, speak, swallow, and ultimately breathe, and it can strike anyone. Mathis understands that no one is immune to getting ALS and he pledges to remain committed until a cure is found. "If we can prolong life and the quality of life for patients, then we're winning. But when we find a cure, we've won," he says.
Golfers in groups of three were paired with celebrity team captains for a great day on the course. In addition to host Terance Mathis and Tim Shaw, other celebrity captains were – from the NFL: Jamal Anderson, Morten Anderson, Fred Banks, Cornelius Bennett, David Brandon, Ronnie Brown, Kevin Butler, Alphonso Carreker, Henri Crockett, Randall Godfrey, Harold Green, Michael Haynes, Henry Hipps, Bobby Humphrey, Brandon Jacobs, Brian Jordan, Perry Kemp, Greg Lloyd, Chris Mohr, Peerless Price, Gerald Riggs, O.J. Santiago, Sterling Sharpe, DJ Shockley, Kordell Stewart, and Nate Wayne. Olympians, Arthur Culbreath and Angelo Taylor were celebrity team captains, as were Pete Smith, Dan Bouchard, Nicole Watson, Paul Goodloe, and John Barrett.
In addition to a gorgeous day on a course with excellent conditions, players were treated to an after-round reception that includedremarks from Jonathan Glass, MD, Director of the Emory ALS Center, and a moving presentation by former Penn State and NFL player Tim Shaw. The former Tennessee Titan linebacker was diagnosed with ALS in 2014. Tim shared his story and encouraged the attendees "stop taking life for granted. Be thankful for where you are right now and the God given abilities and gifts you have." He also challenged everyone in the room to take the Ice Bucket Challenge if they didn't this year – and to do it every year; to not look at it as a fad, rather an action that needs to be done until a cure is found.
The tournament took place on Monday, September 14th and incorporated a 50/50 cash prize putting contest, long drive and closest to the pin contests, as well as Hole-in-One opportunities and custom cigar rolling on the course. Sponsors included Crossroads Hospice Charitable Foundation, G2G, Woodruff Health Sciences, Harrah's Cherokee Casino, Habersham Funding LLC, Integrity Medical, ALPHA Insulation & Waterproofing, Sign Kwik, Allgood Pest Solutions, Topgolf, Brand Mortgage, Mansfield Oil, GPI Financial, Palmer House Properties, Angel Oak Home Loans, Wash Me Fast, Octane 5, Chateau Cigar & Wine, Zaxby's, Dabbs Keller Williams, Georgia Garage, CVS, Charity Golf International, and Dixon Golf. Awards were presented to the 1st, 2nd, and 3rd place teams and contest winners at a reception following the round.
All proceeds from the event will benefit the Emory ALS Center in Atlanta and help to fund research in the laboratory, clinical trials, and the Emory ALS Clinic. The Emory ALS Center is one of the largest clinical centers for ALS in the United States that provides true multidisciplinary care for patients and families with ALS and related disorders. Dr. Glass is the chief U.S. investigator for the Prjoect MinE, a global genetic research project. Emory will also soon be one of five sites in the U.S. for the Answer ALS Research Project.
For more information visit: Cure for ALS at www.cureforals.com or Emory ALS Center at www.als.emory.edu .
# # #
If you would like more information about this topic, please contact Karen Duffy at 678-491-0639 or email at teamduffy@gmail.com.