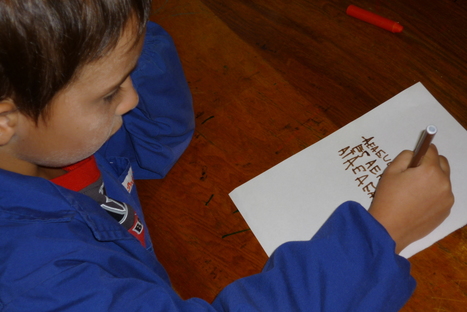 ..."The belief seems to be that children need to get the writing part down first, and then they can use it to be writers" says Katie Wood Ray & Matt Glover in their book, while they argue that writing in the early years does not really refer to "writing" as actually putting letters, words and phrases down, but to the fact that writing is a cognitive process in which the writer must construct a meaningful composition. In this composition, the writer must undergo a process in which he or she solves problems and reasons; questions and problem poses; observs (gathers data); imagines and innovates; takes intellectual risks; thinks independentaly; and is persistant. As the authors to this amazing and enlightening book say, this is what writing really is: a cognitive process in which children develope and practice these skills and attitudes in a productive way.
In my experience (and agreeing on what the authors state in their work) writing is usually viewed as a means to a goal: to learn correct spelling, to learn letter-sound correspondance, and finally, for reading. Ray and Glover refer to this view of writing as "compositional writing" in order to deferentiate it from writing understood as spelling or others.
There is lots of literature that describes the importance of every learning engagement to be meaningful to the child. Literacy is no exception. If one of our long term goals is for children to learn writing and reading, the beginning should be teaching them the meaning of writing and reading, their purposes, and how they can be skills that have a genuine purpose. It is for these beliefes that the work of Ray and Glover have made so much sense to me. We cannot focus the first years of writing instruction solely on phonics, phonological awareness, and the like. Although these are areas that we should reffer to, to me it is mostly important to focus on teaching children what writing is for, and to actually get them believing that writing is fun and has a real meaning. This is true at least for the early years (3, 4 and 5 year olds). And I mean to go further than writing in context where we might bake cookies and then pretend to write the recepi (a typical learning engagement where one would think that writing has been put in context). I mean writing with a REAL purpose (why should I write a recepi if I'm never going to read it to bake the cookies again, or if no one is really going to use it in the future?). I mean teaching children, through geuine experiences, that writing is really, actually, and definitely a purposeful action.
More than a learning outcome, this is an attitude that will help children learn the meaning behind literacy, and will pathe the way towards learning phoneme-grapheme relations, spelling skills, decoding skills, and a ton of other literacy goals, because children will understand why all these things are important and necessary.
I do not mean to say that other learning engagements are invalid (phonological awareness, decoding, etc). I mean to state that there is an important part of literacy development that is usually ignored: the attitude and disposition towards it.
"Already Ready: Nurturing Writers in Preschool and Kindergarten" is helping me understand this in a deeper way and has given me tons of ideas to take it into practice. Can't wait to share some of these refletections and ideas on how to teach children these valuable attitudes towards literacy...!