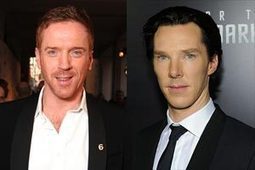 DAMIAN Lewis and Benedict Cumberbatch are among a host of stars flying the flag for Britain at the 2013 American Critics' Choice Television Awards.
The two actors have been honoured with nominations for their performances in Homeland and BBC mini-series Parade's End respectively.
Lewis, whose Homeland co-star Claire Danes is also nominated, faces competition for best actor from fellow Brits Andrew Lincoln and Matthew Rhys, together with Kevin Spacey, Bryan Cranston and Timothy Olyphant.
Cumberbatch will battle it out against Behind The Candelabra stars Michael Douglas and Matt Damon, as well as Toby Jones, Al Pacino and Dominic West, in the best actor in a movie or mini-series field.
While Brit actresses Sienna Miller and Imelda Staunton have received nods for their portrayals of Tippi Hedren and Alfred Hitchcock's wife Alma Reville in the BBC and HBO TV drama The Girl.
And Romola Garai and Rebecca Hall compete for best actress in a movie or mini-series.
The third annual Critics' Choice Television Awards will be held on June 10 in Los Angeles.
Via
Tee Poulson