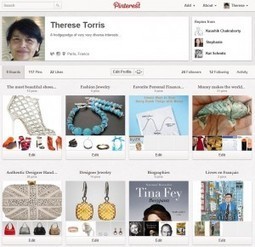 I selected this piece by my fellow curator Therese Torris because she has done research on curation tools. If you're new at curation or need a refresher, you may find something useful here.
Here are some insights and findings:
**Content curation does help content discovery.
**Numerous reports show that social content curation à la Pinterest brings traffic to brand sites.
**Curated content embeds brand content into a rich inbound context of external content.
Social content curation fosters customer engagement.
****Consumers who curate a brand's content not only send it traffic, they also bring to the brand and its product a much needed validation.
Consumer-oriented social curation tools like Pinterest, tumblr, Trap.it or Bundlr are designed to be easy-to-use social content networks.
**They offer a widget or bookmarklet that users can add to their browser to "clip" individual pieces of content and much more......
**Corporate curation tools help create a competitive advantage.
**In addition to public social curation platforms, brands should use:
scoop.it or corporate collaborative content curation tools like Curata, CurationSoft or Zemanta to listen to their market, optimize their content and collaborate on their content strategy.
** content curation is no panacea for failing content creation. Curated content supplements original brand content, it cannot replace it.
**If a brand has no story to tell, no original content, no topics to share with its audience and no Social Media strategy, content curation will only increase the overall online noise level
Selected by Jan Gordon covering "Content Curation, Social Business and Beyond"
Thank you Marty Smith for your comments on the original piece.
There are more tools in this article to help you find which one works best for you.
Read full article here: [http://bit.ly/MYWZYr]
Via
Martin (Marty) Smith
,
janlgordon