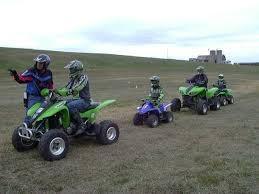 These days the market is loaded with ATV models and design options. So there is a perfect matching for every riding style. Despite the availability of so many ATV models in the market, it is not that difficult to select an ATV for a first timer especially a youth. But before investing on one, the buyer must be cautious not to overspend on a model that might turn out to be too powerful and ultimately unsafe for a child. The right sized ATV will ultimately prove to be a lifetime companion because branded companies these days manufacture durable and top quality off-roading vehicles in the youth segment. This article will depict all the necessary points that should be considered before buying the right sized ATV for a young rider.

There are several ATVs for adventurous activities available in the youth segment. They not only ensure that the first time rider has a good off-roading indulgence but also act as utility vehicles in farms, barns, lawns, plots and fields. Young riders can easily master the mechanism of these rides through instructional DVDs that come along with the model. Several ATV models are available in the adult and youth segment that have engine sizes up to 700 cc and more; weighing more than 600 pounds and offering driving speeds of up to 70 miles per hour. But such powerful rides are not meant for novice riders especially youth. Young ATV riders are not physically competent to maneuver and handle these off-roading vehicles. That is why several ATV manufacturing companies have manufactured smaller sized ATVs that deliver as much fun foradventurous youngsters as any other adult ATV.
Four-wheeler ATV:

Youth ATV riders must go for four wheeled ATVs because these quads offer a stable ride in adventurous rides. They are lesser prone to side overturns on rutted terrains. Furthermore, if a guardian purchases used four wheeler ATVs for their kid, they must thoroughly check the vehicle for all sorts of damages.

Power and Speed:

Engine size suggestion guidelines for young riders define the engine sizes and capacities as follows:

*Children under the age of 8 in India must not indulge into adventure ATV riding. They are physically incompetent and mentally not mature enough to understand the mechanics behind riding an ATV.

*Children in the age group of 8 to 15 years can indulge into 50 to 70 cc ATVs. These offer low top speeds and have automatic gear which makes riding easy. Some manufacturers also incorporate parental controls like speeds limiters, remote controlled stopping, acceleration controls etc. in these quads.

*Youths who are 16 years or older can handle 90cc bikes. They are physically and mentally capable of judging little higher speed limits.
After selecting the right sized ATV for a child, whatever their age may be, every guardian must ensure that the rider follows all safety precautions necessitated by the manufacturing company and ATV riding experts. That way the ATV will serve all the utility and recreational purposes to the maximum extent. For detailed information visit: http://www.polarisind.in