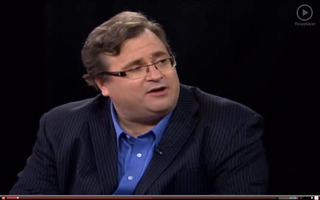 Since becoming more of a working professional who still likes to be creative online and share silly photographs, I have often wondered where LinkedIn plays into my online world. Those older than me have found a home in LinkedIn, while I am slowly seeing its value and its place in my networked world.
My perceptions on LinkedIn changed, for the better, after a recent episode of "Charlie Rose" on PBS. Rose's round wooden table was flanked by executive chairman and co-founder Reid Hoffman and CEO Jeff Weiner.
Hoffman crystallized for me the rational of being active on LinkedIn, even while maintaining busy Facebook and Twitter accounts (2:43): "Why do you need an office when you have a house? Why do you need a suit when you have sweat clothes?"
Video: 22 minutes.