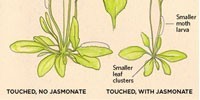 How Plants Feel
A hormone called jasmonate mediates plants' responses to touch and can boost defenses against pests.
By Kerry Grens | December 1, 2012
EDITOR'S CHOICE IN PLANT BIOLOGY
THE PAPER
E.W. Chehab et al., "Arabidopsis touch-induced morphogenesis is jasmonate mediated and protects against pests," Cur Biol, 22:701-06, 2012.
Although it's known that plants can detect and respond to touch, how they relay information from physical contact has been less clear. Janet Braam's group at Rice University and other labs had previously shown that the expression levels of many genes are upregulated in response to touch and that plants develop stockier builds if they are routinely perturbed. In their latest work, Braam's team set out to identify how the physical perturbation was translated into growth changes. They found that a plant hormone called jasmonate is essential for the developmental responses to touch in Arabidopsis, and that touch itself, via jasmonate, can boost pest resistance.
Given jasmonate's already-established roles in responding to light, injury, and pests, the addition of touch "means that what we're looking at is different ways that signal inputs are being integrated," says John Turner, a professor at the University of East Anglia, who was not involved in the study.
http://www.the-scientist.com/?articles.view/articleNo/33374/title/How-Plants-Feel/
Via
R K Upadhyay