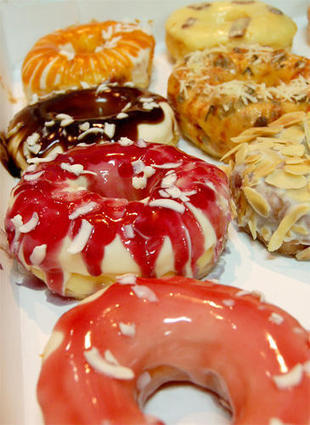 Según un estudio realizado en 367 artículos de nutrición, nueve de cada diez productos alimenticios destinados específicamente a los niños tienen un contenido nutricional malo, debido a los altos niveles de azúcar, grasa o sodio. Las conclusiones de esta investigación aparecen publicadas en el número de julio de la revista Obesity Reviews.
SINC / AG | 24 julio 2008 13:28
En algo menos del 70% de los productos estudiados, de los cuales se han excluido específicamente los dulces, los refrescos y los productos de panadería, una gran parte de las calorías procedía del azúcar. Aproximadamente uno de cada cinco (23%) tenían altos niveles de grasa y el 17% tenían altos niveles de sodio. A pesar de esto, el 62% de los productos con una mala calidad nutricional (MCN) mostraba declaraciones positivas sobre su valor nutricional en la parte delantera del envase.
Charlene Elliott, profesor de la Universidad de Calgary (Canadá), y miembro del Consejo Canadiense de Alimentación y Nutrición explica cuál es uno de los problemas: "Los alimentos para niños se encuentran hoy en día en prácticamente todas las secciones de un supermercado y existen para cualquier tipo de edad y experiencia con la comida".
"Los padres quizás se pregunten si los alimentos envasados son buenos para sus hijos. Sin embargo, algunas declaraciones nutricionales pueden aumentar la confusión, ya que pueden inducir a engaño a las personas y pensar que el producto completo es nutritivo", señala Elliott.
Sólo el 11% de los productos que evaluó el profesor Elliott y sus colaboradores tenían un valor nutricional bueno de acuerdo con los criterios establecidos por el Centro de la Ciencia al Servicio del Público (CSPI) de los EE UU, una agencia sin ánimo de lucro que en 2007 recibió el máximo reconocimiento de la Administración de Alimentos y Medicamentos de los EE UU.
Según los estándares nutricionales del CSPI, en la comida saludable no más del 35% de sus calorías debería proceder de la grasa (excluidos los frutos secos, semillas y mantequilla de nueces) y no debería tener más del 35% de azúcar añadido en peso. Estas directrices también ofrecen una orientación sobre los niveles de sodio, los cuales deben oscilar entre 230 mg por porción para los aperitivos hasta los 770 mg por porción para las comidas precocinadas.
Los estándares del CSPI son una adaptación de los desarrollados por la Alianza para la Nutrición y la Actividad, una coalición de unas 300 organizaciones sanitarias y nutricionales de los EE UU. La organización señala que sus estándares permiten la comercialización de productos que nutricionalmente no serían los ideales, pero que proporcionan algunos beneficios que podrían ayudar a los niños a cumplir las directrices dietéticas del gobierno.
Los 367 productos incluidos en el estudio se compraron en una cadena nacional de supermercados con unas existencias de 50.000 productos alimenticios y no alimenticios en diciembre de 2005. Cada producto se sometió a un análisis de 36 puntos que incluía el contenido nutricional y cómo estaba diseñado el envase para atraer la atención de niños y padres.
"Hemos incluido productos alimenticios y envases que se presentaban de tal manera que estaban claramente dirigidos a los niños" explica Elliott. "Se incluyeron productos que promocionaban diversión y juegos, con una imagen de dibujos animados en la parte frontal de la caja o que estaba relacionada con películas infantiles, programas y publicidad de TV".
Referencia:
Elliott C. "Assessing 'fun foods': nutritional content and analysis of supermarket foods targeted at children". Obesity Reviews 9: 43 (368-377) JUL 2008.
Información completa en la fuente de esta noticia: http://www.agenciasinc.es/Noticias/El-89-de-los-productos-de-alimentacion-infantil-presenta-una-mala-calidad-nutricional