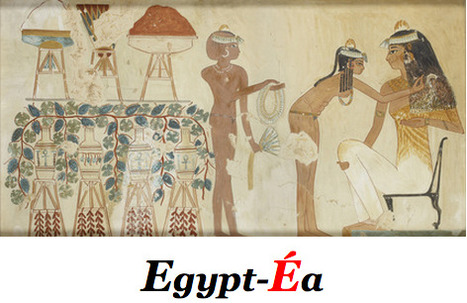 Artist, copyist "colors at your fingertips"
Anna (Nina) Macferson Cummings, born in Thessaloniki (Greece) January 6, 1881.
She was only 3 years old when his father died. The whole family then returned Aberdeen, Scotland, and Bedford and London. It is in this city, at the Slade School of Art and the Royal College of Arts, she took courses in drawing and painting.
At 25, she went to meet friends in Alexandria. She then discovers Egypt ... and met the man who, in 1907, became her husband Norman de Garis Davies. He knows Egypt well, there has already worked with William Flinders Petrie, George A. Reisner and James Henry Breasted.
The couple moved to Egypt, where Norman takes the direction of the graphics section of the expedition commanded by the Metropolitan Museum of Art (MMA). Nina implicitly becomes his assistant and participated in surveys in the Theban tombs. At the time, the facsimile is the only means of representation, design and colors. TT 45 (Djehuty) is a test. The following procedure is adopted: pencil trace the contours of the scene by means of a layer, and then the report on the final support. In the technique of watercolor painting that succeeds 'tempera' which proves fully satisfactory. Nina excels in the method of application of the paint and the color rendering.
Alan Gardiner greatly appreciate his work and will seek collaboration from 1909 to 1929. In 1927, it was only natural that he turned to the couple when he wrote his Egyptian "grammar for which he has decided to produce a hieroglyphic source based on the forms of the eighteenth dynasty. They work on their own time and bring their experience of New Kingdom tombs, to collect the materials in the form of drawings and samples as individual color. Nina continued to paint examples of hieroglyphs and has amassed used for database publishing "Picture Writing in Ancient Egypt." Simultaneously collection, they continue to work for MMA.
1929 Gardiner is convinced that the excellent work done by Nina deserves a better artistic recognition. James Henry Breasted then brought into contact with JD Rockefeller, his "support and sponsor." He agrees to promote the work of Nina and in 1929, copies of scenes graves it has made the subject of a two-volume publication, jointly funded by Alan Gardiner and JD Rockefeller Jr., publication will be completed in 1936.
An exhibition of his work is carried out in London and Brussels and Oxford. MET has 120 records, from various tombs and sites.
In fact, besides the Theban tombs, Davies practice their art in 1926-1927 at Amarna, with the assistance of Charles K. Wilkinson, Beni Hasan in 1932, where most of the work is the work of Nina, then Abydos in 1936.
In 1939, the global situation forces them to leave Egypt. They then abandoned "Beit Nimsawi", the house they occupied since 1807 on the West Bank of Luxor (which still exists today).
Norman de Garis Davies died of a heart attack Nov. 5, 1941.
In 1950, at the request of Alan Gardiner, Nina returns to Thebes. He wants her to finish the restoration of paintings of a treasure chest of Tutankhamun which she had already done much earlier. She also participates in various publications, in particular in 1953, the temple of Hibis in Kharga. She resumed his collaboration with Alan Gardiner for editing "Seven private tombs Qurna." Then came "Scenes from a few private tombs" which complements the 1920 publication.
Walking through life, you realize that a career started completely in the shadow of her husband, she managed to be recognized for their own skills and talent all staff. This portrait lacks a personal touch, a description of Nina. "Just like her husband, she was of small stature. She was always elegant and refined, and despite the fact that she worked in the tombs, always fresh and equal to itself." The testimony of the 50s are as shy but very friendly, pleasant company and knowing receive.
She died in Oxford, April 21, 1965, she is 84 years old. Egyptology lost, that day, the best artists of his copyists.
MG - CD
Sources: Nina M. Davies (Nigel Strudwick) for the text, and "Women in Old Archeology"
http://www.brown.edu/Research/Breaking_Ground/results.php?d=1&first=Nina&last=Davies
http://www.brown.edu/Research/Breaking_Ground/bios/Davies_Nina.pdf "
http://www.tawy.nl/EN_dh_Beit_Nimsawi_Home_to_Norman_and_Nina_de_Garis_Davies.html
Illustration: TT 38 Djeserkaraseneb - woman toilet
copied by Nina Davies
Ashmolean Museum