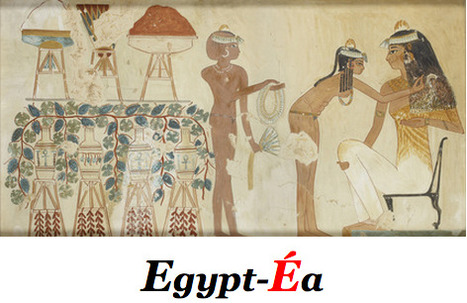 Artiste, copiste "des couleurs au bout des doigts"
Anna (Nina) Macferson Cummings, naît à Salonique (Grèce) le 6 janvier 1881.
Elle n'a que 3 ans lorsque son père décède. Toute la famille regagne alors Aberdeen, en Écosse, puis Bedford, puis Londres. C'est dans cette ville, à la Slade School of Arts, puis au Royal College of Arts, qu'elle suit des cours de dessin et de peinture.
A 25 ans, elle part retrouver des amis à Alexandrie. Elle découvre alors l'Égypte… et rencontre celui qui, en 1907, devient son mari : Norman de Garis Davies. Il connaît bien l'Égypte, il y a déjà travaillé avec William Flinders Petrie, Georges A. Reisner et James Henri Breasted.
Le couple s'installe en Égypte où Norman prend la direction de la section graphique de l'expédition commandée par le Metropolitan Museum of Art (MMA). Nina devient implicitement sa collaboratrice et participe aux relevés effectués dans les tombes thébaines. A l'époque, le fac-similé est le seul moyen de représentation, dessin et couleurs. La TT 45 (Djehouty) sert de test. Le procédé suivant est adopté : retracer au crayon les contours de la scène au moyen d'un calque, puis les rapporter ensuite sur le support définitif. À la technique de l'aquarelle succède celle de la peinture 'a tempera' qui se révèle pleinement satisfaisante. Nina excelle dans la méthode d'application de cette peinture et dans le rendu des couleurs.
Alan Gardiner apprécie grandement son travail et s'attachera sa collaboration de 1909 à 1929. En 1927, c'est tout naturellement qu'il se tourne vers le couple alors qu'il rédige sa grammaire égyptienne "pour laquelle il a décidé de produire une source hiéroglyphique reposant sur les formes de la XVIIIe dynastie. Ils travaillent durant leur temps libre et mettent à profit leur expérience des tombes du Nouvel Empire, pour collecter les éléments, sous la forme de dessins et aussi d'échantillons de couleur individuels. Nina a continué à peindre des exemples de hiéroglyphes et a ainsi utilisé la collection amassée pour les bases de l'édition de "Picture Writing in Ancient Egypt". Simultanément, ils poursuivent leur travail pour le MMA.
1929, Gardiner est convaincu que l'excellent travail réalisé par Nina mérite une meilleure reconnaissance artistique. James Henri Breasted le met alors en contact avec J.D. Rockfeller, son "supporter et sponsor". Il accepte de promouvoir le travail de Nina et, en 1929, les copies des scènes de tombes qu'elle a réalisées font l'objet d'une publication en deux volumes, financée conjointement par Alan Gardiner et J.D Rockfeller junior, publication qui sera complétée en 1936.
Une exposition de ses œuvres est réalisée à Londres, puis à Bruxelles et Oxford. Le MET possède 120 relevés, provenant de divers tombes et sites.
En effet, outre les tombes thébaines, les Davies exercent leur art en 1926-1927 à Amarna, avec le concours de Charles K. Wilkinson, à Beni Hasan en 1932, où la majeure partie des travaux est l'oeuvre de Nina, puis à Abydos, en 1936.
En 1939, la situation mondiale les contraint à quitter l'Égypte. Ils abandonnent alors "Beit Nimsawi", la maison qu'ils occupaient depuis 1807 sur la West Bank de Louxor (qui existe encore aujourd'hui).
Norman de Garis Davies décède d'une crise cardiaque le 5 novembre 1941.
En 1950, à la demande d'Alan Gardiner, Nina retourne à Thèbes. Il souhaite qu'elle termine la restauration des peintures d'un coffre du trésor de Toutankhamon dont elle avait déjà réalisé une grande partie auparavant. Elle participe aussi à diverses publications, en particulier en 1953, sur le temple d'Hibis à Kharga. Elle reprend sa collaboration avec Alan Gardiner pour l'édition de "Sept tombes privées à Gournah". Puis, paraît "Scènes de quelques tombes privées" qui complète la publication de 1920.
En parcourant sa vie, on se rend compte que d'une carrière débutée totalement dans l'ombre de celle de son mari, elle a réussi à être reconnue pour ses propres compétences et son talent tout personnel. Il manque à ce portrait une touche personnelle, une description de Nina. "Tout comme son mari, elle était de petite stature. Elle était toujours élégante et soignée, et malgré le fait qu'elle travaillait dans les tombes, toujours fraîche et égale à elle-même". Des témoignages des années 50 la présentent comme timide mais très sympathique, agréable en société et sachant recevoir.
Elle meurt à Oxford, le 21 avril 1965, elle a 84 ans. L'égyptologie perd, ce jour-là, la meilleure de ses artistes copistes.
MG - CD
Sources : Nina M. Davies (Nigel Strudwick) pour le texte, et "Women in Old Archeology"
http://www.brown.edu/Research/Breaking_Ground/results.php?d=1&first=Nina&last=Davies
http://www.brown.edu/Research/Breaking_Ground/bios/Davies_Nina.pdf "
http://www.tawy.nl/EN_dh_Beit_Nimsawi_Home_to_Norman_and_Nina_de_Garis_Davies.html
Illustration : TT 38 Djeserkaraseneb - femme à la toilette
copie réalisée par Nina Davies
Ashmolean Museum
Via
Egypt-actus