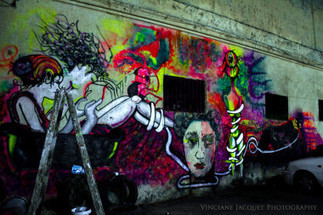 Par Vinciane Jacquet
(...)
Graffitis puissants et lourds de signification mais aujourd'hui illégaux
Balata avait confié quelques semaines plus tôt : « Les femmes ont toujours le second rôle, elles sont invisibles. Elles reçoivent en permanence des remarques sur leur apparence ou leur présence dans un espace public. Il n'y a que quelques endroits où elles se sentent totalement à l'aise. Simplement marcher dans la rue est un problème. Il est primordial que la société réalise qu'il est naturel qu'il y ait des femmes à l'extérieur. Cet espace leur appartient à elles aussi ».
Le rôle revendiqué par W.O.W. est d'illustrer ce qui ne va pas au sein de la société égyptienne. Grâce aux graffitis, les femmes peuvent atteindre et marquer les esprits. El Gamal ajoute, « ça en vaut la peine même si le résultat est minime. Le fait qu'il émerge des artistes féminines dans le domaine des graffitis est en soi une amélioration ». Le message part de l'artiste pour toucher le passant, quel qu'il soit. Chacun peut y accéder.
Balata tient à préciser la ruse nécessaire à la réalisation des projets. « La révolution a rendu les graffitis célèbres et puissants dans leur habilité à toucher la population, à la faire réfléchir, à exprimer ses opinions. Mais par la suite ils sont progressivement devenus illégaux. Aujourd'hui nous peignons sur des murs privés, avec l'accord des propriétaires bien sûr. Pour cela, nous devons souvent occulter le caractère féministe des images, et leur proposer comme une sorte de décoration gratuite ou bien comme une aide à de jeunes artistes sans en préciser le but ».
En 2011, avec la révolution, le graffiti est devenu un outil populaire pour parler de la jeunesse et de la politique. Aujourd'hui, grâce à l'initiative de Gröndhal et Balata, ils parlent aussi des femmes. Et il était temps. Mais la photographe suisse de préciser : « Nous ne pouvons pas nous permettre de parler des femmes simplement en tant que victimes. Nous devons également montrer que les femmes sont fortes, et retourner ce message en direction des rues ».
Loi contre le harcèlement sexuel promise « bientôt »
En 2014, Women On Walls a débuté une collaboration avec deux organisations de défense des droits des femmes au Caire, Nazra for feminist studies et HarassMap. Des discussions ont également été lancé avec The women and memory Forum et Uprising of women in the Arab world pour de futurs projets. Le groupe prévoit également une participation à un festival de rue en Jordanie avec des artistes féminines venues de Jordanie, de Palestine et du Liban. Angie Balata espère que ces associations se poursuivront avec d'autres pays.
Le 10 mai prochain, l'ensemble des participants de février retournera au garage Negiba, rue Bustan au Caire, pour une cérémonie de clôture, une discussion et une analyse finale du projet. Une occasion peut-être de débattre de la promesse du président par intérim Adly Mansour le 9 avril 2014 de la soumission au gouvernement d'une loi contre le harcèlement sexuel.
Via
égyptophile