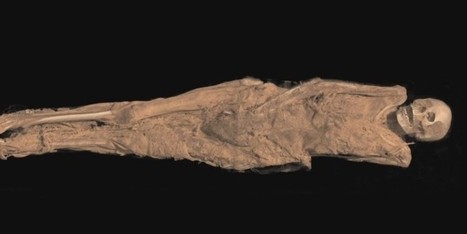 A tattoo of the name of a man was discovered on the inner thigh of a 1300 years old mummy. It is surprising finding Egyptologists have done the British Museum by examining the mummified body of a Sudanese woman who would have died around 700 AD.
Drawing tattooed on the inside of his right leg, consists of characters forming the ancient Greek word MIXAHA, translatable Michael. At the risk of disappointing romantic spirits who might see the name of a lover, the tattoo is actually a representation of the Archangel Michael, patron saint of the medieval Sudan. A symbol of protection for the owner, whose age was estimated between 20 and 35 years.
"This is the first evidence of a tattoo of the time, this is a very rare find," said Daniel Antoine, curator of the British Museum entitled Ancient Lives: New Discoveries. This will reveal to the public the mummy and seven others from 22 May, and shows among other things that the Egyptians in ancient times suffered from health problems quite similar to ours (cholesterol, toothache ...).
According to experts, the exhibition aims to provide a more humane vision of mummies. "We want to promote the idea that they are not objects but real human beings," said John Taylor, chief curator of the department of ancient Egypt, "we want to capture the humanity of these people."
Via
égyptophile