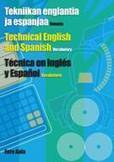 "This vocabulary is not as complete as it is in the book Technical English and Spanish. The book is really the dictionary between Finnish, English and Spanish, easy to supply, click the picture of the front page.
Tämä sanasto ei ole ollenkaan niin kattava kuin se on itse kirjassa Tekniikan englantia ja espanjaa sekä CD:llä. Täydellisemmän sanaston saat hankkimalla kirjan Tekniikan englantia ja espanjaa tai CD:n, klikkaa kansikuvaa.
Sanasto perustuu laajalti Tekniikan Englantia sarjaan, jonka englanninkielisiin osiin on käytetty luvalla lainauksia metsäkonevalmistajien Ponssen, Valmetin, Logsetin, Deere & Companyn ja Timberjackin, ym. ohje-, käsi- ja oppikirjojen sivuilta.
The vocabulary & exercise is widely based on the series Technical English. Rights to translate these English materials Courtesy of Timberjack, Tampere, Finland and Deere & Company, Moline, IL, U.S.A.
El Vocabulario se basa ampliamente en la serie Inglés Técnico. La terminología del material de manuales e instrucciones en inglés se reproduce bajo autorización de Timberjack, Tampere, Finlandia, y John Deere Company, Moline, IL, Estados Unidos."