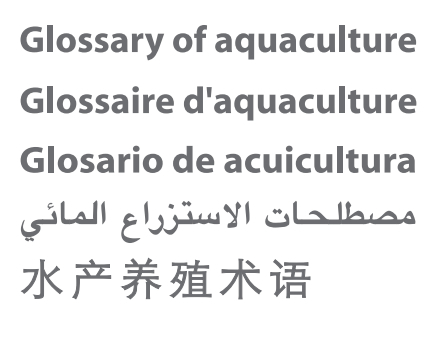 "The successful development of aquaculture depends on the application of appropriate technologies and on the constructive interaction between aquaculturists, government authorities and research institutes using a common language and standard technical terminology. In this context, the Food and Agriculture Organization of United Nations (FAO) pays particular attention to the standardization of terminology in order to facilitate and/or enhance information dissemination and exchange among users. This aquaculture glossary was prepared by the Aquaculture Management and Conservation Service of the FAO Fisheries and Aquaculture Department and funded by the regular programme.
This document aims
(i) to facilitate communication among technical experts and scientists involved in aquaculture research and development; and
(ii) to enhance communication between aquaculture research and development technicians and scientists, developers, consultants and users from other disciplines such as administrators, agriculturists, economists, engineers, environmentalists and policy-makers.
The glossary contains approximately 2 500 terms and includes definitions, information sources, synonyms and related terms when available. It has been compiled using existing textbooks and glossaries, in particular those already prepared by various services of the Organization, namely the Fisheries and Aquaculture Department and the Agriculture and Consumers Protection Department. Aquaculture development involves many other disciplines such as agriculture, economics, engineering, food processing, genetics, irrigation agriculture, legislation, marketing, pathology, planning, sociology, remote sensing, soil science and taxonomy. Therefore, it has been necessary to limit the selection of terms to those directly related to world aquaculture practices and to the most commonly used terms pertaining to other disciplines. Twenty-one broad aquaculture subject areas have been defined within which the multidisciplinary aspects of ..."