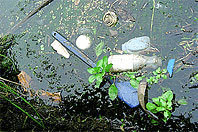 British scientists plan to monitor the effect of storms on nitrate and
phosphate contamination in rivers, research they say is crucial because climate change means that the intensity and frequency of storms are likely to increase.
Results of the study by the scientists from the Universities of Southampton, Portsmouth and East Anglia and the National Oceanography Centre will be used to create a statistical model of the distribution of excess phosphates and nitrates.
The model will show how far phosphates and nitrates transfer from rivers, through estuaries and into the coastal seas and the role that storms play in the process.
The team anticipates that this will give policymakers more informed decisions on how to reduce nitrate and phosphate pollution in estuaries.
"Approximately 40% of the world's population live within 100 kilometres of the coast and estuaries making them some of the most vulnerable sites for impact from man's activities," said Dr Gary Fones, marine biogeochemist from the University of Portsmouth.
"Pollutants such as runoff from fertilised fields and discharge from sewage treatment plants are gathered by rivers from large areas of the interior and accumulate in estuaries and this is aggravated by storm activity," he added.
Acknowledging agriculture's potential impact on water quality, the European Commission has proposed a set of measures to update its Nitrates Directive and fertilisers regulation. Its proposed reform of the Common Agricultural Policy (CAP) would give farmers cash incentives to rotate crops to reduce fertiliser use.