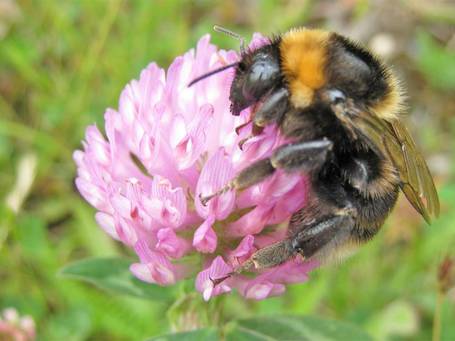 Feb 21, 2013 The Independent
Controversial nerve-agent pesticides widely linked to decline in bees around the world should be banned, the Royal Society for the Protection of Birds (RSPB) says today.
More than 30 separate scientific studies in the last three years have shown adverse effects on insects from neonicotinoids, which are "systemic" insecticides, meaning they enter every part of the target plants – including the pollen and nectar which bees harvest.... http://www.independent.co.uk/environment/nature/rspb-demands-ban-on-deadly-pesticides-linked-to-bee-decline-8503950.html
April 10, 2013 - The Organic View - June Stoyer
ARE NEONICOTINOIDS TOO BIG TO BAN? http://www.theorganicview.com/environment/are-neonicotinoids-too-big-to-ban/
HOW DO NEONICOTINOIDS WORK? http://www.buzzaboutbees.net/how-do-neonicotinoids-work.html
28 March,2013 - The Guardian Environment
THE FOX GUARDING THE HEN HOUSE? PESTICIDE MAKERS PROPOSE PLAN TO "HELP" BEES TO FORESTALL EUROPEAN UNION BAN ON PRODUCTS http://www.guardian.co.uk/environment/2013/mar/28/pesticide-makers-plan-help-bees
PESTICIDE LOBBY SPENDS MILLIONS TO DEFEND CHEMICALS TIED TO BEE DEATHS http://www.huffingtonpost.com/2013/03/29/pesticide-lobby-bees_n_2980870.html
April 11, 2013 Corporate Europe Observatory
PRIVATE LETTERS REVEAL SYNGENTA AND BAYER'S FURIOUS LOBBYING AGAINST BEE PESTICIDE BAN http://corporateeurope.org/publications/pesticides-against-pollinators
April 8, 2013 Earth First
PESTICIDES HAVE KILLED OFF SO MANY BEES, NOW ROBOTIC BEES TO POLLINATE MONSANTO CROPS http://earthfirstnews.wordpress.com/2013/04/08/robotic-bees-to-pollinate-monsanto-crops/
April 23, 2013 Moyers & Company
++++WATCH
SHORT VIDEO "DANCE OF THE HONEY BEE Narrated by Bill McKibben http://truth-out.org/news/item/15896-dance-of-the-honey-bee
March 25, 2013 - Chemical and Engineering News
GMO CORN: AT LEAST THEY'RE ADMITTING PESTICIDES PLAY A MAJOR ROLE IN BEE KILL AND DISAPPEARANCE http://cen.acs.org/articles/91/i12/Curtailing-Honeybee-Losses.html
28 March, 2013 Inter Press Service
USA PESTICIDE APPROVAL PROCESS "GRIEVOUSLY FLAWED"
The U.S. Environmental Protection Agency (EPA), a key government regulator, may have been haphazardly approving thousands of pesticides for decades, some of which pose risks to both human and environmental health.
http://www.ipsnews.net/2013/03/u-s-pesticide-approval-process-grievously-flawed/
+++ WATCH +++EXCELLENT SHORT VIDEO ON THE EFFECTS MULTIPLE PETICIDES ARE HAVING UPON BEES - by Nature Video - YouTube http://www.youtube.com/watch?v=1-fXYR9FTfM
NEW CHARGES AGAINST MONSANTO'S ROUNDUP - THE ULTIMATE KILLING MACHINE http://sco.lt/8iHda5
EUROPE IGNORING WARNING SIGNS OF BEE DEATHS, GM NANOTECHNOLOGY DANGERS AND INDUSTRY COLLUSION U.S. http://www.scoop.it/t/agriculture-gmos-pesticides/p/3995419038/europe-ignoring-warning-signs-of-bee-deaths-gm-food-nanotechnology-dangers-and-industry-collusion
Bee Strawbridge: WHY IS BEE DECLINE NOT A NATIONAL EMERGENCY? http://beestrawbridge.blogspot.com/2013/02/why-is-bee-decline-not-national.html
BEE SHORTAGE MAY INCREASE SOME FOOD PRICES | KGET TV 17 http://www.kget.com/news/local/story/Bee-shortage-may-increase-some-food-prices/MQR93TcM5kincZPHgA3sOg.cspx
HONEY BEE ARE LOSING THEIR WAY http://www.scoop.it/t/biodiversity-is-life/p/3997154773/are-honeybees-losing-their-way
April 1, 2013 Yale Environment 360
TRACKING THE CAUSES OF SHARP DECLINE OF THE MONARCH BUTTERFLY by Richard Conniff http://e360.yale.edu/feature/tracking_the_causes_of_sharp__decline_of_the_monarch_butterfly/2634/?utm_source=feedburner&utm_medium=feed&utm_campaign=Feed%3A+YaleEnvironment360+%28Yale+Environment+360%29
SAVE THE BEES, SAVE THE BERRIES, SAVE ME http://sco.lt/89uHUv
FOR MORE ON BEES, PESTICIDES
http://www.scoop.it/t/agriculture-gmos-pesticides?q=bees
FOLLOW: Rooftop Permaculture http://ow.ly/jDUxg