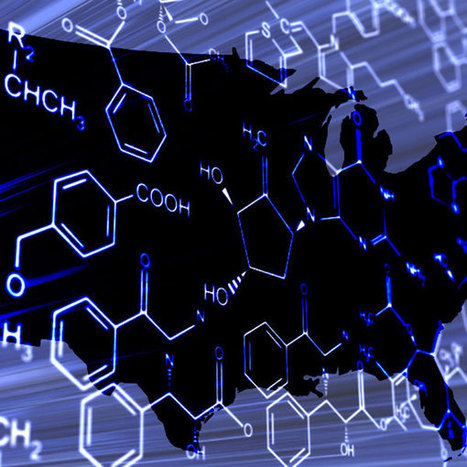 TOXIC AMERICA - REPORT
Environmental Defense Fund
Who Makes the Billions of Pounds of Toxic Chemicals Flowing Through the U.S. Economy Each Year?
A new report by Environmental Defense Fund tallies billions of pounds of chemicals in the American marketplace that are known or strongly suspected to cause increasingly common disorders... http://www.edf.org/health/toxics-across-america
" Now that I've seen the draft legislation from the House, it's clear that the reams of testimony recommending increased protections from toxic chemicals to improve public health were ignored in favor of promoting the chemical industry's wish list for less regulation and accountability. It's time Congress finally stands up to the powerful chemical industry lobby." ... Jeanne Rizzo
Washington Roll Call, By April 21, 2014
▶URGENT NEW RULES FOR CHEMICALS NEEDED TO PROTECT HEALTH AND ENVIRONMENT
Congress has utterly failed to effectively regulate the chemical industry, and thus shares responsibility for widespread toxic chemical contamination of people and the environment. In our daily lives we are exposed to hundreds, perhaps even thousands, of chemicals from a wide range of sources, including personal care and cleaning products, food packaging, plastics, children's toys, furniture, air, water, our workplaces and our neighborhoods.
While most Americans believe chemicals are tested for safety, the unfortunate reality is federal law does not require the chemical industry to prove chemicals safe before they can be used in products we come in contact with every day...http://www.rollcall.com/news/new_rules_for_chemicals_needed_to_protect_health_commentary-232195-1.html
-▶ THE MALE INFERTILITY TIME BOMB: MEN'S SPERM COUNT FALLING: CHEMICALS, PESTICIDES IN FOOD AND ENVIRONMENT http://sco.lt/7cuRIP
June 2, 2013 Nation Of Change
-▶ MONSANTO AND GMOs CONTINUE TO MAKE US STERILE WHILE INFERTILITY BUSINESS BOOMS http://www.nationofchange.org/monsanto-and-gmos-continue-make-us-sterile-while-infertility-business-booms-1370181154
▶ THINK THOSE 80,000 CHEMICALS & PESTICIDES HAVE BEEN TESTED? http://sco.lt/91jqHh
--- WATCH ---
PBS NewsHour Report Investigation, February 13, 2013
POISONOUS CHEMICAL TOXINS IN YOUR DRINKING WATER: THE CHEMICAL INDUSTRY, THE EPA AND CONFLICT OF INTERESTS
-▶ PROCESSED FOODS MAKE UP 70 PERCENT OF THE US DIET - WITH ABOUT 5,000 DIFFERENT CHEMICALS http://www.marketplace.org/topics/life/big-book/processed-foods-make-70-percent-us-diet
▶ A TERRIFYING MAP OF TOXIC CHEMICAL AND SUPERFUND POLLUTION SITES IN THE USA http://www.scoop.it/t/agriculture-gmos-pesticides/p/3045639098/a-terrifying-map-of-toxic-chemical-and-superfund-pollution-sites-in-usa
On Earth Magazine, November 25, 2014
-▶ GENERATION TOXIC: Kids' Brains are at risk from a barrage of common chemcals http://www.onearth.org/articles/2013/11/kids-brains-are-at-risk-from-a-barrage-of-toxic-chemicals
USA Today, March 28,. 2013
-▶ STUDY: TWO-THIRDS OF PESTICIDES IN CONSUMER PRODUCTS AND IN ENVIRONMENT GOT EPA LOOPHOLE APPROVAL WITH MINIMUM OR NO TESTING http://www.usatoday.com/story/news/nation/2013/03/27/pesticides-get-flawed-epa-approval/2024991/
- ▶ YOUR BODY IS A CORPORATE TEST TUBE: HOW YOU BECAME A GUINEA PIG FOR THE CHEMICAL AND BIOTECH CORPORATIONS http://sco.lt/5dp0wz
FastCoExist
-▶ AN APP TO TRACK THE NASTY CHEMICAL IN THE BEAUTY PRODUCTS YOU PUT ON YOUR FACE http://www.fastcoexist.com/3027840/an-app-to-track-the-nasty-chemicals-in-the-beauty-products-you-put-on-your-face
Scientific American, November 23, 2013
▶ CHEMICAL "SOUP" CLOUDS CONNECTION BETWEEN TOXINS AND POOR HEALTH http://www.scientificamerican.com/article/birnbaum-government-toxicologist-qa/
Living on Earth, March 14, 2014
▶ THE SCARY NEW EVIDENCE ON BPA PLASTIC: AN ABSOLUTELY MIND-BOGGLING INVESTIGATION INTO THE CHEMICAL INDUSTRY TACTICS TO KEEP YOU IN THE DARK ABOUT TOXIC PRODUCTS & EXPOSURE http://www.loe.org/shows/segments.html?programID=14-P13-00011&segmentID=4
August 24, 2012 Huffington Post Green
▶ REVERSING THE BURDEN OF PROOF: MORE THAN 80,000 CHEMICALS PERMITTED FOR USE IN THE U.S. HAVE NEVER BEEN FULLY TESTED FOR TOXICITY TO HUMANS - The numbers can overwhelm any parent, or parent-to-be. The Toxic Substance Control Act of 1976 places burden of proof on consumers not industry.
Ninety-nine percent of pregnant American woman carry multiple manmade chemicals in their bodies, sharing that concoction through the umbilical cord. More than 80,000 chemicals permitted for use in the U.S. have never been fully tested for toxicity to humans, let alone children or fetuses. And 26 years have passed since U.S. lawmakers made any significant updates to the country's regulation of toxic... http://www.huffingtonpost.com/2012/07/24/safe-chemicals-act-flame-retardants_n_1699384.html
- ▶A GLOBAL THREAT SAYS UN, WHO PANEL - HORMONE-DISRUPTING CHEMICALS IN OUR FOOD AND ENVIRONMENT http://sco.lt/4op9hR
▶ WHITE HOUSE STALLS CRITICAL EPA REPORT HIGHLIGHTING CHEMICAL DANGERS TO CHILDREN AMID FIERCE OPPOSITION FROM CHEMICAL INDUSTRY http://sco.lt/7AjOef
▶ PESTICIDE LOBBY SPENDS MILLIONS TO DEFEND CHEMICALS TIED TO HUMAN HEALTH AND BEE DEATHS http://sco.lt/8nhcsT
-▶ IS YOUR PET TOO FAT? WHY MANY MILLIONS OF ANIMALS, LIKE PEOPLE, ARE NOW OVERWEIGHT - CHEMICALS, PESTICIDES IN YOUR FOOD http://sco.lt/5MB0TJ
▶ THE CANCER LOBBY http://www.scoop.it/t/agriculture-gmos-pesticides/p/3059233292/the-cancer-lobby
Huffington Post, March 7, 2013
-▶ CHEMICAL CREEP: HOW TOXIC CHEMICALS ARE SNEAKING INTO YOUR FOOD AND YOUR BODY http://www.huffingtonpost.com/2013/03/07/toxic-chemicals-food-body_n_2829270.html
myEARTH360, March 01, 2014
▶ THE INCONVENIENT LINK: TOXIC CHEMICALS AND CANCER http://www.myearth360.com/2014/03/01/toxic-chemicals-cancer-us/
--- WATCH ---
March 25, 2013 Ecowatch
DATELINE TV PRODUCER TESTED FOR CHEMICALS - WHAT SHE FINDS WILL SHOCK YOU http://ecowatch.com/2013/dateline-tv-producer-tested-for-chemicals/
April 23, 2013 Chicago Tribune
▶ FEDERAL LAW MAKES IT PRACTICALLY IMPOSSIBLE TO BAN HAZARDOUS CHEMICALS - The 1976 Toxic Substances Control Act, the only major environmental law that hasn't been updated since it was enacted, allows chemical manufacturers to skip evaluating the safety of their products before putting them on the market. http://www.scoop.it/t/agriculture-gmos-pesticides?q=chemicals+in+your+body
========================
UNITED NATIONS: UNCONTROLLED, UNREGULATED DANGEROUS CHEMICALS COSTS MILLIONS OF LIVES http://www.scoop.it/t/agriculture-gmos-pesticides/p/2773421658/united-nations-uncontrolled-unregulated-dangerous-chemicals-pesticides-costs-millions-of-lives
US National Institute of Health
▶ CHEMICAL TOXINS: A RESEARCH PAPER TO EXPLAIN THE GLOBAL OBESITY EPIDEMIC http://www.ncbi.nlm.nih.gov/pubmed/12006126
Environmental working Group, April 18, 2014
▶ "EXTREME LEVELS" OF MONSANTO HERBICIDE ROUNDUP FOUND IN FOOD http://www.ewg.org/agmag/2014/04/extreme-levels-herbicide-roundup-found-food
▶ INVESTIGATIVE REPORT: SOARING PESTICIDE USE AND POISONING LINKED TO GENETICALLY ENGINEERED CROP PRODUCTION http://sco.lt/8iunRp
BEYOND PESTICIDES
PESTICIDE-INDUCED DISEASES DATA BASE -- CANCER
http://www.beyondpesticides.org/health/cancer.php
▶ 2,4-D "AGENT ORANGE" WEED KILLER ON YOUR FOOD, IN THE ENVIRONMENT AND IN YOUR BODY? http://www.scoop.it/t/agriculture-gmos-pesticides/p/2664869733/2-4-d-agent-orange-weed-killer-on-your-food-in-the-environment-and-in-your-body
▶ THE CHILD VICTIMS OF AGRICULTURAL PESTICIDE POISONING - PESTICIDE INDUSTRY DISMIISSIVE http://sco.lt/8KO8GH
▶ 700,000x LETHAL DOSES OF PESTICIDES FOUND IN BEES http://www.scoop.it/t/agriculture-gmos-pesticides/p/973046639/700-000x-lethal-dose-of-pesticides-found-in-bees
--- WATCH ---
May 13, 2013 Moyers and Company - Full Show:
"THE WAR ON SCIENCE AND TOXIC DIS-INFORMATION http://billmoyers.com/episode/full-show-the-toxic-politics-of-science/
May 18, 2013 Moyers and Company
-▶ "BLINDING US FROM SCIENCE" | Q&A http://billmoyers.com/2013/05/18/blinding-us-from-science/
▶ PESTICIDE/CHEMICAL REGULATION OVERHAUL NEEDED TO PROTECT WILDLIFE, ECOSYSTEMS AND FOOD CHAIN http://sco.lt/6VkkXB
▶ PHARMACEUTICAL/CHEMICAL/PESTICIDE POLLUTION IN OUR STREAMS, RIVERS, DRINKING (BOTTLED) WATER) http://sco.lt/6cpIbx
▶ OCEAN PLASTIC'S IMPACT ON YOUR HEALTH, SEA LIFE AND YOUR SEAFOOD http://sco.lt/7yGHWz
- ▶ MORE THAN HALF OF U.S. RIVERS ARE TOO POLLUTED TO SUPPORT LIFE SHOCKING REPORT REVEALS http://sco.lt/5JvEi9
VIDEO
▶ KILLING OUR FORESTS AND SOIL WITH CHEMICALS: Majestic Forests in Oregon, at Risk from Timber Industry and Chemical Spraying http://www.scoop.it/t/biodiversity-is-life/p/2674358899/video-usa-majestic-forests-in-oregon-at-risk-from-timber-industry-and-chemical-spraying
-▶ THE GLOBAL CHEMICAL BIOTECH CARTEL - AN UNPRECEDENTED POWER OVER WORLD FOOD SUPPLY http://www.scoop.it/t/agriculture-gmos-pesticides/p/1716244040/the-global-chemical-biotech-cartel-an-unprecedented-power-over-world-agriculture-and-human-health
-▶ BEE-KILLING CHEMICALS LURK INSIDE YOUR FOOD: AGROCHEMICALS THREAT TO WILD BEES, FOOD SECURITY AND BIODIVERSITY http://sco.lt/8mGvg1
THE ULTIMATE KILLING MACHINE:
NEW CHARGES AGAINST MONSANTO'S "PESTICIDE" ROUNDUP (NEEDED FOR GMO CROPS) http://sco.lt/5bdPhx
▶ Michael Pollan: "DON'T MISS THIS VIDEO", about the next wave of herbicide-tolerant crops from Monsanto-- will make Round-Up look benign"
WATCH
DANGERS OF DICAMBA
http://www.fixfood.org/features/276/dangers-of-dicamba
June 30, 2013 Nation of Change
▶ EXTENSIVE RESEARCH SHOWS MONSANTO'S #1 SELLING HERBICIDE, ROUNDUP IS KILLING YOU http://www.nationofchange.org/extensive-research-shows-monsanto-s-1-selling-herbicide-roundup-killing-you-1372601505
▶ OUR GMO CORNFIELDS ARE TOO QUIET - ALL LIFE CHEMICALLY EXTERMINATED - EXCEPT THE GENE-ALTERED CORN http://sco.lt/6przzF
▶ HOLDING CORPORATIONS RESPONSIBLE: Mining Companies Devastate Pristine Wisconsin for Frac-Sand - Leaving a Mining, Chemical Wasteland http://www.scoop.it/t/agriculture-gmos-pesticides/p/2850526170/holding-corporations-responsible-mining-companies-devastate-pristine-wisconsin-for-frac-sand-leaving-a-mining-chemical-wasteland
VIDEO
-▶ THE FOSSIL FUEL CONNECTION TO CHEMICALS AND ENDROCINE DISRUPTION
http://www.linktv.org/video/9089/the-fossil-fuel-connection
New York Time, April 15, 2014
-▶ DESPITE RISE IN SPILLS, HAZARDOUS CARGO RIDES RAILS IN SECRET http://www.nytimes.com/2014/04/16/business/despite-spills-hazards-ride-the-rails-in-secret.html?_r=1
-▶ FRACKING NATURAL GAS CHEMICAL WASTE THREATENS HUMAN HEALTH, THE ENVIRONMENT AND WILDLIFE http://sco.lt/8n9QED
▶ COAL BURNING EXACTS A LETHAL PRICE http://sco.lt/8wLmKX
▶▶ WATCH ▶▶
THE WORLD ACCORDING TO MONSANTO (FULL LENGTH)
The Leader of the Biotech Agricultural Cartel