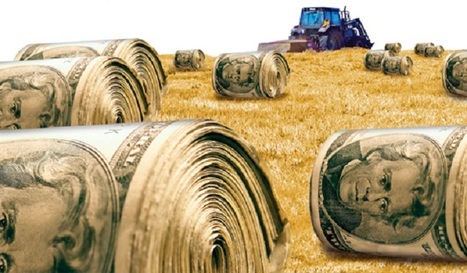 Representative Steve King's broadly written amendment would jeopardize states' powers to enact their own agricultural standards.
Marketplace, March 11, 2015
-▶ BIG CHANGE TO FARM SUBSIDIES http://www.marketplace.org/topics/business/big-change-farm-subsidies
The Foundry, January 28, 2014
-▶ YOU WON'T BELIEVE WHAT'S IN THE $1 TRILLION FARM BILL DISASTER http://blog.heritage.org/2014/01/28/wont-believe-whats-1-trillion-farm-bill-disaster/
RedState, November 22, 2014
▶ AGRIBUSINESS HITS THE $10 BILLION JACKPOT SUBSIDIES, AT EXPENSE OF TAXPAYER -- AGAIN - RUNNING UP FOOD STAMPS COST. U.S. corporate farmers are about to reap a bumper harvest not just in corn and soybeans but also in new subsidies that could soar to $10 billion, blowing a hole in the government's promise that its new five-year farm bill would save taxpayers money. http://www.redstate.com/2014/11/22/agribusiness-hits-jackpot-taxpayers-much/
Reuters, November 19, 2014
▶ U.S. FARMERS SET TO GET HUGE GOVERNMENT PAYOUTS DESPITE BUMPER HARVEST. U.S. farmers are about to reap a bumper harvest not just in corn and soybeans but also in new subsidies that could soar to $10 billion, blowing a hole in the government's promise that its new five-year farm bill would save taxpayers money. http://www.reuters.com/article/2014/11/19/us-usa-grains-insurance-idUSKCN0J32FB20141119
EcoWatch, January 29, 2014
-▶ 5 WAYS THE FARM BILL BRINGS HOME THE BACON FOR BIG AG http://ecowatch.com/2014/01/29/5-ways-farm-bill-brings-home-big-ag/
New York Times, February 04, 2014
-▶ U.S. SENATE PASSES LONG-STALLED FARM BILL WITH CLEAR WINNERS AND LOSERS http://www.nytimes.com/2014/02/05/us/politics/senate-passes-long-stalled-farm-bill.html?emc=edit_tnt_20140205&tntemail0=y&_r=0
High Country News, February 12, 2014
▶ HOW THE U.S. FARM BILL DEEPENS THE PRECIPITOUS DECLINE OF MONARCHS : Scientists fear that one of North America's greatest migrations is in its death throes http://www.hcn.org/blogs/goat/policies-and-pollinators-the-feds-the-farm-bill-and-the-precipitous-decline-of-monarchs
-▶ FARM BILL GIVES MONSANTO UNBELIEVABLE POWERS OVER U.S. FOOD SUPPLY http://sco.lt/6MoQTp
Forbes, October 2, 2013
▶ LOCKING IN THE MONOPOLY: Who Knew Betting On The Weather Could Make a Billion Dollars? Monsanto Buys Climate Corp For $930 Million http://www.forbes.com/sites/bruceupbin/2013/10/02/monsanto-buys-climate-corp-for-930-million/
RSN February 06, 2014
WHY PRESIDENT OBAMA SHOULD VETO THE FARM BILL http://readersupportednews.org/opinion2/448-farm-and-food-policy/21907-why-president-obama-should-veto-the-farm-bill
The Guardian, George Monbiot February 17, 2014
▶ HOW WE ENDED UP PAYING FARMERS TO FLOOD OUR HOMES - - http://www.theguardian.com/commentisfree/2014/feb/17/farmers-uk-flood-maize-soil-protection
=======================
GUARANTEEING CORPORATE FARM PROFITS
=======================
August 29, 2013 Global Possibilities
▶ THE "GUARANTEED INCOME" RACKET FOR USA BIG AGRICULTURE: — Desiccated corn and sun-scorched soybeans have been in high supply lately — and we're paying through the nose for them http://www.globalpossibilities.org/u-s-government-paid-17-billion-for-weather-withered-crops-last-year/
▶ US TAXPAYERS NOW GUARANTEEING CORPORATE PROFITS - HISTORY OF THE CROP "INSURANCE" PROGRAM http://www.rma.usda.gov/aboutrma/what/history.html
CXXJune 17, 2013 Somewhat Reasonable
▶ CROP INSURANCE FOR GUARANTEEING BIG CORPORATE AGRICULTURE PROFITS EXPANDED IN U.S. SENATE 2013 FARM BILL COSTING TAXPAYERS $955 BILLION IN SUBSIDIES http://blog.heartland.org/2013/06/crop-insurance-expanded-in-senate-farm-bill/
TakePart, October 3, 2013
- ▶ MONSANTO SPENDS NEARLY $1 BILLION ON "CROP INSURANCE COMPANY" CLIMATE CORPORATION, TAKING ADVANTAGE OF USDA CROP INSURANCE PROGRAM http://www.takepart.com/article/2013/10/03/precision-farming-monsanto-buys-climate-corporation
May 2, 2013 Environmental Working Group - 2013 Farm Bill
-▶ TAXPAYERS GET SOAKED TO PROP UP GMO SOY AND CORN FARM INCOME - BILLIONS OF DOLLARS http://www.ewg.org/agmag/2013/05/taxpayers-get-soaked-prop-farm-income
USDA July 29, 2014
-▶ USDA IMPLEMENTS KEY FARM BILL CROP INSURANCE FOR CORPORATE FARMING -- WITH YOUR TAX DOLLARS http://www.usda.gov/wps/portal/usda/usdahome?contentid=2014/07/0160.xml&contentidonly=true
New York Times, January 24, 2014
▶ RUNNING BELOW THE RADAR: A HIDDEN THREAT IN THE 2014 FARM BILL COMING RIGHT AT YOU. The mammoth farm bill is reportedly near a conference compromise in Congress, bristling with more tragic cuts in the food stamp program for the needy and a revision of lucrative commodity subsidies for mostly big farmers. Running below the radar is a dangerous, broadly written amendment that would threaten states' current powers to enact their own agricultural standards — standards that can extend far beyond farmyards to consumer, worker and environmental safety. http://www.nytimes.com/2014/01/25/opinion/a-hidden-threat-in-the-farm-bill.html?emc=edit_tnt_20140125&tntemail0=y&_r=0
Civil Eats, June 11, 2014
▶ HOW CONGRESS IS MOVING TO CRUSH PROTECTIONS FOR SMALL MEAT AND POULTRY PRODUCERS. Consolidation has meant "the meatpackers report huge profits, while farmers' share of the retail dollar has gone down dramatically—and consumers still see food prices rising at the grocery store." In Missouri, Gibbons adds, thousands of independent small and mid-size family hog farmers have gone out of business because they don't have access to a fair market. "Because of massive corporate control of the market, we've lost 91 percent of hog producers in Missouri since 1985. That's over 20,000 farmers and many, many jobs in our rural communities." http://civileats.com/2014/06/11/how-congress-is-moving-to-crush-protections-for-small-meat-and-poultry-producers-and-why-you-should-care/
September 4, 2013 NPR
▶ THERE WILL BE NO COMPETITION: HOW BIG AGRICULTURE AND USDA ARE EASING OUT SMALL FARMERS WITH NEW FOOD SAFETY RULES http://www.npr.org/blogs/thesalt/2013/09/04/218642746/small-farmers-in-new-england-fear-new-food-safety-rules
▶ FARM-AGEDDON -▶
No birds. No bees. Our countryside laid waste. And billions of animals that never see a blade of grass http://sco.lt/7ztQbB
April 4, 2013 - Grist
- ▶ WHITE HOUSE GUTS THE NEW SAFETY RULES IN FAVOR OF CORPORATIONS http://grist.org/food/oh-rot-the-white-house-just-gutted-the-new-food-safety-rules/?utm_campaign=daily&utm_medium=email&utm_source=newsletter
March 12, 2012 Thomson Reuters Foundation
▶ GLOBAL FOOD SYSTEM AN INTERNATIONAL "PUBLIC HEALTH DISASTER": UN FOOD EXPERT http://www.trust.org/item/?map=global-food-system-an-international-public-health-disaster-un-food-expert/
Environmental Working Group, November 4, 2013
▶ BIPARTISAN COALITION WOULD LINK LAND CONSERVATION TO 2013 FARM SUBSIDIES http://www.ewg.org/agmag/2013/11/bipartisan-support-compliance
VIDEO REPORT
WHO'S BEHIND THE CHINESE TAKEOVER OF USA's AND WORLD'S BIGGEST PORK PRODUCER? TAKING ADVANTAGE OF THE HUGE FARM BILL SUBSIDIES http://sco.lt/9LONnd
- ▶ ANIMALS RAISED IN CORPORATE CONCENTRATION PENS - DRUGS AND AG-GAG LAWS TO IMPACT BEYOND USA http://sco.lt/4ynuev
Mother Jones, May 07, 2014
-▶ OUR ALARMING FOOD FUTURE, EXPLAINED IN 7 CHARTS http://www.motherjones.com/tom-philpott/2014/05/6-alarming-facts-food-and-global-warming
-▶ EXPORTING OUR FOOD TO THE HIGHEST BIDDER: WHAT TRIGGERED HIGH MILK PRICES http://www.farmanddairy.com/top-stories/triggered-high-milk-prices-exports/176168.html
▶ THE HUNGER GAMES ▶
HOW UK, USA SUPPORT FOR BIG AGRIBUSINESS IS FUELING POVERTY http://sco.lt/8ked9N 
December 14, 2012:
▶ MONSANTO AG BILL GIVES CARTE BLANCHE TO BIOTECH GMO SEEDS WITHOUT OVERSIGHT OR REGULATION http://www.scoop.it/t/agriculture-gmos-pesticides/p/3728095577/monsanto-ag-bill-gives-carte-blanche-to-biotech-gmo-seeds-without-oversight-or-regulation
Salon, December 29, 2013
-▶ MONSANTO'S SCARY NEW SCHEME: WHY DOES IT REALLY WANT ALL THIS DATA? As biotech giant pays huge sums for data analysis about farms, many are terrified about how it might be harnessed http://www.salon.com/2013/12/29/monsantos_scary_new_scheme_why_does_it_really_want_all_this_data/
The Des Moines Register, July 29, 2014
- ▶ MONSANTO AND MEGA CORPORATIONS FINALLY HAVE A SEAT AT THE WHITE HOUSE TABLE UNDER THE GUISE OF CLIMATE CHANGE: SELF INTEREST AND MEGA PROFITS & CONTROL OVER REGULATIONS http://www.desmoinesregister.com/story/money/agriculture/2014/07/29/climate-change-obama/13325835/
October 2, 2013 Salon
-▶ MONSANTO' BIG FARM DATA TAXPAYER RIPOFF http://www.salon.com/2013/10/02/monsantos_big_data_taxpayer_ripoff/
-▶ 15 YEARS OF GM SOYBEANS IN ARGENTINA: THE TRUE COST OF GMO SOY http://sco.lt/5PG1bd
April 25, 2013 Earth In Transition
-▶ SOY - THE GOOD, THE BAD AND THE POISONOUS - A SCORECARD ON SOME OF BEST KNOWN SOY PRODUCTS http://www.earthintransition.org/2013/04/soy-the-good-the-bad-and-the-poisonous/
INFOGRAPHIC:
FIELDS OF GOLD - RAPID RISE OF THE U.S. CORN INDUSTRY
Lashings of Pesticides Creating Biological Deserts
http://flapjackmedia.com/2013/09/04/corn/
February 18, 2013 Common Dreams
▶ INDUSTRIAL AG TRIGGERS DEVASTATING 'WEB' OF POLLUTION http://www.commondreams.org/headline/2013/02/18-2
July 21, 2013 New York Times
▶ OUR COMING FOOD CRISIS AND THE FOLLY OF BIG CORPORATE AGRICULTURE - SOIL, WATER AND CLIMATE CHANGE http://www.nytimes.com/2013/07/22/opinion/our-coming-food-crisis.html?pagewanted=all&_r=0
WATCH
Moyers & Company
HUNGER IN AMERICA:
Kids Going Hungry, Obesity Rising As Corporate Profits Soar
June 29, 2013
-▶ CORPORATE PROFITS SOAR AS AMERICANS STRUGGLE TO GET BY http://www.addictinginfo.org/2013/06/29/corporate-profits-soar-as-americans-struggle-to-get-by/
FOOD AID FOR THE 21st CENTURY
MEETING THE OBJECTIVE OR FEEDING THE BIG AG BIOTECH COFFERS http://sco.lt/6bJSgD
Organic Consumers Association, September 11, 2014
HOW INDUSTRIAL AG IS MAKING THE SOIL -- AND US -- UNHEALTHY http://www.organicconsumers.org/articles/article_30899.cfm
SOIL AS A LIFELINE: THE HIDDEN WORLD OF SOIL UNDER OUR FEET http://sco.lt/6kqJaT
Guardian Environment, George Monbiot, June 05, 2014
- ▶ THE U.S. FARMING LOBBY HAS WRECKED EFFORTS TO DEFEND OUR SOIL http://www.theguardian.com/environment/georgemonbiot/2014/jun/05/the-farming-lobby-has-wrecked-efforts-to-defend-our-soil
June 6, 2013 Big Picture Agriculture
- ▶ A RECIPE FOR SOIL DISASTER - TODAY'S USA FARM POLICY http://www.bigpictureagriculture.com/2013/06/soil-erosion-in-iowa-and-the-u-s-377.html
▶ THE POWERFUL USDA ALLOW MORE GENETICALLY MODIFIED FOODS WITH Bt TOXIC PESTICIDES TO MARKET, DESPITE SERIOUS HEALTH CONCERNS http://sco.lt/7VOZZx
▶ ARE GIANT AGRICULTURE FIRMS TRYING TO MONOPOLISE AND PATENT THE WORLD'S FOOD SUPPLY? http://sco.lt/8d5byj
AGROPOLY - September 2013
▶ A HANDFUL OF CORPORATIONS CONTROL WORLD FOOD PRODUCTION (PDF REPORT) http://www.econexus.info/publication/agropoly-handful-corporations-control-world-food-production
PDF REPORT
http://www.econexus.info/sites/econexus/files/Agropoly_Econexus_BerneDeclaration_wide-format.pdf
-▶ GENETIC ENGINEERING AND THE GMO INDUSTRY: CORPORATE HIJACKING OF FOOD AND AGRICULTURE http://www.scoop.it/t/agriculture-gmos-pesticides/p/3994750421/corporate-hijacking-of-food-and-agriculture-genetic-engineering-and-the-gmo-industry
▶ OUR INDUSTRIAL, WESTERN AGRICULTURAL SYSTEM IS DESTROYING THE EARTH AND OUR HEALTH http://sco.lt/7Ueckb
-▶ BIOTECH AGRICHEMICAL INDUSTRY GETS IMMUNITY FROM U.S. CONGRESS, OBAMA - RISES ABOVE COURTS http://sco.lt/8edR3Z
September 28, 2012 Grist
▶ PORK BARREL SPENDING: HOW BIG AG LOBBYIST USE FEDERAL DOLLAR TO PROTECT FACTORY FARMS http://grist.org/food/the-other-white-meat/
Forbes, October 30, 2013
- ▶ U.S. PORK WALLOWS IN DANGEROUS ANTIBIOTICS, POLLUTION, WELFARE VIOLATIONS http://www.forbes.com/sites/jamesmcwilliams/2013/10/30/u-s-pork-wallows-in-dangerous-antibiotics-pollution-welfare-violations/
August 4, 2013 New York Time
▶ MEGA U.S. HOG FARMS BATTLING TO CONTAIN DEADLY VIRUS... http://www.nytimes.com/2013/08/05/us/hog-producers-battling-to-contain-virus-that-has-killed-piglets-by-the-thousands.html
WATCH
6 April 2013 - New York Times
VIDEO TAPING OF FARM CRUELTY IS NOW A CRIME http://www.nytimes.com/2013/04/07/us/taping-of-farm-cruelty-is-becoming-the-crime.html?partner=rss&emc=rss&_r=0
July 23, 2013 Cornucopia Institute
- ▶ FDA AND USDA COLLUDE TO ELIMINATE TRUE ORGANIC EGG PRODUCTION, FAVORING INDUSTRIAL FACTORY FARMS http://www.cornucopia.org/2013/07/fdausda-collude-to-eliminate-true-organic-egg-production/
MORE, BIGGER, FASTER -
What You Need To Know About Factory Farming Your Food
July 10, 2013 Bill Moyers
▶ AG-GAG LAWS SILENCE WHISTLEBLOWERS | Eye on ALEC http://billmoyers.com/2013/07/10/alec-activists-and-ag-gag/
Truthout, December 21, 2013
- ▶ BILLS IN U.S. CONGRESS CRACK DOWN ON WHISTLEBLOWERS - NOW YOU WILL NEVER KNOW http://www.truth-out.org/opinion/item/20777-bills-in-congress-crackdown-on-whistleblowers
▶ NEW BILL H.R. 5961, SEEKS TO PREVENT EPA FROM FLYING OVER LARGE-SCALE LIVESTOCK OPERATIONS as part of their effort to enforce the Clean Water Act against the biggest polluters of waterways in the country. http://www.huffingtonpost.com/scott-edwards/keeping-secrets-down-on-t_b_1736929.html
▶ HOW BIG AGRIBUSINESS IS INITIATING AND FUNDING THE ECO TERRORISM ACT http://newint.org/blog/2013/04/30/eco-terrorism-act-usa/
April 24, 2013 Mother Jones Tom Philpott
▶ OBAMA ADMIN. ON VERGE OF DRAMATICALLY SCALING BACK OVERSIGHT OF US' LARGEST CHICKEN & TURKEY SLAUGHTERHOUSES http://www.motherjones.com/tom-philpott/2013/04/usda-inspectors-poultry-kill-lines-chicken
WATCH
April 13, 2013 The Real News
VIDEO REPORT
- ▶ OBAMA BUDGET PLANS ON REPLACING USDA POULTRY INSPECTORS WITH INDUSTRY SELF REGULATION http://therealnews.com/t2/index.php?option=com_content&task=view&id=31&Itemid=74&;
WATCH:
"A RIVER OF WASTE"
THE HISTORY OF FACTORY FARMS - CAFOs
Beginning with a history of the American food system, River of Waste shows its evolution to large-scale corporate farms where pollution and use of growth hormones threaten both individual health and the future of our planet http://sco.lt/5WwPVx
Nation of Change
▶ HOW FACTORY FARMING CONTRIBUTES TO GLOBAL WARMING http://www.nationofchange.org/how-factory-farming-contributes-global-warming-1358786945
MEATONOMICS:
The Dirty Truth About Cheap Meat
- ▶ FOUR-FIFTHS OF ALL BIG PHARMA ANTIBIOTICS CONSUMED BY MEAT AND POULTRY INDUSTRY http://sco.lt/5qIZnN
WATCH
A Must see VIDEO for all. Dr. David Suzuki - :
▶ "WHAT ARE ROUNDUP READY & Bt PESTICIDE GMO CROPS? ▶
HuffingtonPost Green, September 15, 2014
-▶ HERBICIDE AND INSECTICIDE USE ON GMO CROPS SKYROCKETING, WHILE PRO-GMO MEDIA RUN INTERFERENCE. Former EPA Senior Scientist's New Article Sets Record Straight http://www.huffingtonpost.com/david-bronner/herbicide-insecticide-use_b_5791304.html
REPORT
PESTICIDE USE ON GENETICALLY ENGINEERED CROPS
Ramon J. Seidler, Ph.D.Former Senior Scientist at the Environmental Protection Agency Office of Research and Development, Western Ecology Division in Corvallis OR
http://static.ewg.org/agmag/pdfs/pesticide_use_on_genetically_engineered_crops.pdf
Stanford Social Innovation Review, September 30, 2013
▶ REMAKING THE FOOD SYSTEM http://www.ssireview.org/blog/entry/remaking_the_food_system?utm_source=Enews&utm_medium=email&utm_content=1&utm_campaign=From_Blog
EurActiv, 22 July 2011
-▶ INTENSIVE FARMING: ECOLOGICALLY SUSTAINABLE? http://www.euractiv.com/cap/intensive-farming-ecologically-s-linksdossier-506029
▶ THE CURSE OF PETROLEUM, CHEMICAL-BASED FERTILIZERS http://sco.lt/4iAdaz
SustainAbility, December 24, 2013
- ▶ TOXIC TIMEBOMB - NEONICOTINOIDS, CHEMICALS, PESTICIDES IN YOUR FOOD AND ENVIRONMENT http://www.sustainability.com/blog/ten-trends-from-2013-toxics-timebomb#.Urns-vZQ1K4
-- WATCH --
▶ THE ULTIMATE KILLING MACHINE ▶
NEW CHARGES AGAINST MONSANTO'S "PESTICIDE" ROUNDUP
GLYPHOSATES
Global Research, November 26, 2013
▶ MONSANTO, THE TRANS PACIFIC PARTNERSHIP AND GLOBAL FOOD DOMINANCE http://www.globalresearch.ca/monsanto-the-tpp-and-global-food-dominance/5359491
WATCH
"WHAT ARE ROUNDUP READY & Bt PESTICIDE GMO CROPS?
INVESTIGATIVE REPORT
SOARING PESTICIDE USE AND POISONING LINKED TO GE CROP PRODUCTION http://sco.lt/8iunRp
-▶ FOOD, SLAVE LABOR AND THE WALMARTIZATON OF AGRICULTURE AND AMERICA http://sco.lt/8oSVBx
▶ HOW BIG FOOD CORPORATIONS LOBBY AND MARKET OBESITY TO CHILDREN http://www.scoop.it/t/agriculture-gmos-pesticides/p/1779948476/how-big-food-corporations-lobby-and-market-obesity-to-children
▶ THE GLOBAL CHEMICAL BIOTECH CARTEL - AN UNPRECEDENTED POWER OVER WORLD AGRICULTURE AND HUMAN HEALTH http://sco.lt/9MtkYL
March 21, 2013
-▶ US GOVERNMENT FUNDING BILL STRIPS FEDERAL COURTS OF THEIR POWER TO RULE OVER BIOTECH INDUSTRY AND GENETICALLY MODIFIED FOOD AND ANIMALS http://sco.lt/6kO2Xh
-▶ OBAMA QUIETLY DE-REGULATES GMO/ GENETIC BIOTECH INDUSTRY : Fast-tracking approvals, waiving regulations ... http://sco.lt/5uCx8b
March 14, 2013
-▶ NEW US GOVT "MONSANTO PROTECTION ACT" CONFIRMS MONSANTO POWER OVER US GOVERNMENT http://ow.ly/iXRqG
MONSANTO: A CORPORATE PROFILE
From Chemical Warfare to Saccharin to GE Seed, Killer Pesticides & Pharmaceutical... http://sco.lt/80C7fd
▶ WE'RE ON THE BRINK OF THE WORST DROUGHT IN 1,000 YEARS http://sco.lt/74mbHF
-- WATCH --
▶ THE WORLD ACCORDING TO MONSANTO (FULL LENGTH) ▶
The Leader of the Biotech Chemical GMO Cartel
-▶ NEW SECRETIVE GLOBAL TRADE PACTS WILL IMPACT US ALL AS SOVEREIGNTY RIGHT NEGOTIATED AWAY - CORPORATE GOVERNANCE http://sco.lt/6P14JF
- ▶ MORE ON CORPORATE INDUSTRIAL FARMING
http://www.scoop.it/t/agriculture-gmos-pesticides?q=big+ag
- ▶ MORE ON CORPORATE FACTORY FARMS
http://www.scoop.it/t/agriculture-gmos-pesticides?q=factory+farming