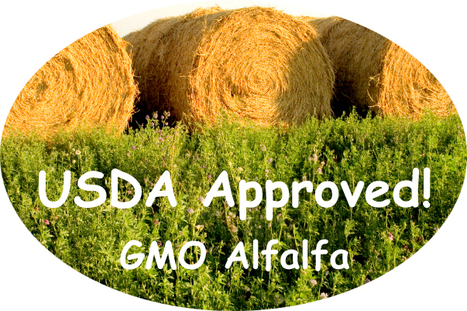 From www.cornucopia.org- February 6, 8:05 PM
February 5, 2013 - THE CORNUCOPIA INSTITUTE
-▶ ARE UNIVERSITIES UNDERCUTTING THEIR OWN RESEARCHERS?
In a case before the U.S. Supreme Court this month, advocates for academic researchers are urging the justices to reverse a patent-infringement decision that has given the Monsanto Company broad authority to restrict scientists' study of genetically modified seeds. The decision, the advocates say, not only hurts farmers and fuels higher food prices; it also contributes to "the suffocation of independent scientific inquiry into transgenic crops.".. http://www.cornucopia.org/2013/02/in-standing-up-for-big-ag-are-universities-undercutting-their-own-researchers/
HuffingtonPost Green, February 11, 2015
-▶ THE HIDDEN WAYS MANIPULATED SCIENCE HARMS OUR HEALTH, FROM MEASLES TO ORGANICS http://www.huffingtonpost.com/2015/02/11/measles-vaccine-bad-science_n_6641396.html
GOV.UK, February 11, 2015
-▶ PRIVATISING UK GOVT AGRI-FOOD RESEARCH? FOOD AND ENVIRONMENT RESEARCH AGENCY TAKING PRIVATE INVESTMENT OF £14.5m https://www.gov.uk/government/news/food-and-environment-research-agency-new-145m-investment
Guardian Environment, April 28, 2014
▶ WARNING OVER 'PRIVATISATION' OF UK ENVIRONMENTAL SCIENCE RESEARCH BODY. Unions and MPs express concern that Food and Environment Research Agency could become a private joint venture
http://www.theguardian.com/environment/2014/apr/28/food-and-environment-research-agency-privatisation
========================
Science/AAAS, February 11, 2015
-▶ AGRICULTURAL RESEARCHER RATTLED BY DEMANDS FOR DOCUMENTS FROM GROUP OPPOSED TO GMO FOODS
http://news.sciencemag.org/scientific-community/2015/02/agricultural-researchers-rattled-demands-documents-group-opposed-gm
Decca Herald, May 0, 2014
-▶ SCIENTISTS FOR SALE: THE WAY MULTINATIONALS BUY ENDORSEMENTS. The push to get GMO'S into your country and onto plates is in full swing http://www.deccanherald.com/content/405309/scientists-sale-way-multinationals-buy.html
Truthout, April 29, 2014
-▶ SCIENCE OR MEDIA? THE SCIENCE MEDIA CENTRE SPINS PRO-GMO FOR BRITISH GOVERNMENT INTERESTS http://truth-out.org/news/item/23392-science-media-centre-spins-pro-gmo-line
University of Virginia, May 20, 2009
▶ STUDY OFFERS KEY INSIGHTS ABOUT HOW INDUSTRY FUNDING COMPROMISES INTEGRITY OF ACADEMIC RESEARCH http://uvahealth.com/about/news-room/archives/study-offers-key-insights-about-how-industry-funding-compromises-integrity-in-academic-research
-▶ PERVERTED SCIENCE -- THE MANIPULATION OF GM RESEARCH http://www.gmfreecymru.org/pivotal_papers/manipulation.htm
April 3, 2013 - IFEX
-▶ HOW THE BIOTECH INDUSTRY IS GAGGING THE SCIENCE AROUND GENETICALLY MODIFIED FOOD http://www.ifex.org/international/2013/04/04/seeds_of_dissent/
Test Biotech, April 10, 2014
-▶ NEW ANALYSIS OF GENETICALLY ENGINEERED MAIZE 1507. RISK RESEARCH CONTROLLED BY INDUSTRY: Will the EU Commission give the green light for cultivation in May? http://www.testbiotech.de/en/node/1032
Boulder Weekly, April 03, 2014
-▶ MUZZLED BY MONSANTO. Is Big Ag squelching research showing its new RNAi GMOs may be dangerous? http://www.boulderweekly.com/article-12640-muzzled-by-monsanto.html
June 19, 2013 Union of Concerned Scientists
-▶ CORPORATE COUNTERFEIT SCIENCE - BOTH WRONG AND DANGEROUS http://blog.ucsusa.org/corporate-counterfeit-sciene-both-wrong-and-dangerous-152
January 30, 2013 Greenpeace India -
-▶ MONSANTO'S GM CORN BIOSAFETY DATA QUESTIONED : Monsanto conducted the study and generated the biosafety data from its own labs in the USA. No independent research or study was conducted by our regulatory bodies before permitting these field trials.Greenpeace India http://www.greenpeace.org/india/en/news/Monsantos-GM-corn-biosafety-data-raises-serious-questions/#.URHbH7ZBYDc.twitter
Environmental Health News, September 23, 2013
-▶ SPECIAL REPORT: SCIENTISTS CRITICAL OF NEW EU CHEMICAL/PESTICIDE POLICY HAS INDUSTRY TIES, CONFLICTS OF INTEREST. Seventeen scientists who have criticized plans in Europe to regulate endocrine-disrupting chemicals have past or current ties to regulated industries. An investigation by Environmental Health News reveals that of 18 toxicology journal editors who signed a controversial editorial, 17 have collaborated with the chemical, pharmaceutical, cosmetic, tobacco, pesticide or biotechnology industries.
http://www.environmentalhealthnews.org/ehs/news/2013/eu-conflict
UPDATE:
Environmental Health News, October 15, 2013
-▶ SCIENTIST WITH EXTENSIVE INDUSTRY TIES QUITS KEY SCIENTIFIC EU COMMISSION REPORTING ON PESTICIDES http://www.environmentalhealthnews.org/ehs/news/2013/scientist-resigns
July 26, 2013 Guardian Environment
-▶ UK GOVERNMENT BEE SCIENTIST BEHIND CONTROVERSIAL STUDY JOINS SYNGENTA PESTICIDE CORPORATION - Government agency and pesticides industry are 'too close' http://www.guardian.co.uk/environment/2013/jul/26/government-bee-scientist-pesticide-firm
Summit Voice, December 05, 2013
-▶ ARCTIC SCIENTIST RESIGNS AFTER BATTLING HIS OWN FEDERAL AGENCY OVER TRANSPARENCY AND SCIENTIFIC ETHICS http://summitcountyvoice.com/2013/12/05/environment-arctic-scientist-resigns-after-battling-his-own-federal-agency-over-transparency-and-scientific-ethics/
Huffington Post Green, December 04, 2013
-▶ WHAT STATINS, TRANS FATS, AND GMOs TELL US ABOUT SCIENTIFIC CONTROVERSIES http://www.huffingtonpost.com/alison-rose-levy/what-statins-transfats-and-gmos-tell-us-about-scientific-controversies_b_4385741.html
November 25, 2012 - Nation of Change
-▶ SMELLING A CORPORATE RAT http://www.spinwatch.org/-articles-by-category-mainmenu-8/46-gm-industry/5546
Mother Jones, October 28, 2013
-▶ LEAKED DOCUMENTS REVEAL THE SECRET FINANCES OF A PRO-INDUSTRY SCIENCE GROUP http://www.motherjones.com/politics/2013/10/american-council-science-health-leaked-documents-fundraising
Mail Online, March 14, 2014
▶ SCIENTISTS HIDDEN LINKS TO THE GM FOOD GIANTS. Disturbing truth behind official report that said UK should forge on with Frankenfoods. http://www.dailymail.co.uk/news/article-2581387/Scientists-hidden-links-GM-food-giants-Disturbing-truth-official-report-said-UK-forge-Frankenfoods.html
Living on Earth, December 06, 2013
▶ GMO STUDY RETRACTED: CENSORSHIP OR CAUTION http://www.loe.org/shows/segments.html?programID=13-P13-00049&segmentID=2
Truthout, October 24, 2012
-▶ INSIDE THE MONSANTO INFORMATION WAR http://truth-out.org/news/item/12284-inside-the-controversy-over-a-french-gmo-study-and-the-monsanto-information-war
-▶ WHAT HAPPENS TO SCIENTISTS WHO SPEAK OUT AGAINST GENETICALLY MODIFIED FOOD & GLOBAL BIOTECHNOLOGY CARTEL? Immoral Maize: Extract from "Don't Worry, It's Safe to Eat" by Andrew Rowell http://www.powerbase.info/index.php/Immoral_Maize:_Extract_from_Don%27t_Worry,_It%27s_Safe_to_Eat_by_Andrew_Rowell
WATCH
Democracy Now, February 23, 2014
SILENCING THE SCIENTIST:
TARGETED BY POWERFUL HERBICIDE FIRM SYNGENTA: ALTRAZINE
▶ SCIENTISTS MUST ASK CORPORATIONS FOR PERMISSION BEFORE PUBLISHING INDEPENDENT RESEARCH ON GENETICALLY MODIFIED PATENTED CROPS - THAT RESTRICTION MUST END http://www.scientificamerican.com/article.cfm?id=do-seed-companies-control-gm-crop-research
-▶ MONSANTO BLOCKS RESEARCH ON GMO SAFETY - THE POWER OF PATENTS http://www.scoop.it/t/agriculture-gmos-pesticides/p/1243971066/monsanto-blocks-research-on-gmo-safety-the-power-of-patents
Scientific America, July20, 2009
-▶ DO SEED COMPANIES CONTROL GM CROP RESEARCH? Scientists must ask corporations for permission before publishing independent research on genetically modified crops. That restriction must end http://www.scientificamerican.com/article/do-seed-companies-control-gm-crop-research/
Los Angeles Times
-▶ NO SEEDS, NO INDEPENDENT RESEARCH
-- Companies that genetically engineer crops have a lock on what we know about their safety and benefits. Multibillion-dollar agricultural corporations, including Monsanto and Syngenta, have restricted independent research on their genetically engineered crops. They have often refused to provide independent scientists with seeds, or they've set restrictive conditions that severely limit research options.... http://articles.latimes.com/2011/feb/13/opinion/la-oe-guriansherman-seeds-20110213
-▶ IN BED WITH MONSANTO: MANY PRO-GMO CORPORATE BIOLOGISTS OWN GMO PATENTS http://www.scoop.it/t/agriculture-gmos-pesticides/p/3472777250/in-bed-with-monsanto-many-pro-gmo-corporate-biologists-own-gmo-patents
June 8, 2013 LifeWise
-▶ SIX CORPORATIONS THAT CONTROL YOUR PERCEPTION - HOW MONSANTO CENSORS THE NEWS http://southweb.org/lifewise/six-corporations-that-control-your-perception/#.UbOZiTSZT4E.twitter
Institute of Science in Society, March 04, 2014
▶ SCIENTIFIC DISINFORMATION ON GMO PLUMBS NEW DEPTHS http://www.gmwatch.org/index.php/news/archive/2014/15377-muzzled-by-monsanto-over-gene-silencing-technology
Food Democracy Now, September 05, 2015
-▶ BILL GATES FOUNDATION GIVES MILLIONS TO TOP UNIVERSITY TO ADD A "STRONGER VOICE" TO PRO-GMO DEBATE
http://www.fooddemocracynow.org/blog/2014/sep/5
New York Times, March 15, 2014
-▶ PHILANTHROCAPITALISM: BILLIONAIRES WITH BIG IDEAS ARE PRIVATIZING AMERICAN SCIENCE http://www.nytimes.com/2014/03/16/science/billionaires-with-big-ideas-are-privatizing-american-science.html?hp&_r=1
WATCH:
"THE WAR ON SCIENCE AND TOXIC DIS-INFORMATION
May 13, 2013 Moyers and Company - Full Show:
http://billmoyers.com/episode/full-show-the-toxic-politics-of-science/
Global Research, May 11, 2014
-▶ MONSANTO, SYNGENTA AND BAYER CROPSCIENCE: THE GMO BIOTECH SECTOR SCIENTIFIC DEBATE: CO-OPTATION, DECEPTION AND COLLUSION http://www.globalresearch.ca/monsanto-syngenta-and-bayer-cropscience-the-gmo-biotech-sector-cant-win-the-scientific-debate-the-options-are-co-option-deception-and-collusion/5381725
Global Research, November 27, 2013
-▶ GENETICALLY MODIFIED POLITICIANS: THEIR BATTLE TO PERSUADE THE PUBLIC TO ACCEPT GM FOOD http://www.globalresearch.ca/genetically-modified-politicians-their-battle-to-persuade-the-public-to-accept-gm-food/5359610
EarthOpenSource, October 21, 2013
-▶ NO SCIENTIFIC CONSENSUS ON GMO SAFETY http://www.earthopensource.org/index.php/news/150
EurActive
-▶ BASF's UNIVERSITY JOB SPARKS GREEN FURTY OVER BIASED SCIENCE http://ow.ly/kMkHN
-▶ SCIENTIST THAT DISCOVERED GMO HEALTH HAZARDS IMMEDIATELY FIRED, TEAM DISMANTLED http://worldtruth.tv/scientist-that-discovered-gmo-health-hazards-immediately-fired-team-dismantled/
May 22, 2013 Natural News
-▶ OVER 800 WORLD SCIENTISTS AGREE: GM CROPS ARE NOTHING SHORT OF A BIO-WAR ON OUR FOOD http://www.naturalnews.com/040447_GMO_biowar_food.html
June 5, 2013 Sustainable Pulse
-▶ MASSIVE DATABASE OF GMO EVIDENCE GIVES WORLDWIDE PICTURE OF HARM http://sustainablepulse.com/2013/06/07/massive-database-of-gmo-evidence-gives-worldwide-picture-of-harm/#.UbOyDeswOic
-▶ ADVERSE IMPACTS OF TRANSGENIC CROP/FOODS - A COMPILATION OF SCIENTIFIC REFERENCES WITH ABSTRACTS https://dl.dropboxusercontent.com/u/8248462/Scientific_Papers_Compiled_March_2013_coalition-for-a-gm-free-india.pdf
Prevent Disease, March 7, 2013
- ▶ STUDY: SCIENTISTS OFFICIALLY LINK PROCESSED FOODS TO AUTOIMMUNE DISEASE http://preventdisease.com/news/13/030713_Scientists-Officially-Link-Processed-Foods-To-Autoimmune-Disease.shtm
Jan 18, 2013 THE GMO KILL -
-▶ MONSANTO'S GMO PATENTED SEEDS WANT TO RULE THE WORLD http://www.scoop.it/t/agriculture-gmos-pesticides/p/3995255998/monsanto-s-gmo-patented-seeds-want-to-rule-the-world-the-gmo-kill
--- WATCH ---
A Must see VIDEO for all. GenetistDr. David Suzuki
WHAT IS GENETIC ENGINEERING
"WHAT ARE ROUNDUP READY & Bt PESTICIDE GMO CROPS?"
▶ CORPORATE-SPONSORED RESEARCH: ARE UNIVERSITIES RESTRICTING SCIENTISTS' STUDY OF GENETICALLY MODIFIED SEEDS? http://www.scoop.it/t/agriculture-gmos-pesticides/p/3996053783/corporate-sponsored-research-are-universities-restricting-scientists-study-of-genetically-modified-seeds
WATCH 59:94
Vandana Shiva
THE FUTURE OF FOOD AND SEED
https://www.youtube.com/watch?v=yYwOTLopWIw
The Ecologist, November 1, 2013
▶ THE REAL POINT OF GMO FOOD IS CORPORATE CONTROL OF FARMING http://www.theecologist.org/News/news_analysis/2140802/the_real_point_of_gm_food_is_corporate_control_of_farming.html
=======================
SERALINI RAT TUMOR STUDY
NEW SERALINI WEBSITE
Scientific Research, Media Coverage, Cancer Petition http://sco.lt/4vkznV
GMWatch, November 27, 2013
SERALINI GMO PEER REVIEWED SCIENTIFIC EVIDENCE IS CRUSHED BY INDUSTRY. Journal retraction of Séralini study is illicit, unscientific, and unethical. Hayes' decision to retract the paper follows FCT's appointment of Richard E. Goodman, a former Monsanto scientist and an affiliate of the GMO industry-funded group, the International Life Sciences Institute, to the specially created post of associate editor for biotechnology at the journal, early this year.[10] Goodman's appointment in turn followed an orchestrated campaign by GMO supporters to persuade FCT to retract the study. Some critics even accused Prof Séralini of fraud, without presenting any evidence. Many of the critics had undeclared conflicts of interest with the GMO industry.
http://www.gmwatch.org/index.php/news/archive/2013/15184

Living On Earth, December 06, 2013
-▶ GMO STUDY RETRACTED - CENSORSHIP OR CAUTION? http://www.loe.org/shows/shows.html?programID=13-P13-00049#feature2
-▶ WHAT'S BEHIND THE SCIENCE ACADEMIES' ATTACK ON SERALINI? http://www.gmwatch.org/latest-listing/51-2012/14362-whats-behind-the-science-academies-attack-on-seralini
FOR MORE GO TO:
-▶ GMWatch http://www.gmwatch.org/latest-listing/51-2012/14217
Alternet, December 11, 2013
-▶ WHO SHOULD WE BELIEVE WHEN IT COMES TO THE SAFETY OF GENETICALLY ENGINEERED FOOD? CONFLICTING SCIENCE STUDIES http://www.alternet.org/food/who-should-you-believe-when-it-comes-safety-genetically-engineered-foods
-▶ MAMMARY TUMORS, KIDNEY AND LIVER DAMAGE IN RATS FED GMO CORN IN FIRST EVER LONG-TERM STUDY http://www.scoop.it/t/agriculture-gmos-pesticides/p/2738034736/mammary-tumors-kidney-and-liver-damage-in-rats-fed-gmo-corn-in-first-ever-long-term-study
The Ecologist, November 28, 2013
-▶ DEFORMITIES, SICKNESS AND LIVESTOCK DEATHS: THE REAL COST OF GENETICALLY MODIFIED ANIMAL FEED http://www.theecologist.org/News/news_analysis/2176082/deformities_sickness_and_livestock_deaths_the_real_cost_of_gm_animal_feed.html
GMO DANGERS REPORTED BY GENETIC ENGINEERS http://organicconnectmag.com/gmo-dangers-as-reported-by-genetic-engineers/#.Us-UnvZQ1K5
===========================
BAN GMOs NOW -
A SPECIAL ISIS REPORT
Actionbioscience, June 2001
-▶ GENETICALLY MODIFIED FOODS: ARE THEY A RISK TO HUMAN/ANIMAL HEALTH? http://www.actionbioscience.org/biotechnology/pusztai.html
TWN Biotechnology & Biosafety Series
-▶ POTENTIAL HEALTH EFFECTS OF FOODS DERIVED FROM GENETICALLY MODIFIED PLANTS: WHAT ARE THE ISSUES? http://www.twnside.org.sg/title2/biosafety/pdf/bio14.pdf
-▶ GMO SOY REPEATEDLY LINKED TO STERILITY, INFANT MORTALITY, BIRTH DEFECTS http://sco.lt/4j6PLN
This in May 2009 !! -
The American Academy of Environmental Medicine (AAEM)
-▶ THE TRUTH IS OUT ON GENETICALLY MODIFIED FOODS - AND IT'S NOT PRETTY http://www.foodmatters.tv/_webapp/the%20truth%20is%20out%20on%20genetically%20modified%20foods%20-%20and%20it%27s%20not%20pretty
Forbes, August 26, 2013
-▶ JUST BECAUSE SCIENCE CAN GENETICALLY ENGINEER FOODS, DOESN'T MEAN WE SHOULD http://www.forbes.com/sites/bethhoffman/2013/08/26/why-genetically-modifying-food-is-a-bad-idea/
The Economic Times, November 25, 2013
-▶ AS OPPOSITION TO GM CROPS GROWS, COMPANIES ARE TURNING TO MUTANT BREEDING http://economictimes.indiatimes.com/news/economy/agriculture/as-opposition-to-gm-grows-companies-are-turning-to-mutant-breeding/articleshow/26334154.cms
The Observer, John Vidal, February 03, 2013
-▶ IT'S HARD TO TRUST GENETICALLY MODIFIED FOOD WHEN IT IS IN THE GRIP OF A FEW GLOBAL GIANTS http://www.guardian.co.uk/commentisfree/2013/feb/03/gm-food-grip-global-giants
-▶ WHY ARE COUNTRIES BANNING GMO GENETICALLY MODIFIED CROPS AND ANIMALS? http://sco.lt/7l7AVV
The Economic Times, November 25, 2013
-▶ AS OPPOSITION TO GM CROPS GROWS, COMPANIES ARE TURNING TO MUTANT BREEDING http://economictimes.indiatimes.com/news/economy/agriculture/as-opposition-to-gm-grows-companies-are-turning-to-mutant-breeding/articleshow/26334154.cms
RT USA, December 3, 2013
ABSOLUTE MAJORITY OF AMERICANS WANT #GMO FOOD LABELED http://rt.com/usa/gmo-labeled-majority-americans-601/#.Up5DPW6-Pr8.twitter
Reuters, April 25, 2013
-▶ U.S. GMO FOOD LABELING DRIVE HAS BIOTECH INDUSTRY BITING BACK http://www.reuters.com/article/2013/04/25/us-usa-gmo-labeling-idUSBRE93O18S20130425
The Grio, November 27, 2013
▶ 'FRESH FOOD' - WHAT ARE YOU REALLY EATING http://thegrio.com/2013/11/27/fresh-food-what-are-you-really-eating/
Scientific American
-▶ DO SEED COMPANIES CONTROL GM CROP RESEARCH? http://sco.lt/7XugID
WATCH
May 13, 2013 Moyers and Company - Full Show:
"THE WAR ON SCIENCE AND TOXIC DIS-INFORMATION http://billmoyers.com/episode/full-show-the-toxic-politics-of-science/
May 18, 2013 Moyers and Company
▶ "BLINDING US FROM SCIENCE" | Q&A http://billmoyers.com/2013/05/18/blinding-us-from-science/
Organic Connections
-▶ GMOs, RESEARCH AND THE NEXT PINK SLIME http://organicconnectmag.com/gmos-next-pink-slime/#.UlubsSTc-RS
-▶ UN-FAO: "GMOs IN THE PIPELINE. LOOKING TO THE NEXT FIVE YEARS INi the crop, forestry, livestock, aquaculture and agro-industry sectors in developing countries" http://www.fao.org/biotech/biotech-forum/en/
-▶ DO WE NEED A GENETIC BILL OF RIGHTS? http://sco.lt/6jmb1l
WATCH
SEEDING DEEP DEMOCRACY
Vandana Shiva
http://www.scoop.it/t/agriculture-gmos-pesticides/p/1054461972/seeding-deep-democracy-vandana-shiva
-▶ THE SEED PATENT GAME: Do Seed Companies Control GM Crop Research? - http://www.scoop.it/t/agriculture-gmos-pesticides/p/946593435/the-seed-patent-game-do-seed-companies-control-gm-crop-research-scientific-american
Pambazuka, July 24. 2014
-▶ GMOs AND FOOD SOVEREIGNTY: WHICH WAY AFRICA?
cc PHYS African governments are under intense pressure from within but also from big agribusiness and Western governments to embrace GMOs. Governments must resist all forms of arm-twisting and food colonialism and make their biotechnology choices based on the facts http://www.pambazuka.org/en/category/features/92594
-▶ HUNDREDS PROTEST DEMANDING OBAMA HALT APPROVAL OF GE FOODS AND END INTIMIDATION CAMPAIGN OVER GMOs http://sco.lt/96Svh3
-▶ THE GLOBAL CHEMICAL BIOTECH CARTEL - AN UNPRECEDENTED POWER OVER WORLD GOOD SUPPLY http://www.scoop.it/t/agriculture-gmos-pesticides/p/1716244040/the-global-chemical-biotech-cartel-an-unprecedented-power-over-world-agriculture-and-human-health
-▶ GENETIC ENGINEERING AND THE GMO INDUSTRY: CORPORATE HIJACKING OF FOOD AND AGRICULTURE http://www.scoop.it/t/agriculture-gmos-pesticides/p/3994750421/corporate-hijacking-of-food-and-agriculture-genetic-engineering-and-the-gmo-industry
-▶ CONTEMPORARY AGRICULTURE IS BURNING UP OUR PLANET http://sco.lt/9E1XDV
=================
GMO AND PESTICIDES
=================
WATCH;
POISONING PARADISE: ISLANDS AT RISK
The Genetic Engineering War in Hawai'i
The Grocer, September 19, 2012
▶ MONSANTO WEEDKILLER AND GM MAIZE IN 'SHOCKING' CANCER STUDY http://www.thegrocer.co.uk/topics/technology-and-supply-chain/monsanto-weedkiller-and-gm-maize-in-shocking-cancer-study/232603.article
VIDEO
September 19, 2012
-▶ EXPERTS DISCUSS THE FINDING OF THE ROUNDUP/GM CANCER TRIAL http://www.youtube.com/watch?v=3SzXvBwvhd4&feature=youtu.be&a
▶ COMPROMISED USDA ALLOWS MORE GENETICALLY MODIFIED FOODS WITH Bt TOXIC PESTICIDES TO MARKET, DESPITE SERIOUS HEALTH CONCERNS http://sco.lt/7VOZZx
INVESTIGATIVE REPORT
SOARING PESTICIDE USE AND POISONING LINKED TO GE CROP PRODUCTION http://sco.lt/8iunRp
-- WATCH --
▶ ROUNDUP: THE ULTIMATE KILLING MACHINE ▶
New Charges Against Monsanto's Pesticide 'Roundup' Glyphosates
▶ Michael Pollan: "DON'T MISS THIS VIDEO
**** DANGERS OF DICAMBA- Roundup's Next Generation. The next wave of herbicide-tolerant crops from Monsanto-- will make Round-Up look benign" http://www.fixfood.org/features/276/dangers-of-dicamba
WATCH:
"MONSANTO FOOD WARS: GMO SEEDS AND ANIMALS" http://www.scoop.it/t/agriculture-gmos-pesticides/p/3997411054/watch-monsanto-food-wars-gmo-seeds-and-animals
▶ THINK THOSE 80,000+ CHEMICALS AND PESTICIDES IN YOUR FOOD & ENVIRONMENT HAVE BEEN TESTED? http://sco.lt/91jqHh
------------------------------------------------------------
-▶ WHY THE UPRISING: Global Marches Challenge Monsanto and The Global Corporate Biotech Cartel's Dominance | @scoopit http://sco.lt/7SEDnV
▶ MORE ON GMO RESEARCH: http://www.scoop.it/t/agriculture-gmos-pesticides?q=GMO+RESEARCH
v2
Via
pdjmoo