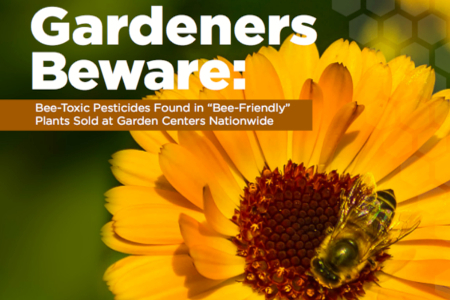 THE FULL SCOOP ON BEES HERE
BUZZFEED Q&A - The Guardian
Stories about the declining bee population and its effects on the environment trickle through the news cycle nearly every day. To keep track of the latest bee news and make sense of the issues, we're highlighting the major bee stories each week http://www.theguardian.com/environment/2013/sep/04/bees-buzzfeeds-pesticides-ban-congress
August 14, 2013 Friends of The Earth
▶ PILOT STUDY FINDS PLANTS SOLD AS "BEE FRIENDLY" PRETREATED WITH BEE-KILLING PESTICIDES WITHOUT WARNING LABELS http://www.foe.org/news/blog/gardeners-beware
WATCH
EXCELLENT SHORT VIDEO
THE EFFECTS MULTIPLE PESTICIDES ARE HAVING UPON BEES
http://www.youtube.com/watch?v=1-fXYR9FTfM
May 14, 2013 Friends Of The Earth Blog
▶ NEONICOTINOID-TREATED SEEDS SNEAKED INTO CONSUMER MARKET - UNLABELLED - BEE AND POLLINATOR DIE-OFF WORSENING http://www.foe.org/news/blog/2013-03-worst-bee-die-off-in-40-years
August 12, 2013 Ecowatch
▶ BEE-TOXIC PESTICIDES FOUND IN "BEE-FRIENDLY" PLANTS SOLD AT GARDEN CENTER NATIONWIDE http://ecowatch.com/2013/plants-sold-bee-friendly-pretreated-with-pesticides/
▶FULL REPORT ▶
http://libcloud.s3.amazonaws.com/93/08/0/3120/Gardeners_beware_report_8-13-13.pdf
Treehugger, November 27, 2014
▶ BEES HAVE POLLEN PREFERENCES, AND WE'VE WIPED OUT MANY OF THEIR FAVORITE FLOWERS http://www.treehugger.com/natural-sciences/bees-have-pollen-preferences-and-weve-wiped-out-many-their-favorite-flowers.html
August 14, 2013 Common Dreams
▶ ARE THE PLANTS YOU'RE BUYING TO HELP BEES ACTUALLY KILLING THEM? http://www.commondreams.org/headline/2013/08/14-9
May 11, 2013 Focusing on Wildlife
▶ WILD BIRD SEED COATED WITH NEONICOTINOIDS IS DEADLY TO SONGBIRDS AND WILDLIFE http://focusingonwildlife.com/news/conservation-group-seeks-assurance-that-wild-bird-seed-products-are-pesticide-free/
Center for Food Safety, March 24, 2014
-▶ NEW REPORT: WIDELY-USED NEONICOTINOID SEED TREATMENTS ARE UNNECESSARY IN MOST CASES: A CHEMICAL BONANZA FOR THE PESTICIDE INDUSTRY http://www.centerforfoodsafety.org/press-releases/3000/new-report-widely-used-neonicotinoid-seed-treatments-are-unnecessary-in-most-cases#
May 11, 2013 Focusing on Wildlife
▶ CONSERVATION GROUP SEEKS ASSURANCE THAT WILD BIRD SEED PRODUCTS ARE PESTICIDE (AND GMO) FREE http://focusingonwildlife.com/news/conservation-group-seeks-assurance-that-wild-bird-seed-products-are-pesticide-free/
Treehugger, June 27, 2014
▶ 51% OF 'BEE-FRIENDLY' PLANTS CONTAIN BEE-KILLING PESTICIDES http://www.treehugger.com/lawn-garden/51-bee-friendly-plants-contain-bee-killing-pesticides.html
Friends of The Earth, Jun 25, 2014
▶ NEW TESTS FIND BEE-KILLING PESTICIDES IN 51% OF "BEE-FRIENDLY" PLANTS FROM GARDEN CENTERS ACROSS U.S. AND CANADA http://www.foe.org/news/archives/2014-06-new-tests-find-bee-killing-pesticides-in-51-percent-of-bee-friendly-plants
Summit County Citizens Voice, January 27, 2015
▶ STUDY: POLLINATOR DECLINE POSES HUGE HUMAN HEALTH RISKS http://summitcountyvoice.com/2015/01/27/study-pollinator-decline-poses-huge-human-health-risks/
Summit County Citizens Voice, November 24, 2014
▶ MORE THAN 100 SCIENTISTS CALL ON PRESIDENT OBAMA TO PROTECT BEES FROM PESTICIDE THREATS http://summitcountyvoice.com/2014/11/24/environment-more-than-100-scientists-call-on-president-obama-to-protect-bees-from-pesticide-threats/
- =====================
MASSIVE BEE DEATHS
====================
▶ BEES DYING BY THE TENS OF MILLIONS http://www.streamorganic.com/index.php/home-mainmenu-1/news-mainmenu-2/1-latest/4943-news-canada-bees-dying-by-the-millions.html
Buzz About Bees, April 29, 2014
-▶ 80,000 BEE COLONIES POISONED IN CALIFORNIA DURING ALMOND POLLINATION - THE DEVASTATING BEE DIE-OFF
http://www.buzzaboutbees.net/Bee-Colonies-Poisoned-in-California.html
▶ 37 MILLION BEES FOUND DEAD IN ONTARIO, CANADA AFTER PLANTING LARGE GMO CORN FIELD TREATED WITH NEONICOTINOID CLASS PESTICIDES http://seattleorganicrestaurants.com/vegan-whole-food/neonicotinoids-pesticides-colony-collapse-of-honeybees-suppressing-immune-system.php#biotech
Guardian Environment, May 09, 2014
▶ HONEYBEES ABANDONING HIVES, MILLIONS DYING DUE TO INSECTICIDE USE, RESEARCH STUDY FINDS Harvard study shows neonicotionoids are devastating colonies by triggering colony collapse disorder http://www.theguardian.com/environment/2014/may/09/honeybees-dying-insecticide-harvard-study

June 24, 2013 EcoWatch
▶ 50,000 BUMBLEBEES, 300 COLONIES DEAD AFTER NEONICOTINOID PESTICIDE USE IN OREGON, USA http://ecowatch.com/2013/50000-bumblebees-dead-neonicotinoid-pesticide/
▶ TENS OF THOUSANDS OF DEAD BUMBLEBEES, HONEYBEES, LADYBUG AND OTHER INSECTS FOUND IN OREGON PARKING LOT http://ow.ly/mfdsC
June 26, 2013 Owensound SunTimes
▶ CANADA: ALMOST 40 MILLION BEES LOST FROM ELMWOOD FARM http://www.owensoundsuntimes.com/2013/06/26/almost-40-million-bees-lost-from-elmwood-farm
March 28, 2013 - New York Times
▶ SOARING BEE DEATHS IN 2012 SOUND ALARM ON PESTICIDE INDUSTRY MALADY http://www.nytimes.com/2013/03/29/science/earth/soaring-bee-deaths-in-2012-sound-alarm-on-malady.html?pagewanted=all&_r=0
Ladybug
▶ THE STRANGE CASE OF THE DYING BEES http://www.ladybud.com/2013/09/19/the-strange-case-of-the-dying-bees/
SILENCING THE SCIENTIST
VIDEO REPORT
Democracy Now, February 21, 2014
August 30, 2013 Sustainable Pulse:
▶ THE NEVER-ENDING TREADMILL OF MORE AND STRONGER PESTICIDES:
-----BIOTECH INDUSTRY STARTS NEW ERA OF PESTICIDE-PROMOTING AGRICULTURE http://sustainablepulse.com/2013/08/30/biotech-industry-starts-new-era-of-pesticide-promoting-agriculture/#.UigyP7zc-RQ
May 9, 2013 Sustainable Food Trust
▶ AGRI-CHEMICAL PR STRATEGIES http://sustainablefoodtrust.org/articles/pr-strategies-of-the-agri-chemical-companies/
▶ BAYER RAKED IN $1 BILLION IN 2012 WITH BEE-KILLING PESTICIDES http://www.scoop.it/t/agriculture-gmos-pesticides/p/990749270/bayer-raked-in-1-billion-in-2010-with-bee-killing-pesticides
August 15, 2014 NBC
▶ EPA ISSUES NEW PESTICIDE LABELS TO WARN ABOUT HAZARDS TO BEES - BUT WHAT ELSE ARE THEY KILLING? http://www.nbcnews.com/science/epa-issues-new-pesticide-labels-warn-about-hazards-bees-6C10931490
August 18, 2013 Care2
▶ EPA THINKS A PIECE OF PAPER WILL SAVE BEES FROM PESTICIDES - HOGWASH http://www.care2.com/causes/epa-thinks-a-piece-of-paper-will-save-bees-from-pesticides.html
TreeHugger, February 23, 2012
▶ SWITCH & BAIT: MAKER OF CONTROVERSIAL BEE-KILLING INSECTICIDE LAUNCHES 'BEE CARE CENTERS'. SHOULD WE CELEBRATE? http://www.treehugger.com/sustainable-agriculture/maker-controversial-insecticide-launches-bee-care-centers-should-we-celebrate.html
PHOTO
Huffington Post Green, June 17, 2014
THIS IS WHAT YOUR GROCERY STORE LOOKS LIKE WITHOUT BEES
http://www.huffingtonpost.com/2014/06/17/store-without-bees_n_5500380.html
AND WE HUMANS EAT THESE TOXIC PLANTS TOO !!!
Neonicotinoids are commonly used pesticides in agriculture. More than 140 crops in the country, including corn, soy, wheat and canola seeds, are treated with neonicotinoids. They're also some of the most damaging pesticides to bees. Taken up through roots and leaves, the pesticides weave their way throughout an entire plant, eventually reaching the nectar on which bees feed. At high levels of exposure, neonicotinoids kill bees by attacking their nervous systems. Lower levels of the pesticide can impair bees' foraging and navigating abilities, disrupt their memory, and suppress their immune systems....http://www.nationaljournal.com/domesticpolicy/are-your-store-bought-plants-killing-bees-20140625
August 19, 2013 The Scotsman
▶ FOOD PRICES TO RISE AFTER MASSIVE HONEY BEE LOSSES IN SCOTLAND http://www.scotsman.com/news/environment/food-prices-to-rise-after-honey-bee-deaths-1-3044251
August 19, 2013 Time Magazine
▶ MASS DEATHS OF BEE COLONIES MAY MEAN DISASTER FOR FARMERS -- AND YOUR FAVORITE FOODS
http://www.time.com/time/magazine/article/0,9171,2149141,00.html#paid-wall
France24 News, December 24, 2013
▶ BENEFIT OF BEES EVEN BIGGER THAN THOUGHT http://www.france24.com/en/20131204-benefit-bees-even-bigger-thought
Harvard Gazette, August 19, 2014
- ▶ ARE FAILING BEES OUR WARNING SIGN FOR HUMAN HEALTH IMPLICATIONS? Harvard School of Public Health's (HSPH) Chengsheng (Alex) Lu, an associate professor of environmental exposure biology, believes that the potential human health implications of colony collapse disorder extend beyond the drop in pollination — though that is worrisome enough — to the impact on humans of long exposure to low-level poisons like neonicotinoid pesticides...links the pesticide to the recent increase in neurological conditions in children such as autism and ADHD. http://news.harvard.edu/gazette/story/2014/08/are-failing-bees-our-warning-sign/
WATCH
WHAT'S KILLING THE BEES AND YOU: VANISHING OF THE BEES
Beekeeper Leaks EPA Document
http://www.youtube.com/watch?feature=player_embedded&v=_0Mrm9Y6khk#!
May 15, 2013 Lifewise
▶ *** BIOTECH'S NEXT BIG DISASTER: SEEDS THAT EMIT MULTIPLE PESTICIDES http://southweb.org/lifewise/biotechs-next-big-disaster-seeds-that-emit-multiple-pesticides/
▶ GMO SEED COATED PESTICIDE ALTERING GENES IN HONEY BEES http://www.natureworldnews.com/articles/2778/20130703/pesticide-altering-genes-honey-bees.htm
LANDMARK LEGISLATION
Beyond Pesticides, May 21, 2014
-▶ MINNESOTA PASSES BILL TO LABEL GARDEN PLANTS FOR POLLINATORS. Under the bill passed by Minnesota's House and Senate last week, plants may not be labeled as beneficial to pollinators if they have been treated with detectible levels of systemic insecticides.
Bees and beekeepers are in dire need of protection from the effects of systemic neonicotinoid pesticides. Neonicotinoids are a relatively new class of insecticides that share a common mode of action that affect the central nervous system of insects, resulting in paralysis and death. They include imidacloprid, acetamiprid, clothianidin, dinotefuran, nithiazine, thiacloprid and thiamethoxam. Currently, neonicotinoid insecticides are the most widely used class of insecticides in the world and comprise about 25% of the global agrichemical market. http://www.beyondpesticides.org/dailynewsblog/?p=13312
GMO GRASS: COMING TO A LAWN NEAR YOU
WITH ALL THEIR ATTENDING TOXIC PESTICIDES
Nation of Change, May 25, 2014
Monsanto and Scotts have begun testing the first genetically engineered (GE) grass, intended for both consumer and commercial use. Scotts Roundup-Ready Kentucky Bluegrass, genetically engineered to withstand massive amounts of Monsanto's Roundup herbicide, is unregulated, will not be labeled "GMO" (genetically modified organisms), and because of the ease with which grass spreads, could in short order contaminate lawns, parks, golf courses and pastures everywhere. Because Roundup will kill everything except the grass engineered to stand up to it, lawns all over the country will be green, lush—and toxic. And you won't know it. http://www.nationofchange.org/gmo-grass-coming-lawn-near-you-1401027434
ClimateProgress, June 25, 2014
▶ DON'T FORGET BUTTERFLIES! OUR POLLINATON CRISIS IS MORE THAN HONEYBEE. "Our natural ecosystems depend upon pollination from many species, including birds, bats, native bees, and butterflies — not just honeybees http://thinkprogress.org/climate/2014/06/25/3447062/pollination-crisis-honeybees/
MONARCH BUTTERFLY MIGRATION PLUNGES
NOW AT LOWEST LEVEL EVER: INDUSTRIAL AGRICULTURE, PESTICIDES AND GMOs http://sco.lt/7PQEyn
August 28, 2013 Guardian Environment
-▶ FRAGILE HONEYBEE POPULATION UNDER THREAT FROM WEST NILE INSECTICIDE http://www.theguardian.com/environment/2013/aug/28/bee-popluation-risk-west-nile-insecticide
▶ STARVING HIVES ! BEES EXPOSED TO INSECTICIDES, SUCH AS NEONICOTINOIDS, ARE UNABLE TO GATHER ENOUGH POLLEN DOOMING THEIR YOUNG TO DIE http://www.seattleorganicrestaurants.com/vegan-whole-food/starving-hives-bees-exposed-to-systemic-pesticides-are-unable-to-gather-enough-pollen-neonicotinoids-kill-honeybees.php
Treehugger, May 12, 2014
-▶ NO. 1 PESTICIDE KILLING HONEYBEES http://www.treehugger.com/sustainable-agriculture/no-1-pesticide-killing-honeybees.html
NEW CHARGES AGAINST MONSANTO'S ROUNDUP
THE ULTIMATE KILLING MACHINE
VIDEO
The Daily Sheeple, June 18, 2014
MONSANTO INDOCTRINATING KIDS AT THE ZOO ON BEE AND BUTTERFLY DISAPPEARANCE (NOT ITS' FAULT) http://www.thedailysheeple.com/monsanto-indoctrinating-kids-at-the-zoo_062014
PHOTOS
On The Wing Photography, May 21, 2014
WHEN ALL THE HIVES COLLAPSE WHERE WILL WE BEE? http://onthewingphotography.com/wings/2014/05/21/when-all-the-hives-collapse-where-will-we-bee/
VIDEO
"The Neonicotinoid View"
The Organic View, May 26, 2014
THE END OF AN AMERICAN BEEKEEPER: THE JIM DOAN STORY http://www.theorganicview.com/environment/the-end-of-an-american-beekeeper-the-jim-doan-story/
▶ PESTICIDES ARE KILLING OUR PLANET: DECIMATING DRAGONFLIES AND OTHER AQUATIC INSECTS http://sco.lt/8lqrQH
========================
THE POLLINATION PROCESS EXPLAINED
WIRED, May 20, 2014
WILL WE STILL HAVE FRUIT IF BEES DIE OFF?
http://www.wired.com/2014/05/will-we-still-have-fruit-if-bees-die-off/
========================
June 12, 2012 Nation of Change
▶ WE'D BETTER WAKE UP: WORLDWIDE HONEY BEE COLLAPSE: A LESSON IN ECOLOGY http://www.nationofchange.org/worldwide-honey-bee-collapse-lesson-ecology-1371046688
August 9, 2013 Time Magazine
-▶ THE TROUBLE WITH BEEKEEPING IN THE ANTHROPOCENE: WILD BEES ARE IN EVEN WORSE SHAPE THAN HONEYBEES http://science.time.com/2013/08/09/the-trouble-with-beekeeping-in-the-anthropocene/
Guardian Environment, January 29, 2014
▶ PESTICIDES HALVE BEES POLLEN GATHERING ABILITY, DEPRIVING THEIR YOUNG OF FOOD http://www.theguardian.com/environment/2014/jan/29/bees-pollen-pesticides-ban
The Guardian, December 17, 2013
▶ BEE PESTICIDES MAY 'HARM DEVELOPING BRAINS OF UNBORN BABIES' - Experts find chemicals that may adversely affect neurons and brain structures associated with learning and memory http://www.theguardian.com/environment/2013/dec/17/bee-pesticides-harmful-children
June 18, 2013 Mongabay
▶ PESTICIDES DECIMATING DRAGONFLIES AND OTHER AQUATIC INSECTS http://news.mongabay.com/2013/0618-hance-pesticides-insects.html
PBS Newshour Science, February 25, 2014
▶ U.S. AILING BEES GET $3 MILLION IN ATTEMPT TO IMPROVE THEIR HEALTH http://www.pbs.org/newshour/rundown/u-s-bees-get-3-million/
July 26, 2013 Tree Hugger
▶ SCIENTISTS DISCOVER ANOTHER CAUSE OF BEE DEATHS, AND IT'S REALLY BAD NEWS http://www.treehugger.com/natural-sciences/scientists-discover-another-cause-bee-deaths-and-its-really-bad-news.html
WATCH
August 14, 2013 Treehugger
TIME MAGAZINE EXPLAINS THE BEE CRISIS
http://www.treehugger.com/endangered-species/whats-killing-bees-time-magazine-examines-crisis.html
WATCH
"POLLINATION: A LOVE STORY THAT FEEDS THE EARTH"
August 22, 2013 Smithsonian
▶ OUR AMAZING BEES ---THE SCIENCE BEHIND HONEY'S ETERNAL SHELF LIFE http://blogs.smithsonianmag.com/science/2013/08/the-science-behind-honeys-eternal-shelf-life/
==========================
NEONICOTINOIDS
=========================
TARGETED BY HERBICIDE FIRM SYNGENTA - ALTRAZINE
THE NEONICOTINOID DISASTER
A growing body of science has implicated neonicotinoids (neonics), which are used in agriculture and also for cosmetic purposes on garden plants, as a key factor in recent global bee die-offs. Beekeepers across the country reported losses of 40-90 percent of their bees last winter. The European Union is set to suspend the use of three neonic pesticides later this year, after a scientific review by European Food Safety Authority found that neonicotinoids pose an unacceptably high risk to bees.
Telegraph, June 14, 2013
-▶ BEE-KILLING NEONICOTINOIDS HARM BIRDS, SOIL AND LEACHES INTO GROUNDWATER, WHERE IT PERSISTS FOR YEARS http://www.telegraph.co.uk/gardening/10119237/Neonicotinoids-harm-birds-and-soil.html
August 5, 2013 Guardian Environment - George Monbiot
-▶ NEONICOTINOIDS ARE THE NEW DDT KILLING THE NATURAL WORLD http://www.theguardian.com/environment/georgemonbiot/2013/aug/05/neonicotinoids-ddt-pesticides-nature

WATCH
NEONICOTINOIDS BANNED IN EU: HOW THEY HARM BEES
http://www.youtube.com/watch?v=xOsCOcvWIOk
-▶ HOW DO NEONICOTINOIDS WORK? http://www.buzzaboutbees.net/how-do-neonicotinoids-work.htm
Beyond Pesticides , October 24, 2013
▶ NEW STUDY LINKS NEONICOTINOID PESTICIDES TO BEE VIRUS http://www.beyondpesticides.org/dailynewsblog/?p=12123
Grist, December 17, 2013
▶ PESTICIDE MAKERS HAVE FOUND A NEW WAY TO KILL BEES http://grist.org/news/pesticide-makers-found-a-new-way-to-kill-bees/
March 21, 2013 The Organic View
-▶ THE NEONICOTINOID VIEW: Peter Jenkins Discusses EPA Lawsuit filed by Beekeepers & Env Groups LISTEN via YouTube http://www.youtube.com/watch?v=LmHcN6w-
April 10, 2013 - The Organic View - June Stoyer
-▶ ARE NEONICOTINOIDS TOO BIG TO BAN? http://www.theorganicview.com/environment/are-neonicotinoids-too-big-to-ban/
WATCH
INCESTUOUS RELATIONSHIPS: THE US AGRIBUSINESSES, FOOD CORPORATIONS AND REGULATORY BODIES http://www.scoop.it/t/agriculture-gmos-pesticides/p/2730001051/incestuous-relationships-the-us-agribusinesses-food-corporations-and-regulatory-bodies-video
====================
PESTICIDE INDUSTRY
====================
▶ PESTICIDE/INSECTICIDE REGULATION OVERHAUL NEEDED TO PROTECT WILDLIFE, ECOSYSTEMS AND FOOD CHAIN http://sco.lt/8NIKcT
▶ OUR GMO CORNFIELDS ARE TOO QUIET - ALL LIFE CHEMICALLY EXTERMINATED - EXCEPT THE GENE-ALTERED CORN http://sco.lt/6przzF
May 12, 2013 Global Research
▶ GMO AGRICULTURE AND CHEMICAL PESTICIDES ARE KILLING THE BEES AND WILDLIFE www.globalresearch.ca/neonicotinoid-pesticides-ongoing-death-of-the-beas-epa-slapped-with-lawsuit/5334816
STUNNING MACRO PHOTOS OF BEES
Courtesy of the US Geological Survey http://petapixel.com/2013/09/14/stunning-macro-photos-bees-courtesy-us-geological-survey/
WATCH
May 13, 2013 Moyers and Company - Full Show:
THE WAR ON SCIENCE AND TOXIC DIS-INFORMATION http://billmoyers.com/episode/full-show-the-toxic-politics-of-science/
▶ THE GLOBAL CHEMICAL BIOTECH CARTEL - AN UNPRECEDENTED POWER OVER AGRICULTURE AND WORLD FOOD SUPPLY http://www.scoop.it/t/agriculture-gmos-pesticides/p/1716244040/the-global-chemical-biotech-cartel-an-unprecedented-power-over-world-agriculture-and-human-health
==========================
PESTICIDE PESTILENCE
==========================
▶ INVESTIGATIVE REPORT: SOARING PESTICIDE USE AND POISONING LINKED TO GENETICALLY ENGINEERED CROP PRODUCTION http://sco.lt/8iunRp
BEYOND PESTICIDES
PESTICIDE-INDUCED DISEASES DATA BASE -- CANCER
http://www.beyondpesticides.org/health/cancer.php
September 5, 2013 Farming UK
▶ UA STUDY EXAMINES 'COCKTAIL OF PESTICIDES' THAT BEES CONSUME http://www.farminguk.com/news/US-study-examines-cocktail-of-pesticides-that-bees-consume_26369.html
Michael Pollan: "Don't miss this VIDEO, about the next wave of herbicide-tolerant crops from Monsanto-- will make Round-Up look benign"
-▶ VIDEO: DANGERS OF DICAMBA http://www.fixfood.org/features/276/dangers-of-dicamba
June 18, 2013 ABC Science
▶ 'SAFE LEVELS' OF PESTICIDES SLASH POND LIFE http://www.abc.net.au/science/articles/2013/06/18/3783633.htm#.UcFj0eswOic
WATCH
FROGS: THE THIN GREEN LINE
A WORLD WITHOUT AMPHIBIANS
=====================
GMO CROPS
AND LASHINGS UPON LASHINGS OF PESTICIDES
=====================

August 19, 2013 Natural News
▶ FAILURE OF GMO CROP TECHNOLOGIES LEADS TO HUGE INCREASE IN HERBICIDE AND PESTICIDE USE http://www.naturalnews.com/041684_GM_crops_failure_pesticide_use.html
▶ COULD DISAPPEARING WILD INSECTS TRIGGER A GLOBAL CROP CRISIS? BENEFICIAL POLLINATORS, BEES AND PESTICIDES http://sco.lt/9Id8RV
▶ WHY IS OUR FOOD BEING MADE AND MODIFIED BY THE WORLD'S LARGEST PESTICIDE MANUFACTURERS? http://gmo-awareness.com/all-about-gmos/gmo-defined/
▶ FOOD ALLERGIES, CANCER, ILL HEALTH LINKED TO PESTICIDES http://sco.lt/4megAz
August 19, 2013 Natural Society
▶ 800 MILLION POUNDS OF PESTICIDES CAN'T BE WASHED OFF http://naturalsociety.com/800-million-pounds-pesticides-unwashable-bred-food-gmo/
August, 9, 2013 Ecowatch
-▶ MONSANTO'S GMO 'AGENT ORANGE' CROPS PLANTED IN NORTH DAKOTA BEFORE APPROVAL http://ecowatch.com/2013/monsanto-gmo-agent-orange-crops-north-dakota/
▶ THE CHILD VICTIM OF AGRICULTURAL PESTICIDE POISONING - PESTICIDE INDUSTRY DISMISSIVE http://sco.lt/8KO8GH
ARE YOU EATING PESTICIDE PLANTS?
THE CONNECTION BETWEEN GMO AND TOXIC PESTICIDES
▶ CONTEMPORARY AGRICULTURE IS POISONING AND BURNING UP OUR PLANET http://sco.lt/99tRI1
▶ WILL SYNTHETIC BIOLOGY BENEFIT OR THREATEN WILD THINGS? http://sco.lt/79HQvZ
Scientific American
▶ DO GIANT SEED COMPANIES CONTROL GM CROP RESEARCH? http://sco.lt/7XugID
==================================
HUMAN HEALTH IMPACTS OF PESTICIDES
==================================
February 1, 2011 GM Watch
-▶ PUBLIC KEPT IN THE DARK ON "ROUNDUP" LINK WITH BIRTH DEFECTS - NEW REPORT http://www.gmwatch.org/latest-listing/1-news-items/13228-public-kept-in-the-dark-on-roundup-link-with-birth-defects-new-report
May 17, 2013 Natural News
▶ YOU EAT THIS POISON: SYSTEMIC PESTICIDES ARE PENETRATING DEEP INTO PLANT TISSUES, DESTROYING BEETLES, TREES, BEES AND HUMAN HORMONES http://www.naturalnews.com/040377_systemic_pesticides_bee_populations_hormones.html
▶ 7 CRAZY THINGS PESTICIDES ARE DOING TO YOUR BODY http://www.scoop.it/t/agriculture-gmos-pesticides/p/2367544798/7-crazy-things-pesticides-are-doing-to-your-body
Philadelphia Inquirer, May 25, 2014
▶ 17 GROUPS OF CHEMICALS TO AVOID IF YOUR WORRIED ABOUT BREAST CANCER http://www.philly.com/philly/health
▶ THINK THOSE 80,000 CHEMICALS AND PESTICIDES IN YOUR FOOD HAVE BEEN TESTED? http://sco.lt/7QxMob
WATCH
THE WORLD ACCORDING TO MONSANTO (FULL LENGTH)
The Leader of the Biotech Chemical Cartel http://sco.lt/7FFsXZ
MONSANTO: A CORPORATE PROFILE

From Saccharin to GE Seed - Chemicals for Food, Pesticides for Agriculture. War Against Natural Systems
===========================
-▶ THE BATTLE FOR THE BEES -▶
Dying Bees Raise Alarm For Humans - Europe Bans Pesticide
==============================
WATCH:
MONSANTO FOOD WARS, GMO SEEDS AND ANIMALS http://www.scoop.it/t/agriculture-gmos-pesticides/p/3997411054/watch-monsanto-food-wars-gmo-seeds-and-animals