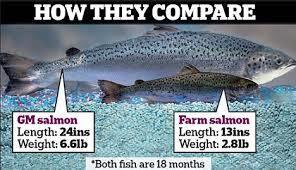 ---------------------------NOTE FROM PDJMOO ---------------------=
-▶ YOU SHOULD KNOW THAT THIS GENETICALLY ENGINEERED SALMON WAS PUSHED THROUGH AS A NEW "ANIMAL DRUG APPLICATION", NOT AS "CONSUMER FOOD"
-▶ ****GENETIC MODIFICATION STRAINS OLD FOOD AND DRUG LAWS - HOW A FISH BECOMES A DRUG AND CORN A PEST http://sco.lt/6vynBp
---------------------------------------------------------------------------------
Grist, November 26, 2013
-▶ CANADA APPROVES EXPORT OF GENETICALLY MODIFIED SALMON EGGS - TO USA via PANAMA'S AQUABOUNTY
Canada will allow genetically modified salmon eggs to be produced and exported — but no way in hell will the eggs be allowed to hatch on Canadian soil.Canada will allow genetically modified salmon eggs to be produced and exported — but no way in hell will the eggs be allowed to hatch on Canadian soil.
The eggs will be exported to Aquabounties hatcheries in Panama and then exported to the USA http://grist.org/news/canada-approves-export-of-genetically-modified-salmon-eggs/
Common Dreams, November 27, 2013
-▶ CANADIAN APPROVAL PUTS 'FRANKENFISH' ONE STEP CLOSER TO DINNER PLATE (U.S. NOT FAR BEHIND) http://www.commondreams.org/headline/2013/11/26-3
20 March, 2013 - The Guardian Environment
-▶ MAJOR US SUPERMARKETS TO BOYCOTT GM SALMON - FIRST OF 30 OTHER GENETICALLY ALTERED SPECIES UNDER DEVELOPMENT
The GM salmon is the first in some 30 other species of genetically engineered fish under development, including tilapia. Researchers are also working to bring GM cows, chickens and pigs to market.... http://www.guardian.co.uk/environment/2013/mar/20/major-us-supermarkets-boycott-gm-salmon
Telegraph, October 20, 1013
-▶ 'FRANKENFISH' COMING TO A SUPERMARKET NEAR YOU: GENETICALLY ENGINEERED SALMON NEARING FDA APPROVAL http://www.telegraph.co.uk/earth/agriculture/geneticmodification/10391080/Frankenfish-coming-to-a-supermarket-near-you-as-campaigners-warn-against-GM-salmon.html
April 26, 2013 On Earth Magazine
-▶ Not so fast. The FDA says the fish is just as safe to eat as conventional salmon—though you can count me among those who don't look to that troubled agency (see "The FDA is Out to Lunch," Winter 2013) for the last word on food safety. But the potential threats to the oceans are significant, and the FDA doesn't acknowledge them. More troublingly, the agency seems content to leapfrog over the entire process for determining whether those threats exist in the first place. Given the far-reaching impact this salmon could have on our natural ecosystems and global seafood supply, fish scientists and food advocates make a strong case for closer scrutiny.... http://www.onearth.org/articles/2013/04/the-fda-weighs-approval-of-genetically-modified-salmon
-▶ MAJOR US FOOD RETAILERS TO SHUN GENETICALLY MODIFIED, PATENTED, FACTORY FARMED, ENSLAVED SEAFOOD http://sco.lt/4qgoDZ
July 19, 2012 One Green Planet
-▶ WHY FISH FARMING IS UNSUSTAINABLE AND HARMING THE PLANET http://www.onegreenplanet.org/animalsandnature/why-fish-farming-is-unsustainable-and-harming-the-planet/
WATCH
FACTORY FARMED FISH
VIDEO:
-▶ THE MASSIVE POLLUTION AND CONDITION UNDER A FISH FARM IN NORWAY : Lerøy west (English subtitle) - YouTube http://www.youtube.com/watch?v=nAIShIjPbIE
May 30, 2013 TakePart
-▶ GMO SALMON CAN REPRODUCE: MEET THE TERRIFYING OFFSPRING http://www.takepart.com/article/2013/05/30/could-gmo-salmon-reproduce
May 29, 2013BBC News -
-▶ GENETICALLY MODIFIED SALMON CAN BREED WITH WILD FISH AND PASS ON GENES http://www.bbc.co.uk/news/science-environment-22694239
WHAT THE FDA ISN'T TELLING US ABOUT GENETICALLY ENGINEERED SALMON http://sco.lt/4tcsrZ
-▶ THE ISSUES WITH GMO SALMON - CORPORATIONS GIVEN THE POWER TO CREATE LIFE - Ocean Robbins - Organic Connections http://organicconnectmag.com/wp/the-issues-with-gmo-salmon/#.UQS2nujZ03Y
-▶ WHAT YOU SHOULD KNOW ABOUT THE COMPANY PUSHING GENETICALLY ENGINEERED SALMON ON CONSUMERS http://www.scoop.it/t/agriculture-gmos-pesticides/p/1390247274/what-you-should-know-about-the-company-pushing-genetically-engineered-salmon-on-consumers
-- WATCH --
March 28, 2013 RT News
VIDEO REPORT
-▶ ' FRANKENFISH' HEADING TO YOUR DINNER PLATE AS OBAMA SIGNS 'MONSANTO PROTECTION ACT' https://www.youtube.com/watch?v=ao7ECASd5pc
-▶ OBAMA TO MOVE FORWARD ON GMO SALMON APPROVAL, REGARDLESS OF 400,000 SIGNATURES... « The True Food Network http://truefoodnow.org/2012/12/21/obama-administration-snubs-risks-moves-forward-with-ge-salmon-approval/
-▶ IS GENETICALLY ENGINEERED SALMON SAFE AND ETHICAL? CORPORATIONS "CREATING" AND "OWNING" LIFE http://sco.lt/7GJOEr
REPORT: Food & Water Watch
-▶ FACTORY-FED FISH: HOW THE GMO SOY INDUSTRY IS EXPANDING INTO THE SEA http://www.foodandwaterwatch.org/tools-and-resources/factory-fed-fish/
April 22, 2009 University of Washington, Conservation
-▶ TAMING THE BLUE FRONTIER http://conservationmagazine.org/2009/04/taming-the-blue-frontier/
HOW WE GOT TO HERE:
-▶ OCEAN-GRABBING BY CORPORATE INDUSTRIAL FISHING ' THREATENS WORLD'S FISHERIES: UN http://sco.lt/6g6w41
-▶ OUR OCEANS ARE DYING - 90% OF BIG FISH ARE GONE: WHAT ARE WE DOING? http://sco.lt/8K5sy9
-▶ OCEANS ARE OUR LIFE SUPPORT SYSTEM -- WE NEED HEALTHY OCEANS http://sco.lt/4ynRkv
-▶ WE MAY BE THE LAST GENERATION TO CATCH FOOD FROM THE OCEANS http://sco.lt/8uHn7Z
VIDEO:
-▶ BLUE HEART OF THE PLANET: TOMORROW'S LIFE-SAVING MEDICATIONS MAY CURRENTLY BE LIVING AT THE BOTTOM OF THE SEA http://sco.lt/733VaL
-▶ WASTE NOT WANT NOT: TWO-THRIDS OF HEALTHY FISH BROUGH ON TO FISHING VESSELS IS THROWN BACK INTO THE SEA http://sco.lt/99BRSr
WATCH:
CNN VIDEO:
-▶ "OVERFISHED AND UNDER-PROTECTED: OCEANS ON THE BRINK OF CATASTROPHIC COLLAPSE" http://sco.lt/7e9wYL
-▶ SEAFOOD SURPRISE: WAIT ... WHAT AM I EATING? http://sco.lt/4ix4jp
-▶ FISH FARMING — A SAD "SOLUTION" TO AN UNNECESSARY PROBLEM | J. Morris Hicks, author http://hpjmh.com/2011/07/17/fish-farming-a-sad-solution-to-an-unnecessary-problem/
-▶ May 29, 2013 OnEarth Magazine
COULD CALIFORNIA'S SALMON MAKE A COMEBACK? http://www.onearth.org/article/california-salmon-comeback
AQUAFARMING:
-▶ SCOTTISH FISH FARMERS USE RECORD AMOUNTS OF PARASITE PESTICIDES: DESTROYING MARINE ECOSYSTEMS http://sco.lt/8qh6R7
AS WITH THE OCEANS, SO WITH OUR LAND
-▶ ***CONTEMPORARY AGRICULTURE IS BURNING UP OUR PLANET http://sco.lt/99tRI1
July 24, 2013 Elle
-▶ GENETICALLY MODIFIED CORN - ALLERGIES TO #GMO CORN http://www.elle.com/beauty/health-fitness/allergy-to-genetically-modified-corn
ANOTHER OPTION?
-▶ GROWING SEA VEGETABLES: HARVESTING SEAFOOD IN WAYS THAT RESTORE, NOT DEPLETE, THE OCEAN http://sco.lt/6SsY2j
-▶ LARGE-SCALE BIODIVERSITY IS VITAL TO MAINTAIN ECOSYSTEM HEALTH http://sco.lt/666xPN