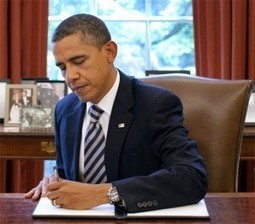 Definition: "FAST TRACK"(trade) - Wikipedia, the free encyclopedia http://en.wikipedia.org/wiki/Fast_track_%28trade%29
March 27, 2013
MONSANTO, BIOTECH AG BUYS OBAMA, THE SENATE AND THE GLOBAL FARM
May 15, 2013 RTCCnewswire
VIDEO REPORT:
THE "MONSANTO PROTECTION ACT" AND GMO FISH http://www.youtube.com/watch?feature=player_embedded&v=R9KDfGvxLn8
UPDATE: September 24, 2013
US SENATE TO END 'MONSANTO PROTECTION ACT' CONTINUING RESOLUTION http://www.centerforfoodsafety.org/press-releases/2599/chairman-mikulski-seeks-to-end-monsanto-protection-act#
>>>> UPDATE:March 21, 2013
NEW BIOTECH "MONSANTO PROTECTION ACT' PASSES CONGRESS IN ANONYMOUS RIDER - Gives Immunity From Federal Law, Minimum Regulation and Oversight to Biotech GMO Cartel http://sco.lt/5I0Oi9
>>>> OBAMA & CONGRESS WILL CONTINUE DEREGULATION ON GENETIC & BIOTECH FOR FINANCIAL GAINS: Pharmaceutical, Agriculture and Chemical Industries Get a Free Pass. http://occupycorporatism.com/obama-congress-will-continue-genetic-biotech-relationship-for-financial-gains/
June 13, 2013 Reuters
USA SUPREME COURT SAYS SYNTHETIC BUT NOT HUMAN EXTRACTED DNA CAN BE PATENTED - URGED BY OBAMA ADMINISTRATION http://preview.reuters.com/2013/6/13/us-top-court-says-extracted-human-dna-cannot-be
COMING SOON: CORPORATE GOVERNANCE :
OBAMA LED NEW SECRETIVE TRADE PACTS WILL IMPACT US ALL AS SOVEREIGNTY RIGHTS ARE NEGOTIATED AWAY http://sco.lt/6P14JF
May 31, 2013 Down To Earth, India
INDIA: STAGE SET FOR GM CROPS http://www.downtoearth.org.in/content/stage-set-gm-crops
MEET MONSANTO'S NUMBER ONE LOBBYIST : BARACK OBAMA http://sco.lt/98RKFN
>>>> OBAMA'S BIOECONOMY BLUEPRINT PROMOTES A GENETICALLY-ENGINEERED, SYNTHETIC BIOTECH FUTURE - Through THE NATIONAL BIOECONOMY BLUEPRINT the Obama administration is seeking to support genetic engineering, synthetic biotech as a main component of "American innovation and economic growth".
.... http://occupycorporatism.com/obamas-bioeconomy-promotes-a-genetically-engineered-future/
>>>> THE GLOBAL BIOTECH CARTEL - AN UNPRECEDENTED POWER OVER WORLD FOOD SUPPLY http://www.scoop.it/t/agriculture-gmos-pesticides/p/1716244040/the-global-chemical-biotech-cartel-an-unprecedented-power-over-world-agriculture-and-human-health
>>>> BIOTECH GIANTS ENSURE MINIMAL PUBLIC OVERSIGHT OF THEIR PRODUCTS | Mother Jones http://www.motherjones.com/tom-philpott/2012/08/biotech-gmo-deregulation
May 13, 2013 Moyers and Company - Full Show:
WATCH: "THE WAR ON SCIENCE AND TOXIC DIS-INFORMATION http://billmoyers.com/episode/full-show-the-toxic-politics-of-science/
May 18, 2013 Moyers and Company
"BLINDING US FROM SCIENCE" | Q&A http://billmoyers.com/2013/05/18/blinding-us-from-science/
29 March, 2013 - "MONSANTO PROTECTION ACT" SPURS USDA INTO PROMOTING GMO CROPS ONE WAY OR ANOTHER
USDA Announces New Conservation Collaboration with DuPont to Promote "Sustainable" Harvesting of Bio-based Feedstocks for Cellulosic Ethanol
http://usda.gov/wps/portal/usda/usdahome?contentid=2013/03/0058.xml&contentidonly=true
23 March, 2013 - Los Angeles Times
GENETIC MODIFICATION STRAINS OLD FOOD AND DRUG LAWS - HOW A FISH BECOMES A DRUG AND CORN A PEST http://sco.lt/6vynBp
>>>>> USDA Blog » USDA's BIOTECHNOLOGY FLIMSY DEREGULATION PROCESS http://blogs.usda.gov/2011/06/28/usda%E2%80%99s-biotechnology-deregulation-process/ NO Independent Peer Reviewed Studies, NO studies on impact on human or ecosystems or animals who eat this re-engineered food either, NO Regulations for crop contamination. WHO IS RUNNING THIS SHOW?
--------------------------------BACKGROUND-----------------------------
June 11, 2012
>>>>> QUIETLY, BEHIND THE SCENES...OBAMA DEREGULATES GMO CROPS DESPITE SUPREME COURT INJUNCTION, http://truth-out.org/opinion/item/1400:obama-deregulates-gmo-crops-despite-supreme-court-injunction
>>>> OBAMA URGED TO ELIMINATE CONTROL BIOTECH COMPANIES HAVE OVER USA REGULATORY PROCESS: http://www.scoop.it/t/agriculture-gmos-pesticides/p/2256131066/obama-urged-to-eliminate-control-biotech-companies-have-over-us-regulatory-process
December 15, 2012
>>>>> MONSANTO GETS IT WAY IN AG BILL Organic Consumers
>>>>>2012 FARM BILL GIVES MONSANTO UNBELIEVABLE POWERS OVER US FOOD SUPPLY http://www.politicolnews.com/farm-bill-gives-monsanto-unbelievable-powers-over-us-food-supply/http://www.organicconsumers.org/monsanto/news.cfm
>>>>>>FARM BILL 2008 http://www.biopreferred.gov/files/FarmBill_2008.pdf
>>>> OBAMA TO AGGRESSIVELY PROMOTE BIOTECHNOLOGY, REDUCING APPROVAL TIMES, WITHOUT INDEPENDENT PEER REVIEW, REGULATIONS, OVERSIGHT OR LABELING http://www.scoop.it/t/agriculture-gmos-pesticides/p/2256091418/obama-seeks-to-aggressively-promote-biotechnology-reducing-approval-times-independent-peer-review
>>>> NEW OBAMA DIRECTIVE – 2,300 untested BioTech Products Now Preferred purchasing for Federal Procurement, April 2012
>>>> OBAMA AG BILL GIVES "FOOD MAFIA" CARTE BLANCHE GO AHEAD TO FEED US BIOTECH ENGINEERED GMO FOODS - NO oversight NO Regulation NO Labeling http://www.scoop.it/t/agriculture-gmos-pesticides/p/3728095577/obama-ag-bill-gives-food-mafia-carte-blanche-go-ahead-to-feed-us-biotech-gmo-foods-no-oversight-no-regulation-no-public-input
----------------------------------AFRICA----------------------------------
>>>>> AFRICA - SOLD: OBAMA PUTS BIG 6 CHEMICAL GMO GIANTS IN CHARGE OF AFRICAN BIOTECH TAKEOVER -- "ENDING HUNGER" -- IN AFRICA http://www.scoop.it/t/agriculture-gmos-pesticides/p/1837261743/africa-sold-obama-puts-big-6-chemical-gmo-giants-in-charge-of-ending-hunger-in-africa
>>>> OBAMA PUSHES GM FOODS INTO AFRICA - IS MONSANTO RUNNING THE US GOVT., USDA AND FDA? http://www.scoop.it/t/agriculture-gmos-pesticides/p/1810977040/usa-and-obama-pushes-gm-foods-on-ghana-africa-is-monsanto-running-the-us-govt-usda-and-fdahttp://content.govdelivery.com/bulletins/gd/USDAOC-437595
>>>> UNITED NATIONS: PRIVATIZING FOOD AND AGRICULTURAL AID IS DANGEROUS; OBAMA'S AFRICA PLAN IS WRONG http://www.scoop.it/t/agriculture-gmos-pesticides/p/3690156835/un-privatizing-food-and-agricultural-aid-is-dangerous-obama-s-africa-plan-is-wrong
>>>>>THE HUNGER GAMES - HOW UK AND USA GOVERNMENTS SUPORT FOR BIG AGRIBUSINESS IS FUELING POVERTY IN AFRICA http://sco.lt/6UGd17
>>>>>GENETICALLY MODIFIED CROPS NOT THE SOLUTION FOR "FEEDING THE WORLD" http://sco.lt/77BuML
>>>> OBAMA & CONGRESS WILL CONTINUE DEREGULATION ON GENETIC & BIOTECH FOR FINANCIAL GAINS: Pharmaceutical, Agriculture and Chemical Industries Get a Free Pass. http://occupycorporatism.com/obama-congress-will-continue-genetic-biotech-relationship-for-financial-gains/
>>>>> OBAMA ADMINISTRATION WHOLESALE APPROVAL OF GENETICALLY ENGINEERED FOODS (Snucked in same time last year during the holidays) http://www.nwrage.org/content/wholesale-approval-genetically-engineered-foods-%E2%80%94-obama-administration-disappointsangers-pub
November 21, 2012
----------------OBAMA USING TRADE TO ARM TWIST ------------------
>>>>> NEW EXECUTIVE ORDER TO USE INTERNATIONAL FREE TRADE AGREEMENTS TO PUSH BIOTECH GMO WORLDWIDE http://www.scoop.it/t/agriculture-gmos-pesticides/p/1716931124/us-govt-in-collusion-with-biotech-industry-new-executive-order-to-use-international-free-trade-agreements-as-a-club
+++ NEW SECRETIVE CORPORATE TRANS PACIFIC TRADE DEAL WILL IMPACT US ALL AS OUR RIGHTS AND REGULATIONS ARE NEGOTIATED AWAY http://sco.lt/62UixN
January 2012
>>>> USA TO START 'TRADE WARS' WITH NATIONS OPPOSED TO MONSANTO, GMO CROPS http://www.scoop.it/t/agriculture-gmos-pesticides/p/946621471/leaked-us-to-start-trade-wars-with-nations-opposed-to-monsanto-gmo-crops
>>>> OBAMA HAS OPENED THE DOOR - THE HORSE IS OUT OF THE STABLE: Downing Street Says "Speed Up Roll-Out of GM Crops" | Seed Today, Dec. 23, 2012 http://www.seedtoday.com/articles/Downing_Street_Says__Speed_Up_Roll_Out_of_GM_Crops_-128827.html
18 February 2013 - Earth Open Source
>>>>>EU-US FREE TRADE DEAL WILL DISMANTLE EU PUBLIC HEALTH PROTECTION ON GM FOODS
"If the new trade agreement goes through, it will be illegal under World Trade Organisation rules for the EU to have a stronger regulatory system for GMOs than the US system. It will be a race to the bottom in which public health will be the loser....http://earthopensource.org/index.php/news/140-eu-us-free-trade-deal-will-dismantle-
Public Citizen:
>>>>>GLOBALIZATION AND TRADE INITIATIVES http://ow.ly/kr4c6 - TransPacific Partnership - Learn more about the corporate power grab thru trade negotiations and agreements http://www.citizen.org/tradewatch
-----------------------------PATENTING LIFE ------------------------------
>>>>>THE NEXT GMO BIOTECH WAVE: EXTREME SYNTHETIC GENETICS. THE IMPLICATIONS. THE ETHICS http://sco.lt/6TyUmv
>>>> POOR COUNTRIES URGED TO GET READY FOR SYNTHETIC BIOLOGY ONSLAUGHT http://www.scoop.it/t/agriculture-gmos-pesticides/p/1715762752/poor-countries-urged-to-get-ready-for-synthetic-biology-onslaught
>>>>>>BIOTECH IS RE-ENGINEERING, RE-PROGRAMMING AND PATENTING LIFE ITSELF. THE ETHICS AND LEGALITIES http://sco.lt/9Hu7Tl
>>>> ALTERED GENES, TWISTED TRUTH http://www.scoop.it/t/agriculture-gmos-pesticides/p/2781911364/altered-genes-twisted-truth
>>>>>PATENT FOR A PIG: Scientists "improve" transgenic GMO 'Enviropigs' http://sco.lt/8QrUPJ
>>>>>HOW GMO FOODS AFFECT HEALTH - GENE ALTERED FOODS NOW LARGE PART OF AMERICAN DIET http://sco.lt/7oVxQH
>>>>>>THE NEW BIOMASSTERS - SYNTHETIC BIOLOGY AND THE NEXT ASSAULT ON BIODIVERSITY AND LIVELIHOODS: ETC Group www.etcgroup.org/content/new-biomassters
>>>>>>GENE GIANTS SEEK 'PHILANTHROGOPOLY' - 6 MULTINATIONAL GENE GIANTS CONTROL THE DIRECTION OF AGRICULTURE AND FOOD WORLDWIDE http://sco.lt/6h3lzt
>>>>>WHY THE MOST POWERFUL THING IN THE WORLD IS A SEED - THE GLOBAL CORORATE MONOPOLY IN SEED PATENTS http://sco.lt/5O0tFZ
>>>>>>HOW MONSANTO OUTFOXED THE OBAMA ADMINISTRATION- OWNING THE SEEDS OF LIFE PATENTS http://sco.lt/8OMWHZ
>>>> THE GMO SEED PATENT GAME: How Seed Companies Control GM Crop Research? - Scientific American http://www.scoop.it/t/agriculture-gmos-pesticides/p/946593435/the-seed-patent-game-do-seed-companies-control-gm-crop-research-scientific-american
January 12, 2013 Science News
>>>> MONSANTO INSURANCE: USDA TELL FARMER TO PAY FOR AVOIDING TROUBLES WITH AGRO-GIANT http://www.scoop.it/t/agriculture-gmos-pesticides/p/3454208573/monsanto-insurance-usda-tells-farmers-to-pay-for-avoiding-troubles-with-agro-giant
>>>> GMOs IN THE PIPELINE. LOOKING TO THE NEXT FIVE YEARS IN the crop, forestry, livestock, aquaculture and agro-industry sectors in developing countries" UN FAO (FOOD AND AGRICULTURE ORGANIZATION) http://www.fao.org/biotech/biotech-forum/en/
-------------------------VIDEOS TO WATCH-------------------------
+++ MONSANTO A DOCUMENTARY ON GMO A MUST WATCH YouTube http://www.youtube.com/watch?v=omtYlsG1P5U
-▶ +++"GENETIC ROULETTE - THE GAMBLE OF OUR LIVES" 1:24:59 https://www.youtube.com/watch?v=9NWyQKGnYes
>THE WORLD ACCORDING TO MONANTO (FULL LENGTH) THE LEADER OF THE GLOBAL BIOTECH CARTEL https://www.youtube.com/watch?v=N6_DbVdVo-k
>THE FUTURE OF FOOD PART 2 Vandana Shiva http://www.scoop.it/t/agriculture-gmos-pesticides/p/951852556/the-future-of-food-part-2-vandana-shiva
>"FOOD INC." (2008) The stranglehold on our food supply by corporate conglomerates ?http://www.scoop.it/t/agriculture-gmos-pesticides/p/3732889325/watch-again-food-inc-2008-and-obama-usda-promote-and-foster-this
>UNITED NATIONS: WHY GM CROPS ARE NOT THE SOLUTION? http://www.scoop.it/t/agriculture-gmos-pesticides/p/1228040300/united-nations-why-are-gm-crops-not-the-solution
>A SYSTEM BASED ON PROFITS IS UNSUSTAINABLE ....Vandana Shiva on Industrial Agriculture http://www.scoop.it/t/agriculture-gmos-pesticides/p/1614565249/a-system-based-on-profits-is-unsustainable-vandana-shiva-on-industrial-agriculture
>"SEEDING DEEP DEMOCRACY" - Vandana Shiva http://www.scoop.it/t/agriculture-gmos-pesticides/p/1054461972/seeding-deep-democracy-vandana-shiva
>VIDEO REPORT - Real News Network
GMO BIO-FUELS, SPECULATION, LAND GRABS - FOOD CRISIS http://therealnews.com/t2/index.php?option=com_content&task=view&id=31&Itemid=74&jumival=7818
------------------------------MORE ARTICLES----------------------------:
>>>> TOP US HEALTHCARE GIANT, KAISER PERMANENTE, ISSUES WARNING ON GENETICALLY ENGINEERED FOOD http://www.scoop.it/t/agriculture-gmos-pesticides/p/3585794502/top-us-healthcare-giant-kaiser-permanente-issues-warning-on-genetically-engineered-food
>>>> OBAMA ADMINISTRATION GIVES TENTATIVE APPROVAL TO FRANKENFISH Dec. 28, 2012 TruthOut http://truth-out.org/news/item/13594-obama-administration-gives-tentative-approval-to-frankenfish
>>>>> "FATALLY FLAWED' FDA ASSESSMENT TO UNLEASH GENETICALLY ENGINEERED SALMON ONTO YOUR DINNER PLATE - NO Regulations NO Oversight NO Public Input Dec. 20 2012 http://www.scoop.it/t/agriculture-gmos-pesticides/p/3819809217/fatally-flawed-fda-assessment-to-unleash-genetically-engineered-salmon-onto-your-dinner-plate-no-regulation-no-oversight-no-labeling
December 21, 2012
>>>>> BIO APPLAUDS FDA ACTION ON GE SALMON http://www.bio.org/media/press-release/bio-applauds-fda-action-ge-salmon
-----------------GMO's USE TONS AND TONS OF PESTICIDES--------------
April 27, 2013 Guardian Environment
INSECTICIDE FIRMS IN SECRET BID TO STOP BAN THAT COULD SAVE BEES - AND YOU http://www.guardian.co.uk/environment/2013/apr/28/europe-insecticides-ban-save-bees
>>>>>PESTICIDE OVERLOAD: 1.1 BILLION POUNDS USED PER YEAR...AND...NEW USA LEGISLATION BANS RETALIATION http://www.scoop.it/t/agriculture-gmos-pesticides/p/986291397/pesticide-overload-1-1-billion-pounds-used-per-year-and-new-usa-legislation-bans-retaliation
>>>> GMOs DEFINED
http://gmo-awareness.com/all-about-gmos/gmo-defined/
>>>>> HOW BIOTECH CORPORATIONS AND GMO CROPS ARE THREATENING THE ENVIRONMENT AND HUMANKIND ALIKE http://www.scoop.it/t/agriculture-gmos-pesticides/p/3583767396/how-biotech-corporations-and-gmo-crops-are-threatening-the-environment-and-humankind-alike
>>>>>>PLACING PROFITS AHEAD OF WELL BEING: CHALLENGING THE DESTRUCTIVE POWER OF AGRO-CHEMICAL INDUSTRY http://www.scoop.it/t/agriculture-gmos-pesticides/p/3070968001/placing-profits-ahead-of-wellbeing-challenging-the-destructive-power-of-agro-chemical-industry
>>>> WHY GENETIC MODIFICATION OF CROPS AND LIVESTOCK IS INHERENTLY UNCONTROLLABLE AND HAZARDOUS http://www.scoop.it/t/agriculture-gmos-pesticides/p/3075683244/why-genetic-modification-of-crops-and-livestock-is-inherently-uncontrollable-and-hazardous
NANOMATERIAL RISKS - IN YOUR FOOD, CLOTHING, EVERYWHERE - UNKNOWN RIKS AND IMPACTS ON HUMAN, ENVIRONMENTAL HEALTH
NANOMATERIAL RISKS http://sco.lt/93lLIv
PESTICIDE LOBBY SPENDS MILLIONS TO DEFEND CHEMICALS TIED TO BEE AND HUMAN HEALTH http://sco.lt/8nhcsT
-----------------------------------
>>>>> ORGANIC FARMERS ALARMED BY OBAMA USDA DEREGULATION OF MUTANT ALFAFA - ABC News, Jan 31, 2011 http://abcnews.go.com/Politics/organic-farmers-alarmed-obama-deregulation-mutant-alfalfa/story?id=12786580#.UNfgTbbZ03Y
>>>> THE POWERFUL USDA ALLOWS MORE GENETICALLY MODIFIED FOODS TO MARKET DESPITE SERIOUS HEALTH CONCERNS http://www.scoop.it/t/agriculture-gmos-pesticides/p/3337601961/the-powerful-usda-allows-more-genetically-modified-foods-to-market-despite-serious-health-concerns
June 10, 2013 Reuters
>>>>> MONSANTO WANTS ORGANIC CROPS CONTAMINATED: ORGANIC GROWERS LOSE DECISION IN GMO SEEDS WITH MONSANTO http://www.reuters.com/article/2013/06/10/us-monsanto-organic-lawsuit-idUSBRE9590ZD20130610?feedType=RSS&feedName=environmentNews
>>>>>CANCER OF CORRUPTION, SEEDS OF DESTRUCTION: THE MONSANTO GMO WHITEWASH http://www.scoop.it/t/agriculture-gmos-pesticides/p/3826752991/cancer-of-corruption-seeds-of-destruction-the-monsanto-gmo-whitewash
APPAULING - IT SEEMS THE ONLY WAY THE GLOBAL BIOTECH CARTEL CAN GET ITS' HOOKS IN, IS BY UNDERHANDED, COLLUSIONARY TACTICS AND "SNEAKING" BILLS INTO FOREIGN GOVERNMENT BILLS -
April 23, 2013
INDIAN GOVERNMENT SNEAKS IN DEEPLY FLAWED BIOTECH BILL GIVING FREE REIN TO INDUSTRY http://www.gmfreein.org/content/govt-betrays-nation-earth-day-tables-deeply-flawed-biotech-regulatory-authority-india-brai-0
AND NOW OBAMA HAS MOVED ONTO OUR FACTORY-FARM RAISED FOOD - THE DEREGULATION JUGGERNAUT IS ON:
April 24, 2013 Mother Jones Tom Philpott
>>>>>OBAMA ADMIN. ON VERGE OF DRAMATICALLY SCALING BACK OVERSIGHT OF US' LARGEST CHICKEN & TURKEY SLAUGHTERHOUSES http://www.motherjones.com/tom-philpott/2013/04/usda-inspectors-poultry-kill-lines-chicken
+++ANTI-WHISTLE BLOWER AG-GAG BILLS AIMED AT KEEPING YOU IN THE DARK ABOUT PIGS, FACTORY FARMS -- AND YOUR FOOD http://sco.lt/7aFBUv
24 April 2013 Grist
>>>>>THE STATE(S) OF THE AG-GAG LAWS - INTERACTIVE http://grist.org/food/the-states-of-the-ag-gag/
April 9, 2013 AlterNet
>>>>>EXPOSING OBAMA's 'WAR ON WHISTLEBLOWERS' http://www.alternet.org/civil-liberties/groundbreaking-war-whistleblowers-investigation-exposes-obama-admins-record?akid=10310.237541.2rFHQe&rd=1&src=newsletter822302&t=3
---------------------------AND FINALLY
>>>>> NANO-PESTICIDES SNEAKED ONTO THE MARKET (AND CONSUMER PRODUCTS) WITHOUT INDEPENDENT PEER-REVIEWED RESEARCH/TESTING OR REGULATION OR OVERSIGHT http://www.scoop.it/t/agriculture-gmos-pesticides/p/2029721070/nano-pesticides-sneaked-onto-the-market-and-consumer-products-without-regulation-or-oversight