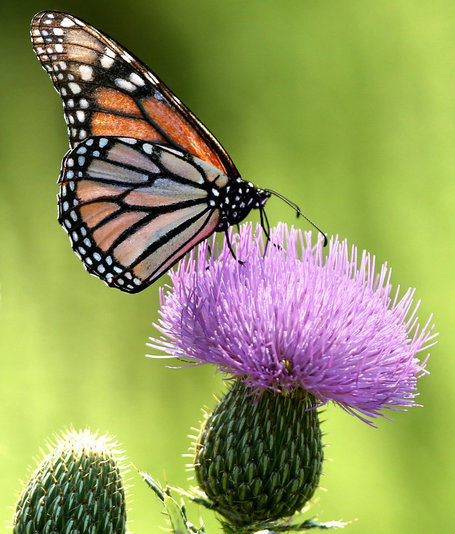 March 13, 2013 - New York Times
The monarch migration population to their winter home in a Mexican forest sank this year to a 59 percent decline ince December 2011 due to extreme weather and a lack of the milkweed that the butterflies feed on, experts say.
But an equally alarming source of the decline is the explosive increase in American farmland planted in soybean and corn genetically modified to tolerate herbicides.
The American Midwest's corn belt is a critical feeding ground for monarchs, which once found a ready source of milkweed growing between the rows of millions of acres of soybean and corn. But the ubiquitous use of herbicide-tolerant crops has enabled farmers to wipe out the milkweed, and with it much of the butterflies' food supply.
"That habitat is virtually gone. We've lost well over 120 million acres, and probably closer to 150 million acres," Mr. Taylor said.
A rapid expansion of farmland — more than 25 million new acres in the United States since 2007 — has eaten away grasslands and conservation reserves that supplied the monarchs with milkweed" ... http://www.nytimes.com/2013/03/14/science/earth/monarch-migration-plunges-to-lowest-level-in-decades.html?smid=tw-nytnational&seid=auto
20 INCREDIBLE MIGRATING MONARCH BUTTERFLY PICTURES - Environmental Graffiti - http://www.environmentalgraffiti.com/incredible-images-monarch-butterflies-swarming?utm_source=feedburner&utm_medium=feed&utm_campaign=Feed%3A+environmentalgraffiti+%28Environmental+Graffiti%29&utm_content=Google+Reader
April 1, 2013 Yale Environment 360
TRACKING THE CAUSES OF SHARP DECLINE OF THE MONARCH BUTTERFLY by Richard Conniff http://e360.yale.edu/feature/tracking_the_causes_of_sharp__decline_of_the_monarch_butterfly/2634/?utm_source=feedburner&utm_medium=feed&utm_campaign=Feed%3A+YaleEnvironment360+%28Yale+Environment+360%29
INSECTICIDE AND BEES: YOUR QUESTIONS ANSWERED · Sense about Science http://www.senseaboutscience.org/pages/insecticides-and-honeybees-your-questions-answered.html
28 March, 2013 Inter Press Service
USA PESTICIDE APPROVAL PROCESS "GRIEVOUSLY FLAWED"
The U.S. Environmental Protection Agency (EPA), a key government regulator, may have been haphazardly approving thousands of pesticides for decades, some of which pose risks to both human and environmental health.
http://www.ipsnews.net/2013/03/u-s-pesticide-approval-process-grievously-flawed/
PESTICIDE LOBBY SPENDS MILLIONS TO DEFEND CHEMICALS TIED TO BEE DEATHS http://www.huffingtonpost.com/2013/03/29/pesticide-lobby-bees_n_2980870.html
GMO SEEDS AND THEIR PESTICIDES SNEAK INTO CONSUMER MARKETS - UNLABELLED -The Four Steps Required to Keep Monsanto OUT of Your Garden http://sco.lt/6iFQdl
March 21, 2013 - Mother Jones - Tom Philpott
RESEARCHERS: GENETICALLY MODIFIED CROPS ARE KILLING MONARCH BUTTERFLIES, AFTER ALL http://www.motherjones.com/tom-philpott/2012/03/researchers-gm-crops-are-killing-monarch-butterflies-after-all
March 25, 2013 - Chemical and Engineering News
GMO CORN: AT LEAST THEY'RE ADMITTING PESTICIDES PLAY A MAJOR ROLE IN BEE KILL AND DISAPPEARANCE http://cen.acs.org/articles/91/i12/Curtailing-Honeybee-Losses.html
BEE-KILLING CHEMICALS LURK INSIDE YOUR FOOD: Bee-Killing Chemical Agrochemicals Threat to Wild bees, food security and biodiversity http://www.scoop.it/t/agriculture-gmos-pesticides/p/3995012477/bee-killing-chemical-lurks-inside-your-food-agrochemicals-threat-to-wild-bees-food-security-and-biodiversity
22 March 2013 Planet Ark
USA GROUPS SUE EPA OVER HONEY BEE DEATHS, BLAME SOME INSECTICIDES http://planetark.org/wen/68224
March 16, 2013 Star Tribune
STUDY TIES GMO CORN, SOYBEANS TO BUTTERFLY LOSS http://www.startribune.com/local/143017765.html?refer=y
March 15, 2013 - Guardian Environment AS FOR BEES, SO FOR BUTTERFLIES; PESTICIDES THAT KILL:
WHAT IS THE VALUE OF BEES? Insecticides are harming bees, argue environmentalists, who believe pollinators are greatly undervalued. Leo Hickman, with your help, investigates... http://www.guardian.co.uk/environment/blog/2013/mar/15/bees-value-pollination-farming-neonicotinoids
March 14, 2013 - The Guardian Environment
MEXICAN MONARCH BUTTERFLY NUMBERS DROP 59% TO RECORD LOWS - SIXTH DECLINE IN SEVEN YEARS Mexican monarch butterfly numbers at record low, scientists say http://www.guardian.co.uk/environment/2013/mar/14/mexican-monarch-butterfly-numbers
THE DYING OF THE MONARCH BUTTERFLIES March 15, 2013 - By Lincoln IP. Brower and Homero Aridjis - New York Times
http://www.nytimes.com/2013/03/16/opinion/the-dying-of-the-monarch-butterflies.html?emc=tnt&tntemail1=y
COULD DISAPPEARING WILD INSECTS TRIGGER A GLOBAL CROP CRISIS? BENEFICIAL POLLINATORS, BEES AND PESTICIDES http://sco.lt/9Id8RV
SAVE THE BEES, SAVE THE BERRIES, SAVE ME http://sco.lt/89uHUv
"PROMISCUOUS" BEES AND VANISHING INSECTS MEAN LESS FOR FOR US http://sco.lt/73OL2n
COMMONLY USED HERBICIDES SEEN AS THREAT TO ENDANGERED BUTTERFLIES AND OTHER POLLINATORS http://www.seeddaily.com/reports/Commonly_used_herbicides_seen_as_threat_to_endangered_butterflies_999.html
March 14, 2012 - Triple Pundit
MONSANTO'S ROUND-UP READY CROPS TIED TO BUTTERFLY DECLINE http://www.triplepundit.com/2012/03/monsantos-roundup-ready-crops-tied-butterfly-decline/
NEW CHARGES AGAINST MONSANTO'S ROUND-UP - THE ULTIMATE KILLING MACHINE http://sco.lt/8iHda5
DOMESTICATED AND WILD BEES ARE BOTH IN TROUBLE - PESTICIDE INDUSTRY IN DENIAL http://sco.lt/95yplJ
WE NEED OUR BEES HEALTHY - Study: Bees could hold the key to preventing HIV transmission http://sco.lt/5wdlfV
MONSANTO RIDER" IN FARM BILL EXEMPTS AGRIBUSINESS FROM LIABILITY FOR BIOCROPS, PESTICIDES, CHEMICALS AND ELIMINATES GOVERNMENT POWER TO REGULATE THEM ... http://grist.org/article/frankenfoods-hitch-a-ride-through-congress-but-you-can-help-stop-them/
THE POWER OF THE PESTICIDE INDUSTRY: BRITAIN HELP PREVENT BAN ON PESTICIDES LINKED TO BEE DECLINE http://www.independent.co.uk/environment/nature/britain-helps-prevent-ban-on-pesticides-linked-to-bee-decline-8536994.html
October 29, 2012 - Planet Earth OnLine
BEETLE DECLINES INCREASE CONCERNS ABOUT WIDER INSECT TROUBLE http://planetearth.nerc.ac.uk/news/story.aspx?id=1310&cookieConsent=A
SEE:
THE GLOBAL CHEMICAL BIOTECH CARTEL - AN UNPRECEDENTED POWER OVER WORLD FOOD SUPPLY http://www.scoop.it/t/agriculture-gmos-pesticides/p/1716244040/the-global-chemical-biotech-cartel-an-unprecedented-power-over-world-agriculture-and-human-health
MORE ON PESTICIDES AND BEES http://www.scoop.it/t/agriculture-gmos-pesticides?q=BEES+PESTICIDES