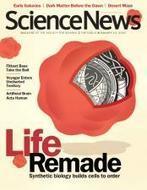 "WE'RE AT THE BEGINNING OF BEING ABLE TO DESIGN LIFE IN THE WAY THAT WE WANT"
Science Insider, October 3, 2013
COMPANY'S 'DESIGNER BABY' PATENT DIVIDE BIOETHICISTS http://news.sciencemag.org/biology/2013/10/companys-designer-baby-patent-divides-bioethicists
January 12, 2013 - Science News
Quietly, on the top floor of a nondescript commercial building overlooking Boston Harbor, the future is being born...
Ginkgo is, in essence, a 21st century factory of life. The researchers working there specialize in synthetic biology, a field that seeks to build living things from the ground up. After envisioning what they want new organisms to do, Ginkgo biologists actually grow vials full of redesigned cells. "We're going from the place we used to be, in doing science and studying the natural world, to a place where we're now going to be able to engineer and manipulate it,"
"This is not just — oh, we're going to go build something that's able to make pieces of DNA better
"We're at the beginning of being able to design life in the way that we want," says Pamela Silver, a biologist at Harvard Medical School and Harvard's Wyss Institute for Biologically Inspired Engineering"
Synthetic biology was born a little more than a decade ago, an offshoot of traditional genetic engineering but distinct in its ambitions, precision and mind-set. Instead of randomly tweaking the genetic blueprints of living organisms... http://www.sciencenews.org/view/feature/id/347263/description/Factory_of_Life
June 13, 2013 Reuters
USA SUPREME COURT SAYS SYNTHETIC BUT NOT HUMAN EXTRACTED DNA CAN BE PATENTED - URGED BY OBAMA ADMINISTRATION http://preview.reuters.com/2013/6/13/us-top-court-says-extracted-human-dna-cannot-be
April 15, 2013 PBS NEWSHOUR VIDEO:
WATCH
U.S. SUPREME COURT TACKLES CASE OF PATENT LAW, HUMAN GENETICS http://www.pbs.org/newshour/bb/law/jan-june13/scotus_04-15.html
20 March, 2013 - The Guardian Environment
MAJOR US SUPERMARKETS TO BOYCOTT GM SALMON - FIRST OF 30 OTHER GENETICALLY ALTERED SPECIES UNDER DEVELOPMENT
The GM salmon is the first in some 30 other species of genetically engineered fish under development, including tilapia. Researchers are also working to bring GM cows, chickens and pigs to market.... http://www.guardian.co.uk/environment/2013/mar/20/major-us-supermarkets-boycott-gm-salmon
THE NEW BIOMASSTERS - SYNTHETIC BIOLOGY AND THE NEXT ASSAULT ON BIODIVERSITY AND LIVELIHOODS: ETC Group www.etcgroup.org/content/new-biomassters
>WHO OWNS NATURE? CORPORATE POWER AND THE FINAL FRONTIER IN THE COMMODIFICATION OF LIFE - http://www.etcgroup.org/content/who-owns-nature
--- WATCH ---
A Must see VIDEO for all. Dr. David Suzuki
WHAT IS GENETIC ENGINEERING
"WHAT ARE ROUNDUP READY & Bt PESTICIDE GMO CROPS?"
August 5, 2013 Natural News
MONSANTO NOW OVERRIDING NATURAL LAW BY PATENTING MULTIPLE COMMON VEGETABLES http://www.naturalnews.com/041485_Monsanto_patents_GMOs.html
THE FOOD FIGHT OF OUR LIVES = CROSSING PIGS AND BUTTERFLIES WITH WORMS -- NOT OKAY http://www.scoop.it/t/agriculture-gmos-pesticides/p/1699396402/gmos-and-biotech-the-food-fight-of-our-lives-crossing-roses-with-pigs-and-butterflies-with-worms-not-to-mention-corn-with-a-virulent-bacteria
THE NEXT BIOTECH WAVE: EXTREME GENETICS. THE IMPLICATIONS. THE ETHICS http://sco.lt/78TtOT
GENETICALLY MONETIZED FOOD - PATENTING LIFE - FOLLOW THE MONEY http://sco.lt/5YZ8vx
>SYNTHETIC BIOLOGY - EXTREME GENETIC ENGINEERING: ETC Group http://www.etcgroup.org/issues/synthetic-biology
Scientific American
DO SEED COMPANIES CONTROL GM CROP RESEARCH? http://sco.lt/7XugID
THE CONVENTION ON BIOLOGICAL DIVERSITY URGES PRECAUTION IN EMERGING FIELD OF SYNTHETIC BIOLOGY, CLIMATE GEOENGINEERING http://www.scoop.it/t/biodiversity-is-life/p/3064836843/increased-precaution-is-needed-in-emerging-fields-such-as-synthetic-biology-climate-geoengineering
March 13, 2012 - Washington Post
ENVIRONMENTAL GROUPS CALL FOR TIGHTER REGULATION OF 'EXTREME GENETIC ENGINEERING' http://www.washingtonpost.com/national/health-science/environmental-groups-call-for-tighter-regulation-of-extreme-genetic-engineering/2012/03/13/gIQAzKPZAS_story.html
UNDER SYNTHETIC BIOLOGY, LIFE WILL NOT BE A PRODUCT OF NATURE BUT OF A LAB AND IT WILL BE PATENTED AND PRIVATIZED http://www.scoop.it/t/agriculture-gmos-pesticides/p/2995205047/under-synthetic-biology-life-will-not-be-a-product-of-nature-but-of-a-lab-and-it-will-be-patented-and-privatized
++++++++++++++++++++++PATENTS++++++++++++++++++++
GENETICALLY MONETIZED FOOD - PATENTING LIFE - FOLLOW THE MONEY http://sco.lt/5YZ8vx
BIOTECH GENETIC ENGINEERING AND THE CORPORATE PATENTING OF LIFE http://sco.lt/8fEl73
GENETICALLY MONETIZED FOOD - PATENTING LIFE - FOLLOW THE MONEY http://www.scoop.it/t/agriculture-gmos-pesticides/p/3834880026/genetically-monetized-food-patenting-life-follow-the-money
VIDEO REPORT
WATCH
+++GMO FOODS AND INTELLECTUAL PROPERTY: THE ULTIMATE FOOD FIGHT http://www.scoop.it/t/agriculture-gmos-pesticides/p/1229197877/gmo-foods-and-intellectual-property-the-ultimate-food-fight-video-report
ETC Group
GENE GIANTS STOCKPILE PATENTS ON "CLIMATE-READY" CROPS IN BID TO BECOME BIOMASSTERS http://www.etcgroup.org/content/gene-giants-stockpile-patents-%E2%80%9Cclimate-ready%E2%80%9D-crops-bid-become-biomassters-0
MONSANTO ENTERS PHARMACEUTICAL BUSINESS, ACQUIRES KEY 'GENE SILENCING' TECHNOLOGY PATENT FOR USE IN HUMANS http://sco.lt/8Rrt6v
GLOBAL SEED GIANTS PATENT SEEDS REDUCING FARMERS' SEED OPTIONS http://sco.lt/8027ZB
THE FOOD FIGHT OF OUR LIVES = CROSSING PIGS AND BUTTERFLIES WITH WORMS -- NOT OKAY http://www.scoop.it/t/agriculture-gmos-pesticides/p/1699396402/gmos-and-biotech-the-food-fight-of-our-lives-crossing-roses-with-pigs-and-butterflies-with-worms-not-to-mention-corn-with-a-virulent-bacteria
BIO RE-ENGINEERING NATURE: PEACH GENOME AND POPLARS, WILLOW TREES FOR PATENTED BIO FUEL CROPS http://sco.lt/6YSHqr
USDA - ANIMAL CLONING http://www.fda.gov/AnimalVeterinary/SafetyHealth/AnimalCloning/default.htm
April 28, 2013 The Hindu
SCIENTISTS TO GENETICALLY MODIFY COWS TO REMOVE THEIR HORNS http://www.thehindubusinessline.com/news/science/scientists-to-genetically-modify-cows-to-remove-their-horns/article4663180.ece
----- NEW GM BABIES BORN A DECADE AGO http://www.seattleorganicrestaurants.com/vegan-whole-food/genetically-engineered-babies.php
------ GMO PATENTS MAY OWN OUR FORESTS: MONSANTO GMO TREES COULD DEVASTATE FOREST ECOYSTEMS http://sco.lt/5G9P0L
------ PATENT FOR A PIG: SCIENTIST "IMPROVE' TRANSGENIC GMO "ENVIROPIGS" http://sco.lt/7hrnF3
------ FIRST GM CAMELS TO BE ENGINEERED FOR DRUG PRODUCTION | @scoopit http://sco.lt/5L5VVB
------ GM COW BRINGS BIOTECH TO A NEW LEVEL OF CREEPY http://sco.lt/62KG6T
------ UNLEASHING GENETICALLY SALMON ONTO YOUR DINNER PLATE = NO REGULATIONS, NO OVERSIGHT - "FATALLY FLAWED" FDA ASSESSMENT http://sco.lt/8ZDraz
----- GROWING PHARMACEUTICALS IN GMO PLANT REQUIRES NEW, STRICT REGULATIONS AND OVERSIGHT - PATENT MONOPOLIES http://sco.lt/7KM4qv
MANY PRO-GMO BIOLOGIST OWN GMO PATENTS, IN BED WITH MONANTO NationofChange http://www.nationofchange.org/many-pro-gmo-corporate-biologists-own-gmo-patents-bed-monsanto-1353859536
MONSANTO BLOCKS RESEARCH ON GMO SAFETY DUE TO OWNERSHIP OF PATENTS http://redgreenandblue.org/2011/02/14/monsanto-blocks-research-on-gmo-safety/
CORPORATE-SPONORED RESEARCH: ARE UNIVERSITIES RESTRICTING SCIENTISTS' STUDY OF GENETICALLY MODIFIED SEEDS? http://www.scoop.it/t/agriculture-gmos-pesticides/p/3996053783/corporate-sponsored-research-are-universities-restricting-scientists-study-of-genetically-modified-seeds
+++++++++++++++++++++++++++++++++++++++
THE GLOBAL CHEMICAL BIOTECH CARTEL - AN UNPRECEENTED POWER OVER AGRICULTURE AND HUMAN HEALTH http://sco.lt/9MtkYL
HOW BIOTECH CORPORATIONS AND GMO CROPS ARE THREATENING THE ENVIRONMENT AND HUMANKIND ALIKE http://www.scoop.it/t/agriculture-gmos-pesticides/p/3583767396/how-biotech-corporations-and-gmo-crops-are-threatening-the-environment-and-humankind-alike
++++++++++++NEW "MONSANTO PROTECTION ACT"++++++
March 21, 2013 BIOTECHNOLOGY INDUSTRY AND GENETICALLY ENGINEERED FOODS QUIETLY GET IMMUNITY FROM FEDERAL LAW, MINIMUM REGULATIONS, OVERSIGHT WITH NO LABELING http://sco.lt/4sXm89
OBAMA QUIETLY DE-REGULATES GMO/ GENETIC BIOTECH INDUSTRY : Fast-tracking approvals, waiving regulations ... http://sco.lt/5uCx8b
March 18, 2013 -
US SENATORS TRY TO STRIKE THE SNEAKED IN "MONSANTO RIDER" WAIVING LIABILITIES, REGULATIONS FOR GMO GIANT http://foodpoisoningbulletin.com/2013/senators-try-to-strike-monsanto-rider/
THE ANTHROPOCENE - ATMOSPHERIC GOVERNANCE: WEIGHING THE RISKS OF GEOENGINEERING SOLUTIONS TO CLIMATE CHANGE via The Economist http://www.economist.com/blogs/freeexchange/2012/12/anthropocene ALSO SEE: Raining Chemical From The Sky https://thenaturaleye.wordpress.com/wp-admin/post.php?post=2636&action=edit
BIOMASSTERS BATTLE TO CONTROL THE "GREEN" ECONOMY - In this joint report, the Heinrich Böll Foundation and the ETC Group reveal the new "Biomassters" and argue that in the absence of effective and socially responsive governance, the green economy will perpetuate the greed economy http://www.etcgroup.org/content/biomassters-battle-control-green-economy
>CONSCIOUS FOOD: VICTIMS OF BIOCULTURAL EVOLUTION OR MINDFUL FOOD AND BETTER WORLD HEALTH? http://www.scoop.it/t/agriculture-gmos-pesticides/p/3292405160/conscious-food-victims-of-biocultural-evolution-or-mindful-food-choices-and-better-world-health
>CORPORATE HIJACKING OF FOOD AND AGRICULTURE: GENETIC ENGINEERING AND THE GMO INDUSTRY: http://www.scoop.it/t/agriculture-gmos-pesticides/p/3924078442/genetic-engineering-and-the-gmo-industry-corporate-hijacking-of-food-and-agriculture
>THE FATE OF BOTH THE FOOD CHAIN AND THE ENVIRONMENT - NEW UNTESTED, UNREGULATED NANO-PESTICIDES SNEAKED ONTO MARKET http://www.scoop.it/t/agriculture-gmos-pesticides/p/3845773793/the-fate-of-both-the-food-chain-and-the-environment-new-untested-unregulated-nano-pesticides-sneaked-onto-market
+++++++++++++++++++WATCH+++++++++++++++++++++++
WATCH: "GENETIC ROULETTE - THE GAMBLE OF OUR LIVES" - YouTube 1:24:59 https://www.youtube.com/watch?v=GrWRzxMUfDE
WATCH: MONSANTO FOOD WARS: GMO SEEDS AND ANIMALS - YouTube http://ow.ly/jeIKu
WATCH: THE WORLD ACCORDING TO MONSANTO (FULL LENGTH) The Leader of the Biotech Cartel http://sco.lt/7FFsXZ
WATCH: A SYSTEM BASED ON PROFITS IS UNSUSTAINABLE ....Vandana Shiva on Industrial Agriculture http://www.scoop.it/t/agriculture-gmos-pesticides/p/1614565249/a-system-based-on-profits-is-unsustainable-vandana-shiva-on-industrial-agriculture
GMO CORN FREE : CUTTING BACK ON DOMINANT GMO CROP IS EASIER SAID THAN DONE http://sco.lt/7NKnSL
DOES FOOD SECURITY'S FUTURE LIE IN ORGANIC SEEDS? http://sco.lt/8I0UGP
BILL GATES' EXCELLENT AFRICAN ADVENTURE: A TALE OF TECHNOCRATIC AGROINDUSTRIAL PHILANTHROCAPITALISM http://sco.lt/7wLJsP
THE GLOBAL CHEMICAL BIOTECH CARTEL - AN UNPRECEDENTED POWER OVER WORLD GOOD SUPPLY http://www.scoop.it/t/agriculture-gmos-pesticides/p/1716244040/the-global-chemical-biotech-cartel-an-unprecedented-power-over-world-agriculture-and-human-health
----- CLIMATE & GEOENGINEERING http://www.etcgroup.org/issues/climate-geoengineering ETC Group http://ow.ly/gqC7V
THE ANTHROPOCENE - ATMOSPHERIC GOVERNANCE: WEIGHING THE RISKS OF GEOENGINEERING SOLUTIONS TO CLIMATE CHANGE via The Economist http://www.economist.com/blogs/freeexchange/2012/12/anthropocene
RAINING CHEMICALS FROM THE SKY https://thenaturaleye.wordpress.com/wp-admin/post.php?post=2636&action=edit
Via
pdjmoo