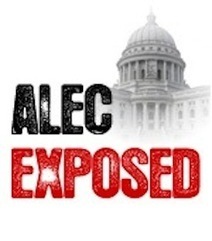 March 13, 2013 - Common Dreams
In the modern era, effective enforcement of food safety and the humane treatment of animals has long relied on undercover video investigations by reporters and citizens. The footage and images gained can serve as proof of criminal wrongdoing or lay ugly practices bare. Such images can vindicate whistleblowers who otherwise risk retaliation when speaking up. Now this practice, which has time and time again exposed hidden dangers -- including downer cows linked to Mad Cow disease in the food supply -- is under threat by a series of state bills dubbed "ag gag" bills.
March of Bills Have Roots in ALEC The ideological ancestor of these bills is a 2002 "model" bill called the "Animal and Ecological Terrorism Act" (AETA) pushed by the American Legislative Exchange Council (ALEC), the corporate bill mill responsible for spreading 2011's spate of "voter ID" laws and the NRA-drafted "Stand your Ground" law, as Green is the New Red author Will Potter points out.... http://www.commondreams.org/headline/2013/03/13-1
Mother Jones July/August Issue
GAGGED BY BIG AG http://www.motherjones.com/environment/2013/06/ag-gag-laws-mowmar-farms
June 17, 2013 Treehugger
AG GAG LAWS ARE GROWING THREAT TO FREE SPEECH AND FOOD SAFETY http://www.treehugger.com/corporate-responsibility/ag-gag-laws-are-growing-threat-free-speech-and-food-safety.html
VIDEO REPORT: ABC News March 15, 2013
MORE STATES MOVE TO BAN HIDDEN CAMERAS ON FARMS - ... http://abcnews.go.com/Blotter/states-move-ban-hidden-cameras-farms/story?id=18738108
NEW "AG GAG" LAWS CRIMINALIZE REPORTING ON ANIMAL ABUSE, SLAUGHTERHOUSE CRUELTY, WORKERS COMPLAINTS http://www.scoop.it/t/agriculture-gmos-pesticides/p/2162481659/new-ag-gag-laws-criminalize-reporting-on-animal-abuse-slaughterhouse-cruelty-workers-complaints
--- WATCH ---
July 23, 2013 Democracy Now
VIDEO REPORT
**** Journalists, Animal Rights Advocates File Lawsuit Against Utah "Ag-Gag" Law http://www.democracynow.org/2013/7/23/headlines/journalists_animal_advocates_file_lawsuit_against_utah_ag_gag_law
VIDEO INVESTIGATION
April 9, 2013 - Democracy Now
**** AFTER ACTIVISTS COVERTLY EXPOSE ANIMAL CRUELTY IN FACTORY FARMS, SHOULD THEY BE TARGETED WITH "AG-GAG" LAWS? http://www.democracynow.org/2013/4/9/debate_after_activists_covertly_expose_animal
Mother Jones July/August Issue
YOU WON'T BELIEVE WHAT PORK PRODUCERS DO TO PREGNANT PIGS? http://www.motherjones.com/environment/2013/06/pregnant-sows-gestation-crates-abuse
NEW AG GAG LAW: REPORTING FACTORY FARM ABUSES NOW AN "ACT OF TERRORISM" http://sco.lt/6Ud1hx
ANTI WHISTLE BLOWER AG GAG BILLS AIMED AT KEEPING YOU IN THE DARK ABOUT FACTORY FARMS -- AND YOUR FOOD http://sco.lt/5PLyHx
NEW BILL H.R. 5961, SEEKS TO PREVENT EPA FROM FLYING OVER LARGE-SCALE LIVESTOCK OPERATIONS as part of their effort to enforce the Clean Water Act against the biggest polluters of waterways in the country. http://www.huffingtonpost.com/scott-edwards/keeping-secrets-down-on-t_b_1736929.html
April 24, 2013 Mother Jones Tom Philpott
OBAMA ADMIN. ON VERGE OF DRAMATICALLY SCALING BACK OVERSIGHT OF US' LARGEST CHICKEN & TURKEY SLAUGHTERHOUSES http://www.motherjones.com/tom-philpott/2013/04/usda-inspectors-poultry-kill-lines-chicken
April 13, 2013 The Real News
VIDEO: OBAMA BUDGET PLANS ON REPLACING USDA POULTRY INSPECTORS WITH INDUSTRY SELF REGULATION http://therealnews.com/t2/index.php?option=com_content&task=view&id=31&Itemid=74&jumival=10052
April 22, 2013 - Humanosphere
STATE DEREGULATION OF INDUSTRIAL DAIRY FARMS - ENVIRONMENTAL COALITION RESPONDS http://www.riverkeeper.org/news-events/news/preserve-river-ecology/environmental-coalition-responds-to-state-deregulation-of-industrial-dairy-farms/
April 15, 2013 Food Safety News
'AG-GAG' BILLS ARE EITHER DEAD, ALIVE OR UNDERGOING CHANGE http://www.foodsafetynews.com/2013/04/ag-gag-bills-are-dead-alive-and-undergoing-changes/?utm_source=feedburner&utm_medium=feed&utm_campaign=Feed%3A+foodsafetynews%2FmRcs+%28Food+Safety+News%29&utm_content=Google+Reader#.UW0h44Lyeic"
24 April 2013 Grist
THE STATE(S) OF THE AG-GAG LAWS - INTERACTIVE http://grist.org/food/the-states-of-the-ag-gag/
March 9, 2012 - Mother Jones
UTAH FOLLOWS IOWA IN FACTORY FARM VIDEO BAN http://www.motherjones.com/tom-philpott/2012/03/following-iowa-utah-ag-gag-bill-nears-passage
March 5, 2012 - Tom Philpott
IOWA MOVES TO KEEP ITS FACTORY FARMS SHIELDED FROM VIEW http://www.motherjones.com/tom-philpott/2012/03/will-agribiz-tied-governor-keep-iowas-factory-farms-shielded-view
(CAFOs) 4.3 BILLION Confined Farm Animals Pose Environmental and Public Health Risks - AG GAG LAWS http://sco.lt/62Uh1d
February 1, 2012 - Tom Philpott
VIDEO: WHAT HAPPENS TO PIGLETS ON FACTORY FARMS? http://www.motherjones.com/tom-philpott/2012/01/piglets-factory-farm-video
THEY EAT WHAT? THE REALITY OF FEED AT ANIMAL FACTORIES | Union of Concerned Scientists http://www.ucsusa.org/food_and_agriculture/our-failing-food-system/industrial-agriculture/they-eat-what-the-reality-of.html
March 11, 2013 2013
MONSANTO THREATENS LAWSUIT AGAINST EUROPEAN FOOD SAFETY AUTHORITY http://www.digitaljournal.com/article/345386
WHY THE WORLD NEEDS A RENAISSANCE OF SMALL FARMING | Colin Tudge | The Guardian http://www.guardian.co.uk/commentisfree/2012/sep/18/small-farming-renaissance-greed-agriculture
+++++++++++++++"ENVIROPIGS" +++++++++++++++++++
Rather Than Find An Alternative to Extreme Factory Farming, The Biotech Industry is altering our animals to keep "more of the same" mega-profit factory farming going, with little regulation, oversight, or labeling for consumers:
PATENT FOR A PIG: BIOTECH SCIENTISTS "IMPROVE" TRANSGENIC GMO "ENVIROPIGS" http://sco.lt/7hrnF3
>>>>>>> USA AG-GAG LAWS: REPORTING FACTORY FARM ABUSES TO BE CONSIDERED "ACT OF TERRORISM" IF NEW LAWS PASS | Alternet Jan 24, 2013 http://www.alternet.org/environment/shocking-reporting-factory-farm-abuses-be-considered-act-terrorism-if-new-laws-pass?akid=9977.237541.HdOWdv&rd=1&src=newsletter783554&t=7