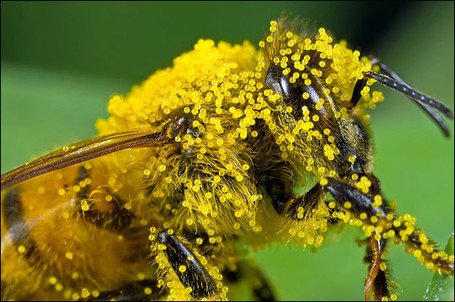 March 6, 2013 - Grist
VIDEO:
Over the past few years, colony collapse disorder has wiped out some entire beekeeping operations, and scientists don't understand or agree on the cause. In Europe, respected scientists and agencies are declaring some popular pesticides too dangerous for bees.
A new study finds the decline in wild bees is bad news for agriculture, while domesticated bees continue to face a host of troubles.
The summit highlighted some sobering details on the scope of the problem, but it also gave a platform to Bayer, Syngenta, DuPont, and Monsanto — companies that make the very kinds of pesticides that have been linked to bee deaths. This week, Bayer also announced a "bee care tour" and new efforts to "minimize the impact" of neonicotinoid pesticides that mess with bee brains.,,, http://grist.org/news/domesticated-and-wild-bees-are-both-in-trouble/?utm_campaign=daily&utm_medium=email&utm_source=newsletter
April 29, 2013 LifeWise News
EUROPE WILL ENDORCE WORLD'S FIRST CONTINENT-WIDE BAN ON INSECTICIDES HARMING BEES (AND YOU) http://southweb.org/lifewise/europe-will-enforces-worlds-first-continent-wide-ban-on-insecticides-harming-bees/
HOW DO NEONICOTINOIDS WORK? http://www.buzzaboutbees.net/how-do-neonicotinoids-work.html
+++ WATCH +++EXCELLENT SHORT VIDEO ON THE EFFECTS MULTIPLE PESTICIDES ARE HAVING UPON BEES - by Nature Video - YouTube http://www.youtube.com/watch?v=1-fXYR9FTfM
700,000x LETHAL DOSE OF PESTICIDES FOUND IN BEES http://sco.lt/8DQnqr
INSECTICIDE AND BEES: YOUR QUESTIONS ANSWERED · Sense about Science http://www.senseaboutscience.org/pages/insecticides-and-honeybees-your-questions-answered.html
April 11, 2013 Corporate Europe Observatory
PRIVATE LETTERS REVEAL SYNGENTA AND BAYER'S FURIOUS LOBBYING AGAINST BEE PESTICIDE BAN http://corporateeurope.org/publications/pesticides-against-pollinators
April 8, 2013 Earth First
PESTICIDES HAVE KILLED OFF SO MANY BEES, NOW ROBOTIC BEES TO POLLINATE MONSANTO CROPS http://earthfirstnews.wordpress.com/2013/04/08/robotic-bees-to-pollinate-monsanto-crops/
28 March, 2013 Inter Press Service
USA PESTICIDE APPROVAL PROCESS "GRIEVOUSLY FLAWED"
The U.S. Environmental Protection Agency (EPA), a key government regulator, may have been haphazardly approving thousands of pesticides for decades, some of which pose risks to both human and environmental health.
http://www.ipsnews.net/2013/03/u-s-pesticide-approval-process-grievously-flawed/
PESTICIDE LOBBY SPENDS MILLIONS TO DEFEND CHEMICALS TIED TO BEE DEATHS http://www.huffingtonpost.com/2013/03/29/pesticide-lobby-bees_n_2980870.html
AUSTRALIA'S HONEY BEES AND NEONICOTINOID PESTICIDES - THE INDUSTRY SPIN http://www.buzzaboutbees.net/australias-honey-bees.html
March 25, 2013 - Chemical and Engineering News
GMO CORN: AT LEAST THEY'RE ADMITTING PESTICIDES PLAY A MAJOR ROLE IN BEE KILL AND DISAPPEARANCE http://cen.acs.org/articles/91/i12/Curtailing-Honeybee-Losses.html
22 March 2013 Planet Ark
USA Groups sue EPA over honey bee deaths, blame some insecticides http://planetark.org/wen/68224
THE POWER OF THE PESTICIDE INDUSTRY: BRITAIN HELP PREVENT BAN ON PESTICIDES LINKED TO BEE DECLINE http://www.independent.co.uk/environment/nature/britain-helps-prevent-ban-on-pesticides-linked-to-bee-decline-8536994.html
15 March 2013 The Guardian Environment
BEE-HARMING PESTICIDES ESCAPE PROPOSED EUROPEAN BAN http://www.guardian.co.uk/environment/2013/mar/15/bee-harming-pesticides-escape-european-ban
LONG-TERM CONEQUENCES OF DECLINE IN BEE POPULATION - BBC SCIENCE: "The way humanity manages or mismanages its nature-based assets, including pollinators, will in part define our collective future in the 21st century," said United Nations Environment Programme executive director Achim Steiner. http://www.bbc.co.uk/news/uk-england-beds-bucks-herts-12747560
BEE-KILLING CHEMICAL LURKS INSIDE YOUR FOOD: AGROCHEMICALS THREAT TO WILD BEES, FOOD SECURITY AND BIODIVERSITY http://sco.lt/8mGvg1
MORE ON BEES, POLLINATORS AND PESTICIDES
http://www.scoop.it/t/biodiversity-is-life?q=bees
THE GLOBAL CHEMICAL BIOTECH CARTEL - AN UNPRECEDENTED POWER OVER WORLD AGRICULTURE AND HUMAN HEALTH http://www.panna.org/issues/pesticides-profit/chemical-cartel
MORE ON PESTICIDES AND BEES http://www.scoop.it/t/agriculture-gmos-pesticides?q=BEES+PESTICIDES