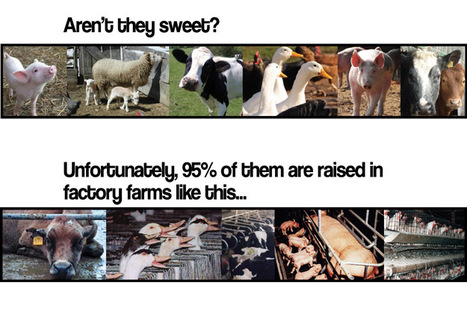 Jan 24, 2013 - Three states are the latest states to introduce Ag-Gag laws and lawmakers in 10 other states introduced similar bills in 2011-2012.
How do you keep consumers in the dark about the horrors of factory farms? By making it an "act of terrorism" for anyone to investigate animal cruelty, food safety or environmental violations on the corporate-controlled farms that produce the bulk of our meat, eggs and dairy products.
And who better to write the Animal and Ecological Terrorism Act, designed to protect Big Ag and Big Energy, than the lawyers on the Energy, Environment and Agriculture Task Force at the corporate-funded and infamous American Legislative Exchange Council (ALEC).@AlexExposed.... http://www.alternet.org/environment/shocking-reporting-factory-farm-abuses-be-considered-act-terrorism-if-new-laws-pass?akid=9977.237541.HdOWdv&rd=1&src=newsletter783554&t=7
June 17, 2013 Treehugger
****NEED TO KNOW:
AG GAG LAWS ARE GROWING THREAT TO FREE SPEECH AND FOOD SAFETY http://www.treehugger.com/corporate-responsibility/ag-gag-laws-are-growing-threat-free-speech-and-food-safety.html
Mother Jones July/August Issue
YOU WON'T BELIEVE WHAT PORK PRODUCERS DO TO PREGNANT PIGS? http://www.motherjones.com/environment/2013/06/pregnant-sows-gestation-crates-abuse
LIKE AUTOS ON A PRODUCTION LINE:
July 21, 2013 Free From Harm
FAIR OAKS FARMS, THE LATEST "AGRITOURISM" DESTINATION: USES 2,700 SOWS TO PRODUCE 75,000 PIGS ANNUALLY http://www.nwitimes.com/business/local/article_7c7063d3-e336-5d1c-b7da-cdf8852c5f5d.html#.Ue15bezytDw.twitter
March 6, 2013 - 'ON THE MEDIA'
REPORTS ON 'AG-GAG' CENSORSHIP LAWS - Turning Whistleblowers into Criminals and 'Terrorists' : TreeHugger http://www.treehugger.com/corporate-responsibility/media-reports-ag-gag-censorship-laws.html
--- WATCH ---
July 23, 2013 Democracy Now
VIDEO REPORT
**** Journalists, Animal Rights Advocates File Lawsuit Against Utah "Ag-Gag" Law http://www.democracynow.org/2013/7/23/headlines/journalists_animal_advocates_file_lawsuit_against_utah_ag_gag_law
VIDEO INVESTIGATION
April 9, 2013 - Democracy Now
**** AFTER ACTIVISTS COVERTLY EXPOSE ANIMAL CRUELTY IN FACTORY FARMS, SHOULD THEY BE TARGETED WITH "AG-GAG" LAWS? http://www.democracynow.org/2013/4/9/debate_after_activists_covertly_expose_animal
November 24, 2010 OurWorld 2.0
THE SHAME OF CONCENTRATED ANIMAL FEEDLOTS http://ourworld.unu.edu/en/the-shame-of-concentrated-animal-feedlots/
THE DRUG STORE IN AMERICAN MEAT: CAFOs AND INDUSTRIAL FACTORY FARMING YOUR MEAT http://sco.lt/5pYaYr
VIDEO
by PAUL McCARTNEY (Former "Beatle")
THE WEBSITE THE MEAT INDUSTRY DOESN'T WANT YOU TO SEE http://www.meat.org/
March 22, 2013 - EcoWatch
WHISTLEBLOWER BILL WOULD CRIMINALIZE EXPOSING WRONGDOING AT FACTORY FARMS AND NOW...FRACKING SITE IN PENNSYLVANIA http://ecowatch.com/2013/whistleblower-factory-farms-fracking/
April 25, 2013 Government Accountability Project
USDA WHISTLEBLOWERS: CHEMICAL USE IN INDUSTRIAL FACTORY FARM POULTRY PLANTS A SERIOUS HAZARD http://www.whistleblower.org/blog/44-2013/2656-usda-whistleblowers-chemical-use-in-poultry-plants-a-serious-health-hazard
NEW AG-GAG LAW: REPORTING FACTORY FARM ABUSES NOW AN "ACT OF TERRORISM" http://www.scoop.it/t/agriculture-gmos-pesticides/p/3995524567/new-aggag-law-reporting-factory-farm-abuses-now-an-act-of-terrorism
April 22, 2013 - Humanosphere
STATE DEREGULATION OF INDUSTRIAL DAIRY FARMS - ENVIRONMENTAL COALITION RESPONDS http://www.riverkeeper.org/news-events/news/preserve-river-ecology/environmental-coalition-responds-to-state-deregulation-of-industrial-dairy-farms
ANTI-WHISTLE-BLOWER AG-GAG BILLS AIMED AT KEEPING YOU IN THE DARK ABOUT FACTORY FARMS -- AND YOUR FOOD http://sco.lt/5PLyHx
THE TOUR DE STENCH - EMagazine.com http://www.emagazine.com/blog/the-tour-de-stench/
Somehow we must find a way forward. We don't need this kind of agriculture to feed the world as is so often claimed to justify the concentration of filth and misery these systems embody. I believe the collective wisdom and desire for change is out there among us.
An Image Says A Thousand Words
FEEDLOT CATTLE http://ow.ly/mEGS1
ALTERING OUR COWS TO ELIMATE "STENCH" AND PRODUCE MORE MILK BY INJECTING THEM WITH rBST http://www.seeddaily.com/reports/Cattle_flatulence_doesnt_stink_with_biotechnology_999.html
ALTERING OUR COWS BY INJECTING THEM WITH rBST FORCING THEM TO PRODUCE MORE MILK http://www.seeddaily.com/reports/Cattle_flatulence_doesnt_stink_with_biotechnology_999.html
THE RISE OF THE 'DESIGNER' FARM ANIMAL http://action.raw.info/ea-action/action?ea.client.id=119&ea.campaign.id=22518&ea.tracking.id=1174f49c&utm_campaign=raw&utm_source=shared&utm_medium=link
+++++++++++++++"ENVIROPIGS" +++++++++++++++++++
Rather Than Find An Alternative to Extreme Factory Farming, The Biotech Industry is altering our animals to keep "more of the same" mega-profit factory farming going, with little regulation, oversight, or labeling for consumers:
PATENT FOR A PIG: BIOTECH SCIENTISTS "IMPROVE" TRANSGENIC GMO "ENVIROPIGS" http://sco.lt/7hrnF3
BLIND, FOOTLESS CHICKENS FOR FUTURE CAFO FACTORY FARMS http://farmwars.info/?p=7897
THE RAW TRUTH OF FACTORY FARMING http://www.raw.info/
#GMO
VIDEO
***** FULL GROWN CHICKEN IN 49 DAYS - Growth Hormones For Rapid Growth, 'Efficiency' and Fast Profits http://sco.lt/5Za1o1
(CAFOs) 4.3 BILLION Confined Farm Animals Pose Environmental and Public Health Risks - AG GAG LAWS http://sco.lt/62Uh1d