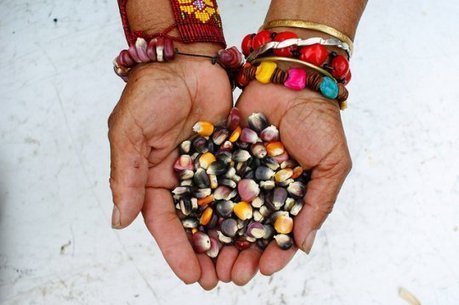 23, Jan, 2013 Planting of genetically modified corn would be 'coup de grace to food sovereignty for the Mexican people.'.... http://www.commondreams.org/headline/2013/01/23-5
The fight against genetically modified crops continues as peasant leaders embark on a hunger strike and sit-in in Mexico City demanding their country be gmo-free, and slamming the economic model that favors multinational corporations over food sovereignty.
The National Union of Autonomous Regional Peasant Organizations (UNORCA), a network of Mexican farming organizations that advocates for small farmers' livelihoods and rights, organized the protest ahead of the likely authorization of 2.4 million hectares (six million acres) to be planted with genetically modified (gm) corn by agricultural behemoths Monsanto, DuPont and Dow in Mexico.
In a letter explaining the day's actions, the group writes: "We want to reach the hearts and minds of the people of Mexico and the World to share our grave concern for the health, culture and economy of our nation, eroded by a development model that only benefits a tiny minority, a minority which includes the transnational corporations that today conspire to appropriate for themselves one of the greatest heritages of our peoples: MAIZE. [...]
[W]e demand that the Mexican government place the interests of peasants and the majority of Mexican farmers above the interests of a few transnational corporations." http://www.commondreams.org/headline/2013/01/23-5
Dec. 14, 2012 = WILL MONSANTO DESTROY MEXICO'S CORN AND PRECIOUS ECOLOGY? http://www.scoop.it/t/agriculture-gmos-pesticides/p/3732089206/will-monsanto-destroy-mexico-s-corn-and-precious-ecology
Jan 23, 2013 MONANTO OFFERS BRAZILIAN FARMERS ROYALTY=FREE SOYBEANS - Bloomberg http://www.bloomberg.com/news/2013-01-23/monsanto-offers-brazilian-farmers-royalty-free-soybeans.html
Oct 1,2012 - MEXICO JOINS TREATY ON GMO LIABILITY AND COMPENSATION http://www.scoop.it/t/agriculture-gmos-pesticides/p/2837289399/mexico-joins-treaty-on-gmo-liability-compensation
15 YEARS OF GM SOYBEANS IN ARGENTINA - THE TRUE COST OF GMO MONOCULTURE http://www.scoop.it/t/agriculture-gmos-pesticides/p/2796173606/15-years-of-gm-soybeans-in-argentina-the-true-cost-of-monoculture
Dec. 10. 2012 CANCER OF CORRUPTION, SEEDS OF DESTRUCTION: THE MONSANTO GMO WHITEWASH http://www.scoop.it/t/agriculture-gmos-pesticides/p/3826752991/cancer-of-corruption-seeds-of-destruction-the-monsanto-gmo-whitewash
THE GLOBAL CHEMICAL BIOTECH CARTEL - AN UNPRECEDENTED POWER OVER WORLD AGRICULTURE AND HUMAN HEALTH http://www.panna.org/issues/pesticides-profit/chemical-cartel
USA TO START 'TRADE WARS' WITH NATIONS OPPOSED TO MONSANTO, GMO CROPS US to Start 'Trade Wars' with Nations Opposed to Monsanto, GMO Crops http://www.scoop.it/t/agriculture-gmos-pesticides/p/946621471/leaked-us-to-start-trade-wars-with-nations-opposed-to-monsanto-gmo-crops
>>>>> THE SEED PATENT GAME: Do Seed Companies Control GM Crop Research? - Scientific American http://www.scoop.it/t/agriculture-gmos-pesticides/p/946593435/the-seed-patent-game-do-seed-companies-control-gm-crop-research-scientific-american
MEET MONSANTO'S NUMBER ONE LOBBYIST: BARACK OBAMA http://www.scoop.it/t/agriculture-gmos-pesticides/p/3994947450/meet-monsanto-s-number-one-lobbyist-barack-obama
HUNDREDS PROTEST DEMANDING OBAMA HALT APPROVAL OF GE FOODS AND END INTIMIDATION CAMPAIGN OVER GMOs http://www.scoop.it/t/agriculture-gmos-pesticides/p/3994922044/hundreds-protest-demanding-obama-halt-approval-of-ge-foods-and-end-intimidation-campaign-over-gmos
>>>>>>>>>>>>>>>>>>>>>>>VIDEOS >>>>>>>>>>>>>>>>>>>>>>>>
VIDEO: ISLANDS AT RISK (Part 1) - GENETIC ENGINEERING IN HAWAI'I http://www.scoop.it/t/agriculture-gmos-pesticides/p/3995223780/video-islands-at-risk-part-1-genetic-engineering-in-hawai-i
WATCH: THE FUTURE OF FOOD = PART 2 http://www.scoop.it/t/agriculture-gmos-pesticides/p/951852556/the-future-of-food-part-2-vandana-shiva
WATCH: A SYSTEM BASED ON PROFITS IS UNSUSTAINABLE ....Vandana Shiva on Industrial Agriculture http://www.scoop.it/t/agriculture-gmos-pesticides/p/1614565249/a-system-based-on-profits-is-unsustainable-vandana-shiva-on-industrial-agriculture
>>>WATCH: "SEEDING DEEP DEMOCRACY - Vandana Shiva http://www.scoop.it/t/agriculture-gmos-pesticides/p/1054461972/seeding-deep-democracy-vandana-shiva
WATCH: THE WORLD ACCORDING TO MONSANTO (FULL LENGTH) - https://www.youtube.com/watch?v=N6_DbVdVo-k