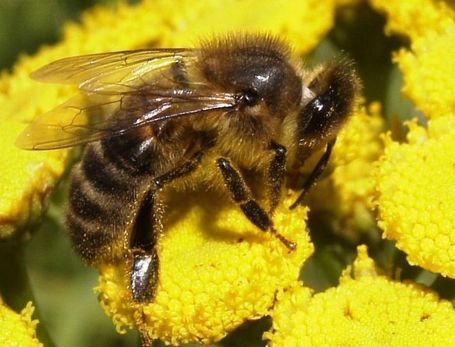 Jan 16, 2013 - Guardian
Campaigners say the conclusion by the European Food Safety Authority is a 'death knell' for neonicotinoid pesticides...
Bees and other pollinators are critical to one-third of all food, but two major studies in March 2012, and others since, have implicated neonicotinoid pesticides in the decline in the insects, alongside habitat loss and disease. In April, the European commission demanded a re-examination of the risks posed by the chemicals, including Bayer's widely used imidacloprid and two others.,, http://www.guardian.co.uk/environment/2013/jan/16/insecticide-unacceptable-danger-bees?CMP=twt_gu
HOW DO NEONICOTINOIDS WORK? http://www.buzzaboutbees.net/how-do-neonicotinoids-work.html
April 10, 2013 - The Organic View - June Stoyer
ARE NEONICOTINOIDS TOO BIG TO BAN? http://www.theorganicview.com/environment/are-neonicotinoids-too-big-to-ban/
700,000x LETHAL DOSE OF PESTICIDES FOUND IN BEES http://sco.lt/8DQnqr
April 23, 2013 Moyers & Company
++++WATCH
SHORT VIDEO "DANCE OF THE HONEY BEE Narrated by Bill McKibben http://truth-out.org/news/item/15896-dance-of-the-honey-bee
28 March, 2013 Inter Press Service
USA PESTICIDE APPROVAL PROCESS "GRIEVOUSLY FLAWED"
The U.S. Environmental Protection Agency (EPA), a key government regulator, may have been haphazardly approving thousands of pesticides for decades, some of which pose risks to both human and environmental health.
http://www.ipsnews.net/2013/03/u-s-pesticide-approval-process-grievously-flawed/
PESTICIDE LOBBY SPENDS MILLIONS TO DEFEND CHEMICALS TIED TO BEE DEATHS http://www.huffingtonpost.com/2013/03/29/pesticide-lobby-bees_n_2980870.html
March 25, 2013 - Chemical and Engineering News
GMO CORN: AT LEAST THEY'RE ADMITTING PESTICIDES PLAY A MAJOR ROLE IN BEE KILL AND DISAPPEARANCE http://cen.acs.org/articles/91/i12/Curtailing-Honeybee-Losses.html
BEE-KILLING CHEMICALS LURK INSIDE YOUR FOOD: Bee-Killing Chemical Agrochemicals Threat to Wild bees, food security and biodiversity http://www.scoop.it/t/agriculture-gmos-pesticides/p/3995012477/bee-killing-chemical-lurks-inside-your-food-agrochemicals-threat-to-wild-bees-food-security-and-biodiversity
Bee Strawbridge: MASS INSECT EXTINCTION; THE ELEPHANT IN THE ROOM? http://www.beestrawbridge.blogspot.co.uk/2012/06/mass-insect-extinction.html
SAVE THE BEES, SAVE THE BERRIES, SAVE ME « The Natural Eye Project http://thenaturaleye.wordpress.com/2009/10/19/save-bees-save-berries-save-m/
MORE ON PESTICIDES AND BEES http://www.scoop.it/t/agriculture-gmos-pesticides?q=BEES+PESTICIDES