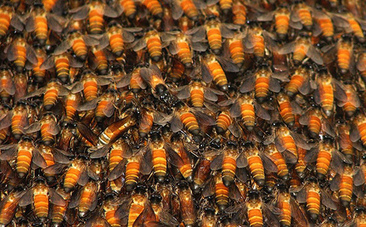 HOW DO NEONICOTINOIDS WORK? http://www.buzzaboutbees.net/how-do-neonicotinoids-work.html
April 29, 2013 LifeWise News
EUROPE WILL ENDORCE WORLD'S FIRST CONTINENT-WIDE BAN ON INSECTICIDES HARMING BEES (AND YOU) http://southweb.org/lifewise/europe-will-enforces-worlds-first-continent-wide-ban-on-insecticides-harming-bees/
16 Jan 2013 BEEKEEPERS EXPECT 'WORST YEAR FOR BEES' EXTINCTION OF A SPECIES Pesticide Action Networkhttp://www.panna.org/blog/beekeepers-expect-worst-year-bees?utm_source=feedburner&utm_medium=feed&utm_campaign=Feed%3A+panna%2Fhome+%28Pesticide+Action+Network%27s+GroundTruth%29
+++ WATCH +++EXCELLENT SHORT VIDEO ON THE EFFECTS MULTIPLE PESTICIDES ARE HAVING UPON BEES - by Nature Video - YouTube http://www.youtube.com/watch?v=1-fXYR9FTfM
INSECTICIDE AND BEES: YOUR QUESTIONS ANSWERED · Sense about Science http://www.senseaboutscience.org/pages/insecticides-and-honeybees-your-questions-answered.html
April 11, 2013 Corporate Europe Observatory
PRIVATE LETTERS REVEAL SYNGENTA AND BAYER'S FURIOUS LOBBYING AGAINST BEE PESTICIDE BAN http://corporateeurope.org/publications/pesticides-against-pollinators
April 8, 2013 Earth First
PESTICIDES HAVE KILLED OFF SO MANY BEES, NOW ROBOTIC BEES TO POLLINATE MONSANTO CROPS http://earthfirstnews.wordpress.com/2013/04/08/robotic-bees-to-pollinate-monsanto-crops/
April 23, 2013 Moyers & Company
++++WATCH
SHORT VIDEO "DANCE OF THE HONEY BEE Narrated by Bill McKibben http://truth-out.org/news/item/15896-dance-of-the-honey-bee
28 March, 2013 Inter Press Service
USA PESTICIDE APPROVAL PROCESS "GRIEVOUSLY FLAWED"
The U.S. Environmental Protection Agency (EPA), a key government regulator, may have been haphazardly approving thousands of pesticides for decades, some of which pose risks to both human and environmental health.
http://www.ipsnews.net/2013/03/u-s-pesticide-approval-process-grievously-flawed/
PESTICIDE LOBBY SPENDS MILLIONS TO DEFEND CHEMICALS TIED TO BEE DEATHS http://www.huffingtonpost.com/2013/03/29/pesticide-lobby-bees_n_2980870.html
27 March 2013 - Seed Daily
USA REGULATORS UNDER FIRE OVER RISKY PESTICIDES THAT PUT PEOPLE AND VALUABLE CROP POLLINATORS, LIKE BEES, IN PERIL http://www.seeddaily.com/reports/US_regulators_under_fire_over_bee-toxic_pesticides_999.html
March 25, 2013 - Chemical and Engineering News
GMO CORN: AT LEAST THEY'RE ADMITTING PESTICIDES PLAY A MAJOR ROLE IN BEE KILL AND DISAPPEARANCE http://cen.acs.org/articles/91/i12/Curtailing-Honeybee-Losses.html
WILD BEES: CHAMPIONS FOR FOOD SECURITY AND PROTECTING OUR BIODIVERSITY
London, UK (SPX) Sep 07, 2012 - Pollinating insects contribute to agricultural production in 150 (84%) European crops. These crops depend partly or entirely upon insects for their pollination and yield.
One key threat to bees is agrochemicals; "we are now finding strong negative effects of pesticides, not only in honeybees and bumblebees, but also solitary bees-Several European countries have programmes aiming to improve honeybee health, but there is very little support for wild pollinators despite their critical roles in ecosystems. .... http://www.seeddaily.com/reports/Wild_bees_Champions_for_food_security_and_protecting_our_biodiversity_999.html
>> BEE-KILLING CHEMICALS LURKS INSIDE YOUR FOOD| Rodale News http://www.rodale.com/beekeepers
>> NEONICOTINOID PESTICIDES HAVE NO PLACE IN FOOD PRODUCTION - SO MANY HONEYBEES AND OTHER POLLINATORS ARE DYING - http://www.motherearthnews.com/honeybees-beekeeping/neonicotinoid-pesticides-zb0z1204zlon.aspx
>> 81% MONARCH BUTTERFLY DECLINE LINKED TO GENETICALLY MODIFIED CROPS - Yale Environment http://e360.yale.edu/digest/us_monarch_butterfly_decline_may_be_linked_to_gm_crop_use_study_says/3380/
>> GENETICALLY ENGINEERED CORN AND SICK/DYING HONEY BEE - WHAT'S THE LINK? GM http://www.panna.org/blog/ge-corn-sick-honey-bees-whats-link
>> IF THEY'RE KILLING OUR BEES, WHAT ARE PESTICIDES DOING TO US? Farmers Press for Access to Bee-Friendly Corn Seeds http://www.scoop.it/t/biodiversity-is-life/p/1824138698/if-they-re-killing-our-bees-what-are-they-doing-to-us-farmers-press-for-access-to-bee-friendly-corn-seeds
>> UN REPORT : HUMANS MUST CHANGE BEHAVIOUR TO SAVE BEES, VITAL FOR FOOD PRODUCTION http://www.un.org/apps/news/story.asp?NewsID=37731#.UPTG4ujZ03Y>>DECLINE OF HONEY BEES NOW A GLOBAL DISASTER, SAYS UNITED NATIONS http://www.scoop.it/t/biodiversity-is-life/p/2229603814/decline-of-honey-bees-now-a-global-disaster-says-united-nations
>> WEST NILE SPRAYING KILLS BEE (AND OTHER BENEFICIAL INSECTS) http://www.scoop.it/t/biodiversity-is-life/p/2437884918/west-nile-spraying-kill
>> HEAVY METAL POLLUTION CAUSES SEVERE DECLINES IN WILD BEES http://www.seeddaily.com/reports/Heavy_metal_pollution_causes_severe_declines_in_wild_bees_999.html
THE GLOBAL CHEMICAL BIOTECH CARTEL - AN UNPRECEDENTED POWER OVER WORLD AGRICULTURE AND HUMAN HEALTH http://www.panna.org/issues/pesticides-profit/chemical-cartel
>>OUR CHEMICAL-LADEN WORLD: Are the Bees the Canary in the Coal >>Mine for Human And Environmental Health? http://www.alternet.org/story/154039/have_bees_become_canaries_in_the_coal_mine_why_massive_bee_dieoffs_may_be_a_warning_about_our_own_health
>>SUBTLE POISON - AN INDUSTRY IN DENIAL - OUR BEES ARE DYING http://www.scoop.it/t/biodiversity-is-life/p/1522246705/subtle-poison-an-industry-in-denial-our-bees-are-dying
>>BEES, FRUITS AND MONEY http://www.seeddaily.com/reports/Bees_fruits_and_money_999.html
>>FRANCE TO BAN A SYNGENTA PESTICIDE TO PROTECT BEES http://planetark.org/wen/65569
>>BEEKEEPERS ASK EPA TO BAN PESTICIDE, PROTECT BEES - OVER 1.25 MILLION PEOPLE ALSO SUBMIT COMMENTS http://www.scoop.it/t/biodiversity-is-life/p/1474889927/beekeepers-ask-epa-to-ban-pesticide-protect-bees-over-1-25-million-people-also-submitted-comments
>>EVIDENCE OF PESTICIDE HARM TO BEES IS NOW OVERWHELMING - The Guardian http://www.guardian.co.uk/environment/damian-carrington-blog/2012/oct/22/bees-pesticides>>IMPACT OF NEOICOTINOIDS ON BEE, Ohttp://www.buzzaboutbees.net/impact-of-neonicotinoids-on-bees-and-other-wildlife.htmlhttp://ow.ly/e5RYJ
>>WHO KILLED ALL THOSE HONEYBEES? WE DID - Discover Magazine http://discovermagazine.com/2009/oct/19-who-killed-all-those-honeybees-we-did/#.UPTDXejZ03Y
"""3 STUDIES LINK COMMON PESTICIDES TO BEE DECLINE http://www.motherjones.com/tom-philpott/2012/03/bayer-pesticide-bees-studies
>>HARVARD RESEARCHERS RECREATE BEE COLLAPSE WITH PESTICIDE-LACED CORN SYRUP http://news.mongabay.com/2012/0405-hance_colonycollapse_pesticides.html
>>PESTICIDES MAY ACTUALLY GIVE HONEYBEE VIRUS AN ADVANTAGE http://www.livescience.com/18139-honeybee-mite-virus.html
>>CORN INSECTICIDE LINKED TO GREAT DIE-OFF OF BENEFICIAL HONEYBEES Science Daily http://www.sciencedaily.com/releases/2012/03/120314170511.htm
>>SAVE THE BEES, SAVE THE BERRIES, SAVE ME http://www.scoop.it/t/biodiversity-is-life/p/1756520573/save-the-bees-save-the-berries-save-me
:::VIDEO: AN INTIMATE LOOK AT BEES - "BEE-DESTROYED" http://www.youtube.com/watch?feature=player_embedded&v=9boueJGtLPY
:::VIDEO: MONSANTO OWNS THE BEE, GUESS WHO'S NEXT? http://www.scoop.it/t/biodiversity-is-life/p/1243882993/monsanto-owns-the-bees-guess-who-s-next
MORE ON PESTICIDES AND BEES http://www.scoop.it/t/agriculture-gmos-pesticides?q=BEES+PESTICIDES