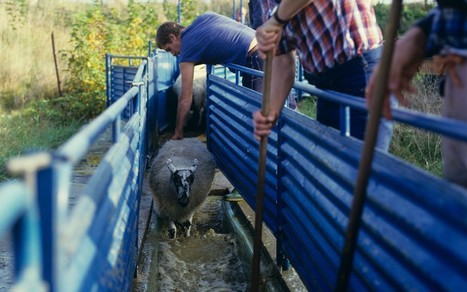 -▶
Exposure to even low levels of organophosphates in pesticides can cause lasting harm to the brain, scientists have concluded.
READ: Pesticide Action Network | Advancing alternatives to pesticides worldwide http://ow.ly/fTDql
>>> May 16, 2013 Ground Reality:
-▶ First in mother's milk, now 21 different pesticides have been found in umbilical cord blood. The UN says there are safer agro-ecological alternatives available http://devinder-sharma.blogspot.in/2013/05/first-in-mothers-milk-now-21-different.html
-▶ BOYS WITH BOOBS: HIDDEN CHEMICALS FED TO KIDS CAN IMPACT THEIR HEALTH http://www.huffingtonpost.com/beth-greer/bpa-health_b_2808888.html?ir=Green
-▶ FOOD ALLERGIES, CANCER, ILL HEALTH LINKED TO PESTICIDES http://sco.lt/4megAz
>>> The Daily Green
-▶ THE EVERLASTING POISONS: Even If You Don't Use Pesticides, Your Home May Still Harbor Them http://www.thedailygreen.com/environmental-news/latest/toxic-pesticides-47061702?src=soc_twtr
-▶ DO THE HEALTH BENEFITS OF A DIET RICH IN FRUITS AND VEGETABLE OUTWEIGH THE RISKS OF PESTICIDE EXPOSURE? http://www.scoop.it/t/agriculture-gmos-pesticides/p/955861738/do-the-health-benefits-of-a-diet-rich-in-fruits-and-vegetables-outweigh-the-risks-of-pesticide-exposure
May 15, 2013 Natural News
-▶ ORANGES AND LEMONS BEING TREATED WITH CHEMICAL FUNGICIDES AND PESTICIDES THAT CAUSE CANCER AND THYROID PROBLEMS http://www.naturalnews.com/040339_imazalil_pesticides_oranges.html
-▶ AGRICHEMICAL GIANT, SYNGENTA, FAULTS EU PEER-REVIEWED STUDY TO CURB THEIR KILLER PESTICIDES http://sco.lt/8fqLQ1
MONSANTO'S TOXIC HERBICIDE, 'ROUNDUP' (GLYPHOSATE) HORMONE INHIBITOR IN OUR FOOD CHAIN http://sco.lt/5ObTQ9
-▶ BATTLE FOR THE BEES: Dying Bees Raise Alarm For Humans - Europe Bans Pesticide http://sco.lt/8QOFgv
-▶ U.S. GMO FOOD LABELING DRIVE GOES GLOBAL - MAY 25, 2013 http://sco.lt/4sEmUD
-▶ PESTICIDE EXPOSURE HARMS MEMORY December 2, 2012 - Telegraph
A review of 14 separate studies has shown that chemicals can reduce memory and the ability to process information quickly. The findings, by researchers at University College London and the Open University, are the most comprehensive evidence yet that organophosphates can harm human health at low levels....
http://www.telegraph.co.uk/health/healthnews/9716249/Pesticide-exposure-harms-memory.html
-▶ IF PESTICIDES DO THIS TO THE BEES, WHAT'S IT DOING TO HUMANS? Pollinator Protection: Pollinators and Pesticides via Beyond Pesticides http://www.beyondpesticides.org/pollinators/
-▶ KAISER PERMANENTE, THE NATION'S LARGEST NONPROFIT HEALTH CARE PLAN, ISSUES WARNING ON GENETICALLY ENGINEERED FOOD http://www.scoop.it/t/agriculture-gmos-pesticides/p/3585794502/kaiser-permanentemthe-nation-s-largest-nonprofit-health-care-plan-issues-warning-on-genetically-engineered-food
-▶ NATION'S PEDIATRICIAN WARN AGAINST PESTICIDES IN FOOD http://www.enviroblog.org/2012/12/nations-pediatricians-warn-against-pesticides-in-food.html?utm_source=feedburner&utm_medium=feed&utm_campaign=Feed%3A+Enviroblog+%28Enviroblog%29
-▶ CONCERNS GROW OVER CHILDREN'S PESTICIDE EXPOSURE Dec. 9, 2012: http://www.seacoastonline.com/articles/20121209-LIFE-212090313
-▶ CHEMICAL INDUSTRY TO PARENTS: AVOID LEAD, TAIL PIPES AND CHOKING -- THAT'S IT? http://www.enviroblog.org/2012/12/chemical-industry-to-parents-avoid-lead-tail-pipes-and-choking.html?utm_source=feedburner&utm_medium=feed&utm_campaign=Feed%3A+Enviroblog+%28Enviroblog%29
-▶ A GENERATION IN JEOPARDY: HOW PESTICIDES ARE UNDERMINING OUR CHILDREN'S HEALTH & INTELLIGENCE http://www.scoop.it/t/agriculture-gmos-pesticides/p/3326708665/a-generation-in-jeopardy-how-pesticides-are-undermining-our-children-s-health-intelligence
-▶ HOW IS MONSANTO'S HERBICIDE "ROUNDUP" RELATED TO BIRTH DEFECTS? http://www.seattleorganicrestaurants.com/vegan-whole-foods/monsantos-roundup-glyphosate/
-▶ THE CHILD VICTIMS OF AGRICULTURAL PESTICIDE POISONING IN INDIA - PESTICIDE INDUSTRY DISMISSIVE http://www.scoop.it/t/agriculture-gmos-pesticides/p/945760086/the-child-victims-of-agricultural-pesticide-poisoning-in-india-pesticide-industry-dismissive
-▶ CANCER IS THE LEADING CAUSE OF DEATH BY DISEASE IN US CHILDREN AS NEW STUDY LINKS CHEMICALS USED ON CORN http://www.scoop.it/t/agriculture-gmos-pesticides/p/2745332899/cancer-is-the-leading-cause-of-death-by-disease-in-us-children-as-new-study-links-chemicals-used-on-corn-to-the-disease
-▶ INDIA: 8,200 FARMERS SUICIDE: GMO SEEDS, PESTICIDES http://www.scoop.it/t/agriculture-gmos-pesticides/p/2409815369/india-8-200-farmers-suicide-maharashtra-state-revokes-monsanto-s-cotton-seed-license
-▶ THOUSANDS OF DYING FARMERS IN SRI LANKA: STUDY LINKS KIDNEY DISEASE TO AGROCHEMICALST http://www.scoop.it/t/agriculture-gmos-pesticides/p/2720363606/thousands-of-dying-farmers-in-sri-lanka-study-links-kidney-disease-to-agrochemicals
-▶ CHEMICAL 'SOUP' CLOUD CONNECTION BETWEEN TOXINS AND POOR HEALTH: Scientific American http://www.scoop.it/t/agriculture-gmos-pesticides/p/3456963803/chemical-soup-clouds-connection-between-toxins-and-poor-health-scientific-american
-▶ THE GLOBAL BIOTECH CARTEL - AN UNPRECEDENTED POWER OVER WORLD AGRICULTURE AND HUMAN HEALTH ... Between them, Monsanto, Dow, BASF, Bayer, Syngenta and DuPont control the global seed, pesticide and agricultural biotechnology markets. This kind of historically unprecedented power over world agriculture enables them to: http://www.panna.org/issues/pesticides-profit/chemical-cartel
-▶ THE NEW BIOMASSTERS - MARKETING SYNTHETIC BIOLOGY AND THE NEXT ASSAULT ON BIODIVERSITY AND LIVELIHOODS http://www.scoop.it/t/agriculture-gmos-pesticides/p/1849165755/the-new-biomassters-marketing-synthetic-biology-and-the-next-assault-on-biodiversity-and-livelihoods
-▶ WHY IS OUR FOOD BEING MADE AND MODIFIED BY THE WORLD'S LARGEST PESTICIDE MANUFACTURER?http://gmo-awareness.com/all-about-gmos/gmo-defined/
-▶ STUDY LINKS FOOD ALLERGIES TO PESTICIDES IN TAP WATER Dec. 3 2012 TIME MAGAZINE http://healthland.time.com/2012/12/03/study-links-food-allergies-to-pesticides-in-tap-water/
-▶ PARKINSON'S ALLEYhttp://www.scoop.it/t/agriculture-gmos-pesticides/p/968599815/parkinson-s-alley
-▶ FOOD ALLERGIES, CANCER, ILL HEALTH LINKED TO PESTICIDES http://www.scoop.it/t/agriculture-gmos-pesticides/p/3610499008/food-allergies-cancer-ill-health-linked-to-pesticides
-▶ ANTIBACTERIAL SOAP: SAFE SUDS OR SNAKE OIL? OnEarth Magazine http://www.onearth.org/article/antibacterial-soap-triclosan-fda
-▶ SCARY FOOD: Big Ag Has Agent Orange Cancer-Causing Chemical in Our Food?!!! http://www.scoop.it/t/agriculture-gmos-pesticides/p/961126300/scary-food-big-ag-has-agent-orange-cancer-causing-chemical-in-our-food
-▶ UN REPORT: Urgent Action Needed: Growing Health and Environmental Hazards from Spread of Chemical Dependency/Pesticide Useage http://www.scoop.it/t/agriculture-gmos-pesticides/p/2862196581/un-report-urgent-action-needed-growing-health-and-environmental-hazards-from-spread-of-chemical-dependency
-▶ GENETICALLY MODIFIED CROPS HAVE LED TO MASSIVE PESTICIDE INCREASE, STUDY FINDS http://www.scoop.it/t/agriculture-gmos-pesticides/p/3113650731/genetically-modified-crops-have-led-to-massive-pesticide-increase-study-finds
-▶ IT'S TIME THE PESTICIDE/CHEMICAL COMPANIES OWNED UP: COMMON PESTICIDES COULD CAUSE AN ECOLOGICAL CATASTROPHE http://www.scoop.it/t/agriculture-gmos-pesticides/p/3051042756/it-s-time-the-pesticide-chemical-companies-owned-up-common-pesticides-could-cause-an-ecological-catastrophe
-▶ OUR LOADED CHEMICAL WORLD: Flame Retardardants Found in Food http://www.scoop.it/t/agriculture-gmos-pesticides/p/1876183867/our-loaded-chemical-world-flame-retardardants-found-in-food
-▶ PESTICIDE OVERLOAD: 1.1 billion pounds used per year... AND .. New USA legislation BANS retaliation http://www.scoop.it/t/agriculture-gmos-pesticides/p/986291397/pesticide-overload-1-1-billion-pounds-used-per-year-and-new-usa-legislation-bans-retaliation
-▶ REVERSING THE BURDEN OF PROOF: MORE THAN 80,000 CHEMICALS PERMITTED FOR USE IN THE U.S. HAVE NEVER BEEN FULLY TESTED http://www.scoop.it/t/agriculture-gmos-pesticides/p/2765494206/reversing-the-burden-of-proof-more-than-80-000-chemicals-permitted-for-use-in-the-u-s-have-never-been-fully-tested-for-toxicity-to-humans
-▶ 2,4-D "AGENT ORANGE" WEED KILLER IN OUR FOOD, IN THE ENVIRONMENT AND IN YOUR BODY http://www.scoop.it/t/agriculture-gmos-pesticides/p/2664869733/2-4-d-agent-orange-weed-killer-on-your-food-in-the-environment-and-in-your-body
October 3, 2012
-▶ HOW GMOs UNLEASHED A PESTICIDE GUSHER http://www.carighttoknow.org/gmos_unleashed_a_pesticide_gusher
WATCH
FROGS: THE THIN GREEN LINE
A WORLD WITHOUT AMPHABIANS
-▶ SYNGENTA'S PAID THIRD PARTY PUNDITS TO SPIN THE NEWS ON ENDOROCINE DISRUPTER 'ALTRAZINE' http://www.scoop.it/t/agriculture-gmos-pesticides/p/1155385189/syngenta-s-paid-third-party-pundits-to-spin-the-news-on-endrocine-disruptor-atrazine
-▶ SUPER WEEDS, SUPER PESTS: PESTICIDE OVERLOAD - THE LEGACY OF PESTICIDES http://green.blogs.nytimes.com/2012/10/05/the-legacy-of-pesticides-superweeds-and-superpests/
-▶ NANO-PESTICIDES SNEAKED ONTO THE MARKET (AND CONSUMER PRODUCTS) WITHOUT REGULATION OR OVERSIGHT http://www.scoop.it/t/agriculture-gmos-pesticides/p/2029721070/nano-pesticides-sneaked-onto-the-market-and-consumer-products-without-regulation-or-oversight
-▶ FLAME RETARDANTS AND FARM CHEMICALS COULD AFFECT OUR BODIES FOR GENERATIONS http://www.scoop.it/t/agriculture-gmos-pesticides/p/1836310965/flame-retardants-and-farm-chemicals-could-affect-our-bodies-for-generations
-▶ MAN-MADE CHEMICALS/PESTICIDE GIVING OUR PETS CANCER http://www.scoop.it/t/agriculture-gmos-pesticides/p/2920390819/man-made-chemicals-pesticides-giving-our-pets-cancer
-▶ AGRICHEMICAL COMPANIES POWER UP NEXT GENERATION OF GENETICALLY MODIFIED SEEDS AND CHEMICALS http://www.scoop.it/t/agriculture-gmos-pesticides/p/3503685531/agrichemical-companies-power-up-next-generation-of-genetically-modified-seeds
-▶ BAYER RAKED IN $1 BILLION IN 2010 WITH BEE-KILLING PESTICIDES http://www.scoop.it/t/agriculture-gmos-pesticides/p/990749270/bayer-raked-in-1-billion-in-2010-with-bee-killing-pesticides
-▶ 700,000x LETHAL DOSE OF PESTICIDES FOUND IN BEES http://www.scoop.it/t/agriculture-gmos-pesticides/p/973046639/700-000x-lethal-dose-of-pesticides-found-in-bees
-▶ "SILENT SPRING" FILM OF RACHEL CARLSON - OUR CHEMICAL WORLD - A DEATH KNOLL TO PLANETARY LIFE http://www.scoop.it/t/agriculture-gmos-pesticides/p/2814593019/silent-spring-film-of-rachel-carlson-our-chemical-world-a-death-knoll-to-planetary-life
-▶ USING OUR TAX DOLLARS TO KILL US: Aerial Spraying Leaves Poisonous Pesticide Footprint in Local Waters http://www.scoop.it/t/agriculture-gmos-pesticides/p/2861418247/using-our-tax-dollars-to-kill-us-aerial-spraying-leaves-poisonous-pesticide-footprint-in-local-waters
-▶ WHAT'S YOUR POISON? The Food Industry's A to Z of Toxic Ingredients to Avoid http://www.scoop.it/t/agriculture-gmos-pesticides/p/988435896/what-s-your-poison-the-food-industry-s-a-to-z-of-toxic-ingredients-to-avoid
-▶ PESTICIDES COULD COST SUB-SAHARAN AFRICA $90BN IN ILLNESS BILL, WARNS UN http://www.scoop.it/t/agriculture-gmos-pesticides/p/2623628672/pesticides-could-cost-sub-saharan-africa-90bn-in-illness-bill-un-warns
-▶ -▶ MORE ON PESTICIDES AND BEES http://www.scoop.it/t/agriculture-gmos-pesticides?q=BEES+PESTICIDES