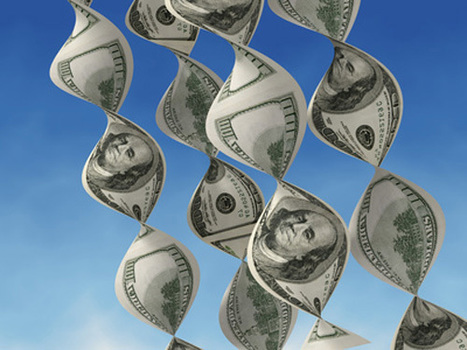 La Via Campesina...
Peasant intervention on synthetic biology : Convention on Biodiversity: La Via Campesina
October 11, 2012: Under synthetic biology life will not be a product of nature but of a lab and it will be patented and privatized. The new life forms that synthetic biologists are developing are defined by the market and the profits that big corporations that finance this new technology expect to have. These organisms will lead to unpredictable interactions with nature, genetic contamination of our crops and threaten the health of our ecosystems.... http://viacampesina.org/en/index.php/main-issues-mainmenu-27/biodiversity-and-genetic-resources-mainmenu-37/1311-convention-on-biodiversity-la-via-campesina-intervention-on-synthetic-biology
The Economic Times, November 25, 2013
▶ NOW "MUTAGENESIS" - AS OPPOSITION TO GM CROPS GROWS, COMPANIES ARE TURNING TO "MUTANT" SEED BREEDING
Mutagenesis deletes and rearranges hundreds or thousands of genes randomly, spawning mutations that are less precise than GMOs. ... The process, which faces almost no regulation, creates opportunities for companies to grab a bigger share of the $34 billion global commercial seed market. But some scientists say mutant crops are more likely to pose health risks than genetically modified ones.
All breeding techniques can create plants with increased levels of naturally occurring toxins or with proteins known to cause allergic reactions....Reports from the National Academy of Sciences, representing the consensus of experts in the field, say the risk of creating unintended health effects is greater from mutagenesis than any other technique, including genetic modification. ...
http://economictimes.indiatimes.com/news/economy/agriculture/as-opposition-to-gm-grows-companies-are-turning-to-mutant-breeding/articleshow/26334154.cms
Seattle Times, November 27, 2013 - LIFE IS NOT A COMPUTER
REMOVING THE SOUL FROM HUMAN LIFE: -- BIOTECH BUILDS CELLS LIKE YOU BUILD AN APP
http://seattletimes.com/html/businesstechnology/2022349958_biofactoriesappsxml.html?syndication=rss
RT USA, December 3, 2013
▶ ABSOLUTE MAJORITY OF AMERICANS WANT #GMO FOOD LABELED http://rt.com/usa/gmo-labeled-majority-americans-601/#.Up5DPW6-Pr8.twitter
-▶ THE NEXT GMO BIOTECH WAVE: EXTREME SYNTHETIC GENETICS. THE IMPLICATIONS, THE ETHICS http://sco.lt/6TyUmv
- ▶ DO WE NEED A GENETIC BILL OF RIGHTS? http://sco.lt/6jmb1l
-▶ GENETIC MODIFICATION STRAINS OLD FOOD AND DRUG LAWS - HOW A FISH BECOMES A DRUG AND CORN A PEST http://sco.lt/6vynBp
▶ MANIPULATING SEEDS OF LIFE: SEED PATENTS AND CONTROL OF YOUR FOOD - THE GLOBAL CORPORATE MONOPOLY http://sco.lt/6NDql7
-▶ OUR 21ST CENTURY PATENTED LIFE - RE-ENGINEERING, PROGRAMMING AND PATENTING LIFE ITSELF -- IS BIOTECH OUT OF CONTROL? http://sco.lt/4thM6j
VIDEO
-▶ SUPERB EXPLANATION BY GENETICIST, DAVID SUZUKI: GENETICALLY ENGINEERING OUR FOOD - WHAT YOU NEED TO KNOW http://sco.lt/7804v3
VIDEO
▶ GENETICIST, DAVID UZUKI, SAYS HUMANS ARE PART OF A MASSIVE EXPERIMENT http://www.youtube.com/watch?v=2mBF1OOPdTo#t=90
Global Research, November 26, 2013
MONSANTO, THE TRANS PACIFIC PARTNERSHIP, AND GLOBAL FOOD DOMINANCE http://www.globalresearch.ca/monsanto-the-tpp-and-global-food-dominance/5359491
-▶ PATENT FOR A PIG: SCIENTISTS "IMPROVE" TRANSGENIC GMO "ENVIROPIGS" http://sco.lt/7hrnF3
-▶ ----- NEW GM BABIES BORN A DECADE AGO http://www.seattleorganicrestaurants.com/vegan-whole-food/genetically-engineered-babies.php
-▶ ------ GMO PATENTS MAY OWN OUR FORESTS: MONSANTO GMO TREES COULD DEVASTATE FOREST ECOYSTEMS http://sco.lt/5G9P0L
-▶ ------ PATENT FOR A PIG: SCIENTIST "IMPROVE' TRANSGENIC GMO "ENVIROPIGS" http://sco.lt/7hrnF3
-▶ ------ FIRST GM CAMELS TO BE ENGINEERED FOR DRUG PRODUCTION | http://sco.lt/5L5VVB
-▶ ------ GM COW BRINGS BIOTECH TO A NEW LEVEL OF CREEPY http://sco.lt/62KG6T
-▶ ------ UNLEASHING GENETICALLY SALMON ONTO YOUR DINNER PLATE = NO REGULATIONS, NO OVERSIGHT - "FATALLY FLAWED" FDA ASSESSMENT http://sco.lt/8ZDraz
-▶ ----- GROWING PHARMACEUTICALS IN GMO PLANT REQUIRES NEW, STRICT REGULATIONS AND OVERSIGHT - PATENT MONOPOLIES http://sco.lt/7KM4qv
-▶ GENE GIANTS SEEK "PHILANTHROGOPOLY". 6 MULTINATIONAL GENE GIANTS CONTROL THE DIRECTION OF WORLD AGRICULTURE http://sco.lt/6h3lzt
-▶ GMO GENE GIANTS STOCKPILING PATENTS ON LIFE
Nagoya, Japan -- Under the guise of developing "climate-ready" crops, the world's largest seed and agrochemical corporations are filing hundreds of sweeping, multi-genome patents in a bid to control the world's plant biomass, according to a report released by ETC Group http://www.etcgroup.org/fr/node/5220
-▶ MONSANTO ENTERS PHARMACEUTICAL BUSINESS, ACQUIRES KEY 'GENE SILENCING' TECHNOLOGY http://sco.lt/8Qwjw1
June 13, 2013 Reuters
-▶ USA SUPREME COURT SAYS SYNTHETIC BUT NOT HUMAN EXTRACTED DNA CAN BE PATENTED - URGED BY OBAMA ADMINISTRATION http://preview.reuters.com/2013/6/13/us-top-court-says-extracted-human-dna-cannot-be
MONSANTO: A CORPORATE PROFILE
From Saccharin to GE Seed - Chemicals for Food, Agriculture, War
Science Daily, October 14, 2013
-▶ GENETICALLY MODIFIED TOBACCOS PLANTS (USING LASHINGS OF PESTICIDES) VIABLE FOR BIOFUELS AND FOR PRODUCING HUMAN ALBUMIN INTRAVENOUS PROTEIN FOR THERAPEUTIC PURPOSES http://www.sciencedaily.com/releases/2013/10/131014094119.htm
Natural News, November 21, 2013
-▶ BILL GATES GMO ZOMBIE EGGS COMING TO YOUR SUPERMARKET - UNLABELLED http://www.naturalnews.com/042997_Bill_Gates_zombie_eggs_vegan_foods.html#
-▶ BILL GATES, MONSANTO AND EUGENICS: HOW ONE OF THE WORLD'S WEALTHIES MEN IS ACTIVELY PROMOTING A CORPORATE TAKEOVER OF OUR FOOD, HEALTH AND AGRICULTURE http://sco.lt/64PsLB
Food Democracy Now, October 30, 2013
-▶ THE FOUNDING FABLES OF INDUSTRIALIZED AGRICULTURE http://fooddemocracynow.org/blog/2013/oct/30/the_founding_fables_of_industrialized_agriculture/
--- RESEARCH ---
Scientific American
-▶ DO SEED COMPANIES CONTROL GM CROP RESEARCH? http://sco.lt/7XugID
-▶ WHY SO LITTLE INDEPENDENTLY FUNDED, PEER REVIEWED RESEARCH?
WATCH:
May 13, 2013 Moyers and Company - Full Show:
-▶ **** Video "THE WAR ON SCIENCE AND TOXIC DIS-INFORMATION http://billmoyers.com/episode/full-show-the-toxic-politics-of-science/
-▶ CORPORATE-SPONORED RESEARCH: ARE UNIVERSITIES RESTRICTING SCIENTISTS' STUDY OF GENETICALLY MODIFIED SEEDS? http://www.scoop.it/t/agriculture-gmos-pesticides/p/3996053783/corporate-sponsored-research-are-universities-restricting-scientists-study-of-genetically-modified-seeds
VIDEOS
-▶ +++"GENETIC ROULETTE - THE GAMBLE OF OUR LIVES" 1:24:59 https://www.youtube.com/watch?v=9NWyQKGnYes
VIDEO:
▶ ▶ ***** THE WORLD ACCORDING TO MONSANTO (FULL LENGTH) - THE LEADER OF THE GLOBAL BIOTECH CARTEL http://sco.lt/7FFsXZ