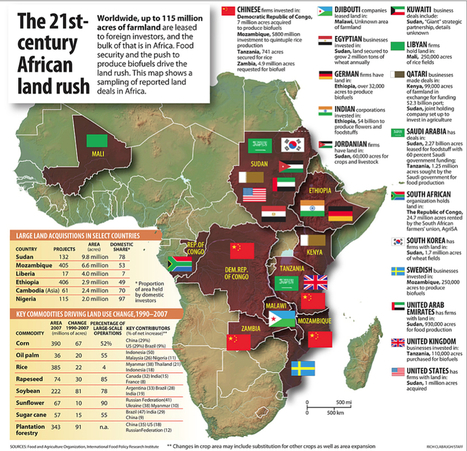 ============================
GOVERNMENTS ARE COLLUDING WITH MULTINATIONAL COMPANIES TO ENABLE THEM TO GAIN CORPORATE CONTROL OF AFRICA'S FOOD
============================
PUTTING THE FOX IN THE HEN HOUSE:
At the Group of 8 (G8) meetings this past weekend, President Obama and the leaders of the rest of the world's richest nations abandoned their governments' previous commitments to donate $7.3 billion a year to end hunger in Africa, after disbursing only 58 percent of the total pledge of $22 billion and giving less than 6 percent in new money they pledged three years ago. Instead, rich nations will leave the problem in the hands of the "New Alliance for Food Security and Nutrition" (Nice Title http://ow.ly/b8uIL) where private corporations will invest $3 billion over 10 years...http://www.organicconsumers.org/articles/article_25508.cfm
World Development Movement
THE NEW SCRAMBLE FOR AFRICA. - INFOGRAPH
In the nineteenth century scramble for Africa, European colonial powers took control of the continent's land, resources and people. Today's multinational corporations, aided by governments, are taking control over Africa's food system. http://www.wdm.org.uk/new-scramble-africa-food-monsanto-syngenta-yara/

STOP THE CORPORATE TAKEOVER OF AFRICA'S FOOD
World Development Movement
Under the guise of tackling hunger, initiatives like the G8 New Alliance for Food Security and Nutrition, will help corporations take control over Africa's land, seeds and markets - at the expense of small farmers. Join our campaign to oppose this twenty-first century corporate scramble for Africa. http://www.wdm.org.uk/food
Guardian Global Development, February 18, 2014
▶ THE G8 AND THE CORPORATE TAKE OVER OF AFRICAN FARMING. As part of the New Alliance, 10 African governments have signed up to change dozens of laws, policies and regulations to make their countries more attractive to the private sector. Collectively, they have made more than 200 commitments, including the overhaul of seed and tax laws and the setting aside of hundreds of thousands of hectares of land for commercial investors. http://www.theguardian.com/global-development/interactive/2014/feb/18/g8-fight-future-african-farming-interactive
Pambazuka -Voices for Freedom and Justice in Africa
▶ HOW COMPANIES FRAME ISSUES OF FOOD AND GLOBAL HUNGER FOR THEIR OWN SELF-INTEREST AND BOTTOMLINE PROFITS
There is a new, but deceptive, foreign drive to end hunger in Africa through large-scale agribusiness. Yet helping poor households in rural Africa feed themselves in an affordable manner means introducing low-cost, sustainable enhancements to farming.
...The rise of philanthrocapitalism in the US, where former and current business leaders, through the strength of their foundations, have increasingly come to influence the shape and direction of US international development programmes. Central to the philanthrocapitalist worldview is a belief that private enterprise is the fundamental agent of progressive change and that business acumen trumps other forms of expertise... http://www.pambazuka.org/en/category/features/85291
World Development Movement, June 24, 2014
▶ THE NEW SCRAMBLE FOR AFRICA : INTERACTIVE INFOGRAPHIC
Around the early 1900s the European colonial powers built railways to connect the interior of Africa to the ports. They used this infrastructure to export food and minerals out of Africa to feed the industrial revolution in Europe. Over a hundred years later it's happening all over again. Take a look at our latest infographic to see how.
http://www.wdm.org.uk/new-scramble-africa-food-dfid-infrastructure-extraction/
May 25, 2012 - PR Watch
▶ HOW THE U.S. SOLD AFRICA TO MULTINATIONALS LIKE MONSANTO, CARGILL, DUPONT, PEPSICO AND OTHERS http://www.prwatch.org/news/2012/05/11530/how-us-sold-africa-multinationals-monsanto-cargill-dupont-pepsico-and-others
▶ USA STRONG-ARMS AFRICAN AGRICULTURE: LAND GRAB, CROOKED POLITICS, GMO'S ALL ROLLED INTO ONE http://www.scoop.it/t/agriculture-gmos-pesticides/p/952264864/usa-strong-arms-african-agriculture-land-grabs-crooked-politics-gmo-s-all-rolled-into-one
▶ THE CORPORATE 'PHILANTHROCAPITALISTS' TAKEOVER OF AFRICAN AND GLOBAL FOOD SECURITY http://sco.lt/6CHP3R
The Guardian, February 18, 2014
▶ G8 NEW ALLIANCE CONDEMNED AS NEW WAVE OF COLONIALISM IN AFRICA. Critics say landmark initiative to boost agriculture and relieve poverty favours big business to the detriment of small farmers http://www.theguardian.com/global-development/2014/feb/18/g8-new-alliance-condemned-new-colonialism
-▶ AFRICA G8 - FOOD SECURITY FOR WHOM? CORPORATE PROFITS vs SMALLHOLDER FARMER INTERESTS http://sco.lt/8JKbIn
March 11, 2013 GRAIN —
-▶ THE G8 AND LAND GRABS IN AFRICA http://www.grain.org/article/entries/4663-the-g8-and-land-grabs-in-africa
UNITED NATIONS:
-▶ OBAMA'S AFRICA PLAN IS WRONG - PRIVATIZING FOOD AND AGRICULTURAL AID IS DANGEROUS; http://www.scoop.it/t/agriculture-gmos-pesticides/p/3690156835/un-privatizing-food-and-agricultural-aid-is-dangerous-obama-s-africa-plan-is-wrong
WATCH
June 29, 2013 The Real News
▶ IS OBAMA'S TRIP TO AFRICA ABOUT INVESTMENT OR THE EXTRACTION OF AFRICAN RESOURCES? http://therealnews.com/t2/index.php?option=com_content&task=view&id=31&Itemid=74&jumival=10366
▶ OBAMA 200% BEHIND CONVERTING AFRICA AND WORLD TO A BIOTECHNOLOGY DESIGNED LIFE FOR OUR FOOD http://www.scoop.it/t/agriculture-gmos-pesticides?q=obama
▶ MEET MONSANTO'S NUMBER ONE LOBBYIST - BARACK OBAMA http://sco.lt/98RKFN
▶ HEAVY HANDS - MONSANTO'S CONTROL IN SOUTH AFRICA http://www.acbio.org.za/index.php/publications/gmos-in-south-africa/357-heavy-hands-monsantos-control-in-sa
WATCH (56:27)
STEALING AFRICA: WHY POVERTY?
HOW MUCH PROFIT IS FAIR?
https://www.youtube.com/watch?v=WNYemuiAOfU
August 15, 2013 War on Want
▶ AFRICAN FOOD SOVEREIGNTY UNDER ATTACK BY CORPORATE INTERESTS http://www.waronwant.org/news/latest-news/17964-food-sovereignty-under-attack-by-corporate-interests
TripleCrisis, January 14, 2014
▶ THE DANGER OF TRUSTING CORPORATIONS TO LEAD THE FIGHT AGAINST WORLD HUNGER http://triplecrisis.com/the-danger-of-entrusting-corporations-to-lead-the-fight-against-world-hunger/
WATCH:
THE FUTURE OF FOOD PART 2 Vandana Shiva
http://www.scoop.it/t/agriculture-gmos-pesticides/p/951852556/the-future-of-food-part-2-vandana-shiva
▶ UNDERSTANDING LAND "INVESTMENT" DEALS IN AFRICA: PUBLICATIONS | oaklandinstitute.org http://www.oaklandinstitute.org/land-deals-africa-publications
WATCH
"LAND RUSH - WHY POVERTY?
THE UGLY RISE OF MONOCULTURE FARMING AND GLOBALIZED FOOD http://sco.lt/5z3gzB
▶ LAND GRABS: HOW FOREIGN "INVESTMENTS" ARE REDISTRIBUTING WEALTH, LAND AND WATER ACROSS THE GLOBE http://sco.lt/5YJpKb
WATCH: Documentary
May 3, 2011 FarmlandGrab
"PLANET FOR SALE" BIG AG BUYING UP WORLD'S FERTILE LAND http://farmlandgrab.org/post/view/18542
-▶ WALL STREET BANKS, CORPORATIONS BUYING UP AMERICAN & FOREIGN FARMLAND, THREATENING FUTURE OF U.S. AGRICULTURE http://sco.lt/97WQj3
June 10, 2013 IPS –
▶ KENYA'S FLOWER FARMS NO BED OF ROSES http://www.ipsnews.net/2013/06/kenyas-flower-farms-no-bed-of-roses/
=======================
THE GMO TROJAN HORSE
=======================
VIDEO
FOOD AS A WEAPON:
THE GMO PUSH IN AFRICA IS A TROJAN HORSE FOR POLITICAL CONTROL http://sco.lt/9K0MTJ
▶ U.S. TO START 'TRADE WARS' WITH NATIONS OPPOSED TO MONSANTO, GMO CROPS http://sco.lt/7KQlc1
▶ TURNING AFRICA INTO A GMO BONANZA FOR GIANT CORPORATIONS: FOREIGN TAKEOVER OF THE FUTURE OF FARMING IN AFRICA http://sco.lt/9BlxhZ
▶ AFRICA -- CALLING FOR A GMO-FREE CONTINENT http://sco.lt/6xpiEb
July 18, 2013 Sahara Reporter
▶ AFRICA UNDER PRESSURE TO ACCEPT GENETICALLY MODIFIED FOOD AND MONOCULTURE FARMING SAYS NNIMMO BASSEY http://saharareporters.com/video/africa-under-pressure-accept-gmos-says-nnimmo-bassey
===========================
Al Jazeera America
▶ INTERACTIVE: CHINA'S AFRICAN SPENDING SPREE - Take a tour of the dams, stadiums, mines and super-highways financed, sometimes controversially, by Beijing http://www.aljazeera.com/indepth/interactive/2014/03/interactive-china-african-spending-spree-2014320121349799136.html
May 21, 2013 Humanosphere
▶ CHINA'S COLONIZING AFRICA? http://www.humanosphere.org/2013/05/chinas-colonizing-africa-not-so-much/
Taylor & Francis Online, March 2014
▶ UNDERSTANDING CHINA'S RISE IN AFRICA http://explore.tandfonline.com/page/bes/economics-in-africa/china-in-africa
August 1, 2013 Yale Global Online
▶ CHINA AND THE U.S. COURT AFRICA:
Africa's rich resources, especially energy, are target for world's leading economies http://yaleglobal.yale.edu/content/china-and-us-court-africa
========================
▶ FOOD AID FOR THE 21st CENTURY: MEETING THE OBJECTIVE OR FEEDING THE BIG AG BIOTECH CHEMICAL CARTEL COFFERS? http://sco.lt/6bJSgD
THE HUNGER GAMES
HOW UK, USA SUPPORT FOR BIG AGRIBUSINESS IS FUELING POVERTY IN AFRICA http://sco.lt/8ked9N
▶ HOW NOT TO "FEED THE WORLD" http://sco.lt/6fKNnN
========================

▶ FOOD FORESTS CAN MITIGATE RISKS OF "FEAST OR FAMINE" - BIG CORPORATE AG IS NOT THE ANSWER http://sco.lt/8q2M41
=======================
THE "GREEN" REVOLUTION
======================
▶ BEWARE OF CALL FOR A 'GREENER REVOLUTION': CORPORATE TAKEOVER OF GLOBAL FOOD SUPPLY -- MORE PESTICIDE, MORE MONOCROPS, MORE BIODIVERSITY DESTRUCTION, MORE DISPLACED LAND OWNERS http://sco.lt/7sYm1Z
WATCH
THE MYTH OF THE AFRICAN 'GREEN REVOLUTION'
Vandana Shiva
http://www.scoop.it/t/agriculture-gmos-pesticides/p/1562042292/the-myth-of-the-african-green-revolution-video-vandana-shiva
September 6, 2013 Greenpeace International
-▶ AGRA, NEW ALLIANCE, HELPING BIG AGRIBUSINESS "CONQUER" AFRICAN AGRICULTURE Finally, we have confirmation of what we have long suspected: AGRA, the Alliance for a Green Revolution in Africa, has been created to facilitate the corporate takeover of African agriculture, not support African smallholder farmers with real solutions... http://www.greenpeace.org/international/en/news/Blogs/makingwaves/agra-agribusiness-africa-agriculture/blog/46511/
African Centre for Biosafety, November 18, 2013
▶ A CRITICAL LOOK AT THE ALLIANCE FOR A GREEN REVOLUTION IN AFRICA (AGRA) - 2013 REPORT -- GIVING WITH ONE HAND, TAKING WITH TWO http://www.acbio.org.za/
WATCH
ABOUT INDUSTRIAL "GREEN" AGRICULTURE IN AFRICA
Vandana Shiva
http://www.globalonenessproject.org/library/interviews/mythology-green-revolution
▶ AFRICAN AGRICULTURE: A CONTRARIAN VIEW OF THE ALLIANCE FOR A GREEN REVOLUTION IN AFRICA http://www.africanagricultureblog.com/2012/10/a-contrarian-view-of-alliance-for-green.html?utm_source=feedburner&utm_medium=feed&utm_campaign=Feed%3A+africanagricultureblog%2FNaEx+%28African+Agriculture%29
African Agriculture:
▶ 'ALLIANCE FOR A GREEN REVOLUTION IN AFRICA" (AGRA) IS A MAJOR ASSAULT ON SEED SOVEREIGNTY http://www.africanagricultureblog.com/2012/02/alliance-for-green-revolution-in-africa.html
===============================
----THE GLOBAL SEED PATENT MONOPOLY ---
===============================
WATCH:
**** "SEEDING DEEP DEMOCRACY - Vandana Shiva http://www.scoop.it/t/agriculture-gmos-pesticides/p/1054461972/seeding-deep-democracy-vandana-shiva
WATCH
INDEPTH INVESTIGATION FROM AL JAZEERA
**** ARE GIANT AGRICULTURE FIRMS TRYING TO MONOPOLISE AND PATENT THE WORLD' FOOD SUPPLY? http://www.scoop.it/t/agriculture-gmos-pesticides/p/1038866656/are-giant-agriculture-firms-trying-to-monopolise-and-patent-the-world-s-food-supply
▶ GMO GIANT DUPONT HIRES EX-COPS TO 'ENFORCE' SEED PATENTS ON FARMERS - USA GOVT IMPOTENT TO INTERFERE http://sco.lt/6K9CoD
▶ GENE GIANTS SEEK "PHILANTHROGOPOLY" - SIX MULTINATIONAL GENE GIANTS CONTROL THE GLOBAL DIRECTION OF AGRICULTURE http://sco.lt/6h3lzt
WATCH
MONSANTO FOOD WARS: GMO SEEDS AND ANIMALS
http://www.youtube.com/watch?v=5TTWwOWvPzA
▶ RE-ENGINEERING, RE-PROGRAMMING LIFE ITSELF - THE ETHICS AND LEGALITIES http://sco.lt/7NZvsH
=======================
BILL GATES
=======================
August 8, 2013 Tech Rights
▶ GATES FOUNDATION EXPANDS TO AFRICA TO PROFIT FROM WORLD'S POOREST http://techrights.org/2013/08/08/occupying-africa/
▶ BILL GATES, G8, MONSANTO AND EUGENICS: HOW ONE OF THE WORLD'S WEALTHIEST MEN IS ACTIVELY PROMOTING A CORPORATE TAKEOVER OF GLOBAL HEALTH AND AGRICULTURE http://sco.lt/8Csev3
WATCH
KENYA –"THE KAMBURU STORY"
WHY WE DON'T NEED BILL GATES AND AGRA BIG INDUSTRIAL GMO AGRICULTURE http://www.scoop.it/t/agriculture-gmos-pesticides/p/1601948998/kenya-why-we-don-t-need-bill-gates-and-agra-big-industrial-gmo-agriculture-the-kamburu-story
▶ GATES AS A TROJAN HORSE FOR BIOTECH CARTEL: POURS MILLIONS INTO GENETICALLY MODIFIED FOODS IN SUB-SAHARA AFRICA http://www.scoop.it/t/agriculture-gmos-pesticides/p/3441602427/gates-as-a-trojan-horse-for-biotech-cartel-gates-foundation-pours-10-million-into-genetically-modified-crops
▶ AFRICAN AGRICULTURE ON "AGRA" FUNDED BY BILL GATES IS A MAJOR ASSAULT ON SEED SOVEREIGNTY http://www.scoop.it/t/agriculture-gmos-pesticides/p/1190139706/african-agriculture-agra-alliance-for-a-green-revolution-in-africa-is-a-major-assault-on-seed-sovereignty
▶ BILL GATES' FOOTPRINT ALL OVER AFRICAN TAKEOVER OF THEIR AGRICULTURE, LAND AND CONTROL OF CONVENTIONAL CROPS
http://www.scoop.it/t/agriculture-gmos-pesticides?q=gates
▶ GATES FOUNDATION-LED GREEN REVOLUTION PROMOTES FALSE SOLUTIONS TO HUNGER IN AFRICA http://www.scoop.it/t/agriculture-gmos-pesticides/p/2792758616/gates-foundation-led-green-revolution-promotes-false-solutions-to-hunger-in-africa
▶ A CONTRARIAN VIEW OF THE GATES' ALLIANCE FOR A GREEN REVOLUTION IN AFRICA http://www.africanagricultureblog.com/2012/10/a-contrarian-view-of-alliance-for-green.html?utm_source=feedburner&utm_medium=feed&utm_campaign=Feed%3A+africanagricultureblog%2FNaEx+%28African+Agriculture%29
▶ BILL GATES, MONSANTO AND EUGENICS: HOW ONE OF THE WORLD'S WEALTHIEST MEN IS ACTIVELY PROMOTING A CORPORATE TAKE OVER OF THE WORLD'S HEALTH AND AGRICULTURE http://sco.lt/8Csev3
▶ MORE ON THE GATES AS A TROJAN HORSE FOR GLOBAL BIOTECH CARTEL http://www.scoop.it/t/agriculture-gmos-pesticides?q=gates
======================
▶ THE NEW BIOMASSTERS - MARKETING SYNTHETIC BIOLOGY AND THE NEXT ASSAULT ON BIODIVERSITY AND LIVELIHOODS http://www.scoop.it/t/agriculture-gmos-pesticides/p/1849165755/the-new-biomassters-marketing-synthetic-biology-and-the-next-assault-on-biodiversity-and-livelihoods
▶ THE GLOBAL CHEMICAL BIOTECH CARTEL - AN UNPRECEDENTED POWER OVER WORLD AGRICULTURE AND HUMAN HEALTH http://www.scoop.it/t/agriculture-gmos-pesticides/p/1716244040/the-global-chemical-biotech-cartel-an-unprecedented-power-over-world-agriculture-and-human-health
WATCH:
THE WORLD ACCORDING TO MONSANTO (FULL LENGTH) - https://www.youtube.com/watch?v=N6_DbVdVo-k
===============================
OBAMA'S NEW SECRETIVE TRADE DEALS
▶ MEGA BIOTECH GIANTS USE NEW USA-EU TRADE DEAL TO DESTROY GMO SAFEGUARDS http://www.scoop.it/t/agriculture-gmos-pesticides/p/3997212123/thru-the-back-door-mega-biotech-giants-use-new-usa-eu-trade-deal-to-destroy-gmo-safeguards
May 15, 2013 The Guardian
▶ THE US-EU TRADE DEAL COULD GIVE MONSANTO'S GM CROPS A FREE RIDE http://www.guardian.co.uk/commentisfree/2013/may/15/us-eu-trade-deal-monsanto-crops
Global Research, November 26, 2013
▶ MONSANTO, THE TRANS PACIFIC PARTNERSHIP AND GLOBAL FOOD DOMINANCE http://www.globalresearch.ca/monsanto-the-tpp-and-global-food-dominance/5359491
▶ THE BIGGER PICTURE: TRANS PACIFIC PARTNERSHIP AND SECRETIVE TRADE DEALS WAIVES RIGHTS, REGULATION FOR CORPORATE GOVERNANCE AND "MONSANTO PROTECTION ACT" http://sco.lt/8U0kjJ
▶ OBAMA QUIETLY DE-REGULATES GMO/ GENETIC BIOTECH INDUSTRY : "FAST-TRACKING" APPROVALS, WAIVING REGULATIONS http://sco.lt/5uCx8b
=======================
WATCH
A SYSTEM BASED ON PROFITS IS UNSUSTAINABLE
....Vandana Shiva
http://www.scoop.it/t/agriculture-gmos-pesticides/p/1614565249/a-system-based-on-profits-is-unsustainable-vandana-shiva
▶ CONTEMPORARY AGRICULTURE IS BURNING UP OUR PLANET
▶ THE BIOTECH GMO LABELING WARS:
U.S. GMO food labeling drive goes Global - May 25, 2013 http://sco.lt/4sEmUD
▶ GMO GIANT DUPONT HIRES EX-COPS TO 'ENFORCE' SEED PATENTS ON FARMERS - USA GOVT IMPOTENT TO INTERFERE http://sco.lt/6K9CoD
WATCH
SUPERB EXPLANATION ON GENETICALLY MODIFIED FOOD BY GENETICIST, DAVID SUZUKI -WHAT YOU NEED TO KNOW http://sco.lt/7804v3
▶ CORPORATE GOVERNANCE? NEW SECRETIVE GLOBAL TRADE PACTS WILL IMPACT US ALL AS SOVEREIGN RIGHTS NEGOTIATED AWAY http://sco.lt/6P14JF
=======================MORE======================
▶ SEE: AFRICA'S "GREEN" REVOLUTION
http://www.scoop.it/t/agriculture-gmos-pesticides?q=green+revolution
▶ MORE ON THE FIGHT FOR THE FOOD SOUL OF AFRICA
http://www.scoop.it/t/agriculture-gmos-pesticides?q=bill+gates
http://www.scoop.it/t/agriculture-gmos-pesticides?q=AFRICA