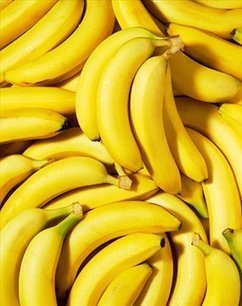 Genetically Modified Bananas from the Australian state of Queensland could soon be "helping" to save the lives of pregnant mothers in India. http://ow.ly/aMYnf
May 2, 2013 CAMPAIGN LAUNCHED TO STOP BILL GATES' FUNDED GMO BANANAS http://sustainablepulse.com/2013/05/02/campaign-launched-to-stop-bill-gates-funded-gmo-bananas/#.UYYwQoLyeic
We need to be very cautious about gene-altered "fortified" food that has no boundaries or dosage warnings. Whether your body needs it or not it will enter your digestive system; and who knows how these gene-altered crops could contaminate traditional crops, surrounding biodiversity, wildlife and pollinators further threatening a global epidemic of overdose, reactions, allergies and deaths. http://ow.ly/aMYtQ.
May 8, 2013 Seeds of Freedom
INDIA: NAVDANYA LAUNCHES "NO" TO GMO BANANA CAMPAIGN http://www.seedsoffreedom.info/navdanya-launches-no-to-gmo-banana-campaign/
GATES FOUNDATION-LED GREEN REVOLUTION PROMOTES FALSE SOLUTIONS TO HUNGER IN AFRICA http://www.scoop.it/t/agriculture-gmos-pesticides/p/2792758616/gates-foundation-led-green-revolution-promotes-false-solutions-to-hunger-in-africa
AN ISSUE OF ETHICS: THERE ARE NO LAWS OR ANY ONE AGENCY GOVERNING THESE EXPERIMENTS WITH OUR LIVES. MANIPULATING OUR FOOD WITHOUT INDEPENDENT PEER REVIEWED HEALTH STUDIES FOR IMPACT ON BOTH HUMAN AND ENVIRONMENTAL HEALTH IS A SERIOUS MORAL ISSUE. NO LABELS, NO REGULATIONS, NO OVERSIGHT
ETC Group GENE GIANTS STOCKPILE PATENTS ON "CLIMATE-READY" CROPS IN BID TO BECOME BIOMASSTERS http://www.etcgroup.org/content/gene-giants-stockpile-patents-%E2%80%9Cclimate-ready%E2%80%9D-crops-bid-become-biomassters-0
THIS MASS GMO EXPERIMENTATION ON HUMANS NEEDS TO STOP . In this instance, what if we unknowingly, eat too many of these gene-altered bananas? Adverse affect on health? And what happens when the GMO pollen scatters and repollinates traditional bananas and we all end up eating them OR overdosing our bodies ? And what happens to the birds, insects, bees and other pollinators that ingest this over and over again? The questions go on and should be answered fully before anything is introduced into our environment...for the sake of all life on earth.
http://www.radioaustralia.net.au/asia/2012-03-09/423310
GATES AS A TROJAN HORSE FOR BIOTECH CARTEL: POURS MILLIONS INTO GENETICALLY MODIFIED FOODS IN SUB-SAHARA AFRICA http://www.scoop.it/t/agriculture-gmos-pesticides/p/3441602427/gates-as-a-trojan-horse-for-biotech-cartel-gates-foundation-pours-10-million-into-genetically-modified-crops
AFRICAN AGRICULTURE ON "AGRA" FUNDED BY BILL GATES IS A MAJOR ASSAULT ON SEED SOVEREIGNTY http://www.scoop.it/t/agriculture-gmos-pesticides/p/1190139706/african-agriculture-agra-alliance-for-a-green-revolution-in-africa-is-a-major-assault-on-seed-sovereignty
Op-ed:
GATES FOUNDATION SHOULD STEP AWAY FROM FUNDING GENETICALLY MODIFIED CROPS IN AFRICA http://www.scoop.it/t/agriculture-gmos-pesticides/p/3207727565/op-ed-gates-foundation-should-step-away-from-funding-genetically-modified-crops-in-africa
GATES FOUNDATION-LED GREEN REVOLUTION PROMOTES FALSE SOLUTIONS TO HUNGER IN AFRICA http://www.scoop.it/t/agriculture-gmos-pesticides/p/2792758616/gates-foundation-led-green-revolution-promotes-false-solutions-to-hunger-in-africa
August 8, 2013 Tech Rights
GATES FOUNDATION EXPANDS TO AFRICA TO PROFIT FROM WORLD'S POOREST http://techrights.org/2013/08/08/occupying-africa/
A CONTRARIAN VIEW OF THE GATES' ALLIANCE FOR A GREEN REVOLUTION IN AFRICA http://www.africanagricultureblog.com/2012/10/a-contrarian-view-of-alliance-for-green.html?utm_source=feedburner&utm_medium=feed&utm_campaign=Feed%3A+africanagricultureblog%2FNaEx+%28African+Agriculture%29
WATCH:
+++++VIDEO THE KAMBURU STORY - KENYA - WHY WE DON'T NEED BILL GATES AND AGRA BIG INDUSTRIAL GMO AGRICULTURE http://vimeo.com/7096771
BILL GATES' EXCELLENT AFRICAN ADVENTURE: A TALE OF TECHNOCRATIC AGROINDUSTRIAL PHILANTHROCAPITALISM http://sco.lt/7wLJsP
BILL GATES, MONSANTO, AND EUGENICS: HOW ONE OF THE WORLD'S WEALTHIEST MEN IS ACTIVELY PROMOTING A CORPORATE TAKEOVER OF GLOBAL AGRICULTURE http://www.scoop.it/t/agriculture-gmos-pesticides/p/1349882762/bill-gates-monsanto-and-eugenics-how-one-of-the-world-s-wealthiest-men-is-actively-promoting-a-corporate-takeover-of-global-agriculture
MONSANTO AND GATES FOUNDATION HAVE MAJOR CONTROL OVER WORLD'S LARGEST SEED BANK IN NORWAY // Current TV http://current.com/technology/93147558_monsanto-and-gates-foundation-have-major-control-over-large-seed-bank-in-norway.htm
"DOOMSDAY SEED VAULT" IN THE ARCTIC - GATES FOUNDATION AND BIOTECH SEED CARTEL | Global Research http://www.globalresearch.ca/doomsday-seed-vault-in-the-arctic/23503
April 15, 2013 PBS NEWSHOUR VIDEO:
U.S. SUPREME COURT TACKLES CASE OF PATENT LAW, HUMAN GENETICS http://www.pbs.org/newshour/bb/law/jan-june13/scotus_04-15.html
MORE ON THE GATES AS A TROJAN HORSE FOR GLOBAL BIOTECH CARTEL http://www.scoop.it/t/agriculture-gmos-pesticides?q=gates