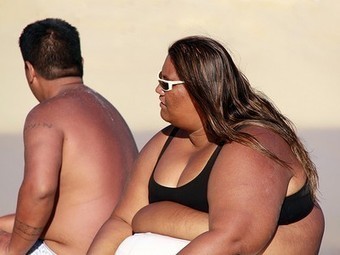 The US spends less on food than any country in the world...
But let's be clear, it's not like we're getting a deal overall. The big picture is much more grim because of the ecological ramifications of our industrialized food system. It also means we're spending more than ever on healthcare because we're so absurdly overweight. If Americans continue to pack on pounds, obesity will cost us about $344 billion in medical-related expenses by 2018, eating up about 21 percent of healthcare spending, according to an article in USA Today. Not to mention the unseen health issues associated with a genetically modified and pesticide-bathed food system.
http://www.treehugger.com/health/americans-eat-the-cheapest-food-in-the-world-but-what-is-it-really-costing-us.html?campaign=daily_nl
US National Institute of Health
-▶ CHEMICAL TOXINS: A RESEARCH PAPER TO EXPLAIN THE GLOBAL OBESITY EPIDEMIC http://www.ncbi.nlm.nih.gov/pubmed/12006126
-▶ WHY MILLIONS OF PETS, LIKE PEOPLE, ARE NOW OVERWEIGHT http://sco.lt/5V5BsP
Huffington Post Food, November 25, 2013
-▶ TRUE COSTS OF SO-CALLED CHEAP FOOD http://www.huffingtonpost.com/ellen-gustafson/true-costs-of-so-called-cheap-food_b_4337423.html?utm_hp_ref=tw
-▶ HOW THE JUNK FOOD INDUSTRY HAS ENCOURAGED US TO EAT OURSELVES TO DEATH http://sco.lt/8jsdeL
-▶ FARM TO FORK: THE STORY OF OUR TOXIC FOOD SYSTEM - INFOGRAPH (What Are We Feeding Our Kids?) http://sco.lt/66Od05
-▶ HOW YOU BECAME A GUINEA PIG FOR THE CHEMICAL AND BIOTECH CORPORATIONS http://sco.lt/7pVqkr
-▶ WORLD'S LARGEST FOOD COMPANIES CREATING LEGACY OF DESTRUCTION http://sco.lt/6sSzK5
-▶ PROCESSED AND GMO FOODS MAKE UP 70 PERCENT OF THE US DIET- WITH ABOUT 5,000 DIFFERENT CHEMICAL ADDITIVES http://sco.lt/7FPtxZ
-▶ THE GREAT AMERICAN EXPORT - JUNK PROCESSED FOODS http://sco.lt/65PqWf
-▶ HEY, ADVERTISERS, LEAVE OUR DEFENSELESS KIDS ALONE: THE SCIENCE OF MARKETING ADDICTION http://sco.lt/5E3G4X
-▶ CONTEMPORARY AGRICULTURE IS BURNING UP OUR PLANET http://sco.lt/6xupV3
WATCH --
ALL ABOUT GMO CROPS A Must see VIDEO for all. Dr. David Suzuki
-▶ "What Are Roundup Ready & Bt Pesticide GMO Crops?"
-▶ ARE YOU EATING 'PESTICIDE PLANTS'? http://sco.lt/9JFS65