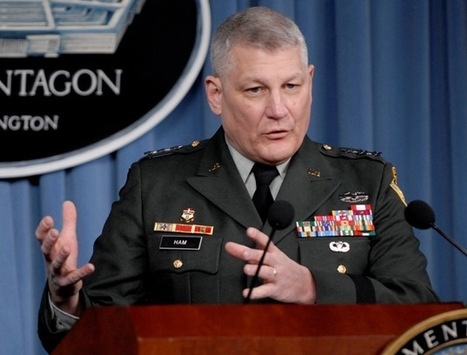 In the absence of a completed plan for the retaking of Mali, which Ham insisted would be undertaken solely by African troops with logistical and training support coming from the outside (the "Somalia" model, as some are dubbing it), Ham does not believe the operation will be smooth. Nor will it even necessarily prove successful, given the strength of the enemy and the ill-preparedness of the ECOWAS assault forces, which, as Ham noted, have been trained and equipped for peacekeeping missions, not offensive operations.
Last month, at a Chatham House presentation, General Ham laid out the foundation that underlies these remarks. Admitting that Africa has largely been an "afterthought" for the American military, he explained that recent events in the Sahel, Somalia, and Central Africa have brought America directly into the fight against Al Qaeda and other freelance terrorists whose defeat is the number one U.S. military objective. He went on to list the broader U.S. objectives of fostering security, assisting economic development, promoting democracy, and supporting humanitarian efforts where necessary.
While unremarkable in itself, General Ham's talk was significant because it was one of the very few times that a high-ranking U.S. official, military or otherwise, has suggested that the United States government actually has a new policy on Africa.