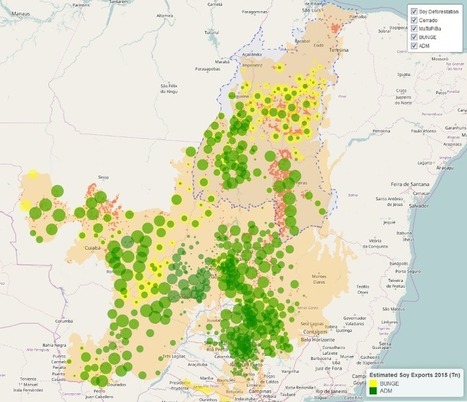 Global businesses are increasingly pledging to obtain key commodities only from sources that do not contribute to deforestation. Now, nonprofit groups are deploying data tools that help hold these companies to their promises by tracing the origins of everything from soy to timber to beef...
NGOs launched... the first global ecological tracking system for the commodities that drive tropical deforestation... Trase – Transparency for Sustainable Economies... "Over the next five years, we aim to cover over 70 percent of the total production in major forest-risk commodities, for the first time laying bare the flows of globally traded commodities that are driving deforestation" says Toby Gardner... Through transparency, Gardner hopes for accountability. And if the deforesters are accountable, he hopes they will stop – or be forced to stop.

The threat posed to rainforests by the international trade in agricultural commodities now far exceeds any other. At least two-thirds of deforestation comes down to a few key commodities: palm oil, soy, timber, paper and pulp, beef, and leather, according to Forest 500, a program of the GCP that ranks corporations and others according to their progress towards deforestation-free supply chains... The growing, trading, processing, and selling of these commodities accounts for nearly a trillion dollars in corporate revenues a year.

Under pressure from consumers and investors to decouple their supply chains from this destruction, some businesses have been promising to deliver deforestation-free supply chains... Did they know what they were getting into? To have any hope of achieving such a goal, they need to know how clean their supply chain is. But even large corporations keen to meet their pledges, like Unilever, admit they are ignorant about their own suppliers and what happens in the forests.

Not everyone will be convinced of such claims of ignorance. But Gardner insists it is so. Indonesia, for instance, has more than 2 million small landholders growing about 40 percent of its palm oil. In any case, he says that Trase was developed... to fill that data gap – for companies, but also for those that want to hold companies accountable. "Radical transparency," Gardner calls it.

A number of NGOs have embarked on systematic efforts to track the ecological footprint of major commodity traders and processors... Optimists hope it may soon be the norm in the corporate world. Investors are demanding it because... "analysts increasingly see a positive correlation between sustainable performance and strong financial performance"...

So what exactly is Trase trying to do? The aim is to map complex supply chains by tapping into publicly available data such as shipping bills of lading, corporate statements, and customs and tax records, along with information published by transport companies, warehouses, refiners, producers, and traders. The trick is then to overlay maps of the geography of production and trading with maps of the geography of deforestation. The guilty parties can then be named, and hopefully shamed into mending their ways.

The first supply chain to come under Trase's microscope is Brazilian soy. Soy is one of the world's most widely traded international commodities. Brazil produces around 30 percent of the global crop, and exported 73 million tons last year, more than any other country. In a world with fast-rising demand for meat and dairy products, soy is an essential source of feed for farm animals... But that level of data detail is not enough for anyone interested in the environmental impact of such trades. Some Brazilian soy is sustainably produced; most is not. Gardner wants to know the precise source of the commodity, and what happened on the land before soy was planted.

"The supply chain data is already there. We simply stitch it together... For example, port documents will detail that Cargill is exporting a shipment of soy that originated from Mato Grosso. With data sets on the ownership of soy silos in that state, we can bring in other trade data to narrow down the origin of the soy to a specific municipality."

In all, Trase has tracked 320,000 unique soy supply chains in Brazil, involving more than 400 companies, dozens of ports, and hundreds of importers, all linked back to one of the 2000 or so municipalities that grow soy, and each with its unique ecological history. The data is still incomplete... "but we can now begin to link specific actors to deforestation. We go from having a supply chain for soy to a supply chain for deforestation"...

For instance, Cargill and ADM, another major trader with a zero deforestation commitment, operate in municipalities where 72,400 hectares of deforestation is "linked specifically to soy expansion in the Cerrado," according to Trase's analysis. That does not necessarily mean they are responsible for that deforestation, but it raises questions about their role on the soy frontline. These are questions that, equipped with the new data, both NGOs and the corporations themselves can now ask.

Government regulators could also use such information in the future. The European Union is considering an Action Plan on Deforestation that would crack down on agricultural commodities implicated in deforestation from European markets. Adoption of this plan is urgent. Europe may have a reputation for caring about the environment, says Lake, "but our analysis shows that the EU's deforestation footprint for soy in the Brazilian Cerrado is actually as big as that of China, which people talk about far more"...

Next is beef. Forest 500, in its 2016 report, identified the cattle industry as still globally "the largest commodity driver of deforestation," with only 16 percent of companies it surveyed having policies to avoid beef raised on recently deforested pastures. After that, Gardner will target palm oil... Malaysian palm oil companies are now expanding into Africa... If Trase can crack the supply chains of those companies, then maybe the forests of Africa can be saved.
http://e360.yale.edu/feature/tracking_commodities_to_save_world_forests_trase/3062/

Via
Alexander J. Stein