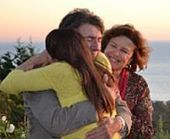 AquaBounty Technologies has applied to the federal government for permission to market genetically engineered farm-grown Atlantic salmon... the company is seeking approval to sell AquAdvantage Salmon for human consumption in Canada.
The AquAdvantage Salmon would be the first genetically engineered food animal approved for sale in this country. The fish — which contains a gene from the Chinook salmon — grow twice as fast as conventional Atlantic salmon, promising significant energy and labour savings...
The firm won approval last year to grow genetically modified fish eggs in this country for export to Panama, where the fish would be grown to market size in a land-based aquaculture system. The company is also seeking approval from American authorities...
The U.S. Food and Drug Administration has declared that the salmon "is indistinguishable from other farmed Atlantic salmon, safe to eat, and does not pose a threat to the environment under the conditions in which it would live and be harvested." ... Environment Canada has already concluded that AquAdvantage Salmon is not harmful to the environment or human health when produced in contained facilities...
AquaBounty plans to sell its product in the United States, Canada, Argentina, Chile and China, when regulatory approvals are obtained...
http://www.vancouversun.com/business/technology/9601660/story.html