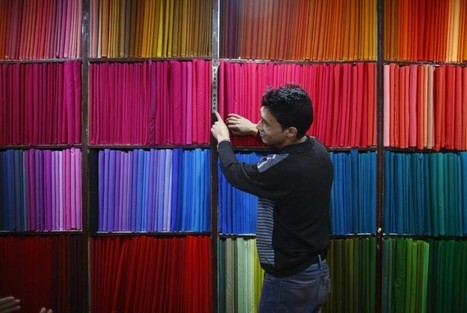 Ethiopian farmers are preparing to plant genetically modified cotton seedlings when the rainy season gets underway in June, in a move the government hopes will boost textile and garment exports. In early 2013, the Ethiopian parliament ratified a proclamation stating that genetically modified organisms (GMOs) can be imported if the environment ministry approves their compliance with bio-safety and public health guidelines.
Late last year, Ethiopia's Minister of Industry Ahmed Abtewe said the government was planning to use GM cotton crops as part of a strategy to boost the country's textile sector, although testing had yet to start. Ethiopia exports both cotton fabric and garments made of cotton. The East African nation has embarked on an ambitious five-year economic plan to boost exports from the textile and garment industry to meet a target of $1 billion by 2015. But so far it is struggling, as the domestic supply of cotton lags behind demand from industry.
Officials hope that planting GM cotton will achieve higher yields than conventional varieties. As yet, there are no plans to introduce other GM crops in Ethiopia... Within Africa, South Africa has the most open attitude to GM crops... But an increasing number of African states have GM research and development (R&D) capacity, including Zimbabwe, Kenya, Nigeria, Mali, Egypt and Uganda. Others - such as Benin, Burkina Faso, Morocco, Senegal, Tanzania, Zambia and Zimbabwe - are known to have conducted field trials. The main GM crops of research and commercial interest in Africa are sweet potato, maize, cotton, soybean, pigeon pea, banana and tobacco.
"Africa should have its own food sovereignty because it has over 7,000 varieties of food that are eaten by African people," said Belay, arguing that big agri-businesses are pushing to narrow those down and focus on higher productivity alone. "We live in this age of climate change which requires diversity in plants, eco-systems and knowledge and strategy," he added. There are some 60 different types of sorghum, for example, used for eating, making tella (a local alcoholic brew), easing pain during childbirth and other purposes...
AGRA said it does not advocate for or against GMOs, but supports conventional breeding R&D that improves the productivity of locally adapted crops and involves farmers in the testing and selection process.
It said there was no conclusive evidence either way on whether GM crops are more resilient in the face of climate change. But climate impacts are real, it said, and that is why it advocates for "climate-smart" agricultural research and development.
"Conventional breeding programmes need to be producing robust improved seed with greater genetic tolerance to heat stress, colder temperatures, drought and water logging," the organisation said. At the same time, AGRA noted that GM crops have been grown "in a number of developed and developing countries worldwide – in some cases for more than 20 years – without concrete evidence of negative ecosystem and environmental impacts". In fact, the use of Bt cotton, for example, has greatly reduced the need to apply harmful pesticides...