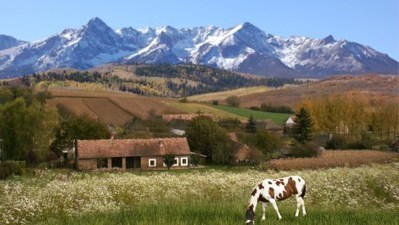 OK, GMOs matter — but the noisy fight over them is a distraction...
I've heard from a lot of people... that I should oppose GMOs because what we really need is low-input, agro-ecological farming. I haven't been surprised by that, because that was my position before I started this research. I still think that agro-ecological approaches are necessary, but I no longer think that all GMOs necessarily move us away from that goal.
When I came into this project, I saw conventional modern agriculture and low-input, agro-ecological approaches as two utterly separated paths. Any technology that advanced mainstream farming was bad because it took us further away from truly sustainable agriculture. Even if GM made things a little better, I was inclined to discount it, because it just made the bad system more attractive...
After that reporting I replaced that image of two diverging roads with an image of a tangled wood: Farmers who care about sustainability — whether they are organic or mainstream, big or small — are struggling through the thickets toward that goal. The most inspiring farmers to me are not the ideological purists calling for revolution, but the pragmatists using whatever tools they can to make their way a little closer to sustainability... The fact is, there is no high road to sustainable ag: We're just figuring it out as we go along. And we are going to need a lot of different ideas to do it...
I'm uncomfortable with opposing GMOs simply as a means to restrain the power of the seed companies. To use an analogy here: I really dislike our car-dependent transportation system... but I would have a really hard time justifying opposition to all internal combustion engines. Sure, opposing engines would be a lever to counterbalance the power of automakers, petroleum companies, and the road-building lobby. But I'd be much more comfortable in opposing the most polluting SUVs, while supporting tougher gas-mileage regulations.
There are lots of problems associated with GMOs. I just want to focus directly on fixing those problems, rather than turning GMOs into a vague representative boogieman. I see problems with seed patents, problems with overuse of pesticides, problems with the lack of funding for research on agricultural alternatives. I care deeply about these things. But I'm worried that the discussion has become so ossified over GMOs that it's not helping those causes. We've focused so tightly on GMOs that people tend to lose sight of those bigger things...
Our urgent needs are to alleviate poverty, improve the environment, and face the fact that many of us no longer trust the people who bring us our food. Right now, our political capital is misspent if we're only addressing GMOs narrowly without touching those larger issues.
http://grist.org/food/ok-gmos-matter-but-the-noisy-fight-over-them-is-a-distraction/