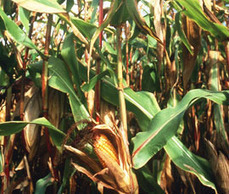 Farmers in the UK should be able to use genetically-modified crops, provided they can be shown to be safe for health and the environment, according to a DEFRA minister...
The newly appointed parliamentary under secretary of state, said it was important that British farmers were given access to GM crops if the science demonstrated their safety... said EU legislation was stifling research into GM crops, which are being used widely in the USA and many developing countries.
"These (GM crops) are now widely grown in other parts of the world, but have yet to make a significant breakthrough in Europe," he said.
"In part, this is due to the unduly slow operation of the EU approval process, that is deterring investment and innovation in this technology. We want the EU regime to operate more effectively, grounded on an objective appraisal of the potential effects of GM crops on human health and the environment."
He added: "Of course, we must be careful and base safety decisions on science and scientific evidence. But for us, it is important that safe GM products should have access to the EU market and that UK farmers should be able to use this technology where it would help them produce more efficiently and sustainably."
The government spends about £400m each year on agri-food research. Of this, about half is spent on basic fundamental research, through research councils, to retain our global standing in cutting-edge science...