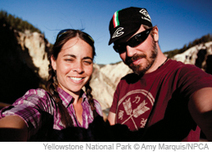 NPCA needs your help. We educate the country's leaders about threats like funding shortfalls, climate change, and air pollution. But our work is about much more—in the end, we're fighting to protect the memories you haven't yet made.
And that's where you come in.
We want photos of your favorite park memories, to remind our leaders what's at stake. Photos of you smiling on a mountaintop… exhausted after paddling upstream for hours… taking that first sip of hot chocolate by the campfire. We'll feature the best images in our next advocacy video, to be launched this Spring.
Submit your photos by February 21.
The Legal Stuff
By submitting my photo and/or video, I acknowledge that I am the copyright owner, each individual contained therein has granted me permission to use his or her likeness and it does not infringe on anyone's rights. NPCA hereby has permission to use this photo for all purposes. Additionally, I agree to indemnify NPCA for any costs or damages, including reasonable attorneys' fees, in the event that any claim is made against NPCA regarding the use of the photo or video.
Via
Marianne Riddile